Where to Buy 2019-20 Maryland Basketball Tickets
Primary market tickets to Maryland basketball are available via partner Paciolan, and fans can still buy season tickets or single-game tickets.
Fans can also find seats on the secondary market, and TicketIQ has Low Price Guarantees on all sold out Maryland basketball tickets on the 2019-20 schedule, in addition to Low Price Guarantees on all NCAA basketball tickets. That means that if you find a secondary market ticket for less on a site like StubHub or Vivid Seats, we'll give you 200% of the difference in ticket credit. TicketIQ customers save an average of 5%-20% compared to StubHub and Vivid Seats.
Below are screenshots of primary & secondary market availability for a typical Maryland home game at Xfinity Center: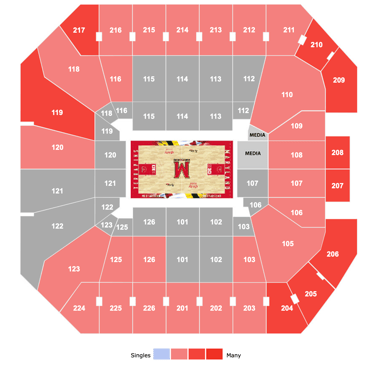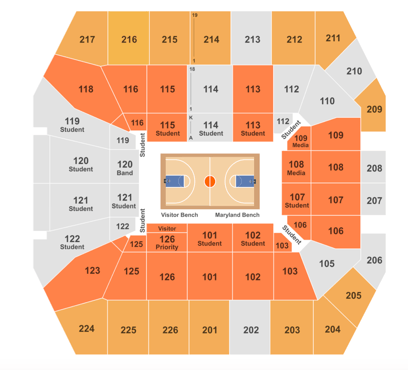 How Much Are 2019-20 Maryland Basketball Tickets
Primary market tickets are available for all home games via Paciolan, and prices start at $14 for lower demand games, $47 for middle of the pack games, and $63.50 for high demand games. In addition, on February 4, February 11, and February 18, Maryland is offering Two-for-Tuesdays for as low as $30 total for the 2 tickets.
On the secondary market, the average asking price for tickets is $57. That price is just $7 more expensive than last year's season average.
The priciest game on the secondary market is against the Michigan State Spartans on February 29. The cheapest tickets for the game are currently $85 each for seats in Section 224, Row 19 on the corner. Fans can get in for less on the primary market, with prices starting at $63.50 for a seat on the upper level.
Among the cheapest games of the season is the December 29 noon contest against the Bryant Bulldogs. On the primary market, the cheapest ticket is $14 in Sections 123, 204 to 211, 216, 217, and 224. Fans will find tickets for more on the secondary market, with seats starting at $17 for seats on the second level.
Where Are Maryland Basketball Season Tickets and Mini Plan Options
According to the school website, mini plans are not available for purchase. However, season tickets, which start at $403 (including a Seating Fund contribution of $135), can be purchased by calling the Terrapin Ticket Office (1-800-462-8377) Monday through Friday 8:30 am to 5:30 pm eastern time.
Top 5 Maryland Home Games on the 2019-20 Schedule
Below is a look at the Top 5 priciest Maryland basketball games based on the cheapest ticket available on the secondary market.
February 29 vs. Michigan State, tickets start at $85 🎟
January 7 vs. Ohio State, tickets start at $78 🎟
March 8 vs. Michigan, tickets start at $73 🎟
January 18 vs. Purdue, tickets start at $57 🎟
January 4 vs. Indiana, tickets start at $50 🎟
---
TicketIQ is committed to Transparent Ticketing, and we make much less on 'sold out' tickets compared to other major marketplaces like StubHub and Vivid. That means ticket buyers save from as much as 25% on TicketIQ for sports, music and theater tickets. We also back it up with our Low Price Guarantee! We're able to do this because we also work with teams, venues, and other ticket owners, to help them sell tickets at face price, directly to consumers like you, through Ticketmaster, Frontgate, Eventbrite and others ticketing platforms. Learn more by reading our College Basketball 2019-20 Buying Guide that we think is the most objective advice on where to find the best deals on concert tickets, whether they're 'sold out' on TicketIQ or 'unsold' on the primary ticket market.