Where To Buy 2022 NBA Finals Tickets
On the primary market NBA Finals ticket are available for both teams via Ticketmaster, but are mostly sold out.
On the secondary market, TicketIQ has Fee-Free NBA Finals tickets which also include a Refund Guarantee. Our Refund Guarantee states that if an event is canceled or deemed unfit for fans to attend, TicketIQ will refund ticket buyers in as soon as 15 days. That means that you can buy from TicketIQ worry-free. Customers on TicketIQ save between 15%-25% compared to other secondary market ticketing sites.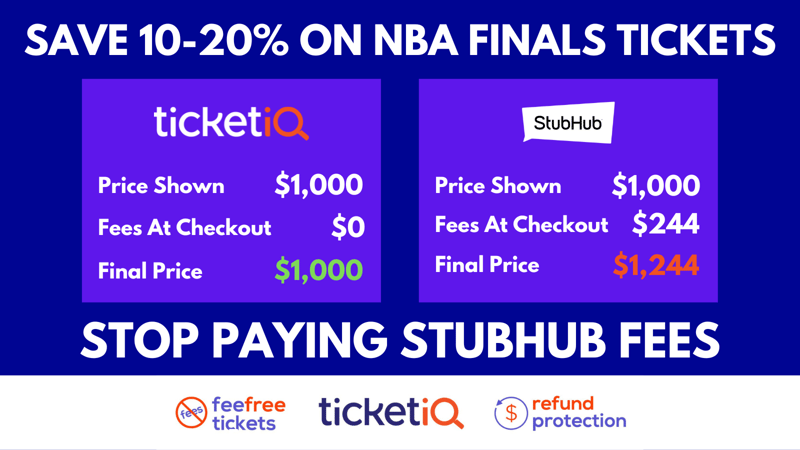 How Much Are 2022 NBA Finals Tickets
Currently, with an overall average list prices of $3,366 on secondary market, Warriors vs Celtics NBA Finals tickets are the second most expensive we've ever tracked. The most expensive NBA Finals we've ever tracked was the 2019 series between the Toronto Raptors and Golden State Warriors. That series had an average price of $3,899, which was nearly $2,000 more than any other NBA Finals since 2011.
Below is a look at the team and series average prices for each NBA Finals since 2011:
Year
Teams
Team Avg
Series Avg

2022

Warriors
$3,915

$3,657

Celtics
$3,312

2021

Suns
$2,894

$2,747

Bucks
$2,601

2019

Raptors
$4,364

$3,899

Warriors
$3,445

2018

Warriors
$1,720

$1,457

Cavaliers
$1,194

2017

Warriors
$2,059

$1,767

Cavaliers
$1,041

2016

Warriors
$2,080

$1,931

Cavaliers
$1,362

2015

Warriors
$1,615

$1,604

Cavaliers
$1,559

2014

Spurs
$751

$837

Heat
$920

2013

Spurs
$870

$974

Heat
$1,097

2012

Thunder
$1,339

$853

Heat
$788

2011

Mavericks
$957

$945

Heat
$938
2022 NBA Finals Schedule
Golden State Warriors vs. Boston Celtics
| | | | | |
| --- | --- | --- | --- | --- |
| Date | Game | Matchup | Time | TV |
| 6/2 | Game 1 | Celtics at Warriors | 9 p.m. ET | ABC |
| 6/5 | Game 2 | Celtics at Warriors | 8 p.m. ET | ABC |
| 6/8 | Game 3 | Warriors at Celtics | 9 p.m. ET | ABC |
| 6/10 | Game 4 | Warriors at Celtics | 9 p.m. ET | ABC |
| 6/13 | Game 5* | Celtics at Warriors | 9 p.m. ET | ABC |
| 6/16 | Game 6* | Warriors at Celtics | 9 p.m. ET | ABC |
| 6/19 | Game 7* | Celtics at Warriors | 9 p.m. ET | ABC |
*If necessary