How To Find Cheap 2022 New York Jets Tickets + On Sale Info
Where To Buy 2022 New York Jets Tickets
Primary market face-value tickets are available via Ticketmaster.
On the secondary market, TicketIQ has Fee-Free New York Jets tickets which also include a Refund Guarantee. Our Refund Guarantee states that if an event is canceled or deemed unfit for fans to attend, TicketIQ will refund ticket buyers in as soon as 15 days. That means that you can buy from TicketIQ worry-free. Customers on TicketIQ save between 15%-25% compared to other secondary market ticketing sites.
2022 New York Jets Schedule & Opponents
Home: Buffalo Bills, Miami Dolphins, New England Patriots, Baltimore Ravens, Chicago Bears, Cincinnati Bengals, Detroit Lions, Jacksonville Jaguars.
Away: Buffalo Bills, Miami Dolphins, New England Patriots, Cleveland Browns, Denver Broncos, Green Bay Packers, Minnesota Vikings, Pittsburgh Steelers, Seattle Seahawks.
Want to Watch a Jets Game From the Comfort of an Indoor/Outdoor Lounge AND Track Sports Betting Lines at the Same Time? Try the Fubo Sportsbook Lounge. (For Fubo Sportsbook Users Only)
New York Jets Club & Premium Seating Options
MetLife Stadium has the following premium experience seating options: the EY Coaches Club and the Mezzanine Clubs. Other opportunities include the Hangbar, Flight Deck, MetLife 50 Club, and the Lower Prime Club.
The EY Coaches Club, a private, on-field deck behind the bench, is found on the plaza level through the Bud Light Gate. It includes all-inclusive concessions and non-alcoholic beverages.
The 200-Level Mezzanine Clubs are the United Rentals Club (Section 208), which is found through the East VIP entrance, and the Toyota Club (Section 244), which is through the West VIP Entrance. The upscale Mezzanine Clubs are in total 42,000 square feet.
New York Jets Mobile Ticketing
To manage your Jets tickets, the team has a mobile app available on the App Store and Google Play. The app is also used for mobile entry into the venue. The Jets require ticket holders to use mobile tickets to enter MetLife Stadium, and it is suggested to add the ticket to your phone's mobile wallet to avoid slow WIFI or cellular signal while entering the stadium. Screenshots of the dynamic barcode on the ticket will not be accepted.

How Much Are 2021 New York Jets Tickets
On the primary market, tickets are available in every level and in most sections, from $59 for the lower-demand games like the Bengals and as much as $89 for the Patriots games and $93 for the January 2nd game against former Patriot and current Super Bowl champ, Tom Brady. There are unsold 'face value' tickets available in almost every section for every game.
Based of the game, prices on the secondary market are either in line or below primary prices, so it's important to shop around to find the right ticket at the right price. For the Buccaneers game, the cheapest NO FEE TICKET on TicketIQ is $106 (VIEW BELOW), while the cheapest ticket directly from the Ticketmaster as of June 1st is $110, after Fees.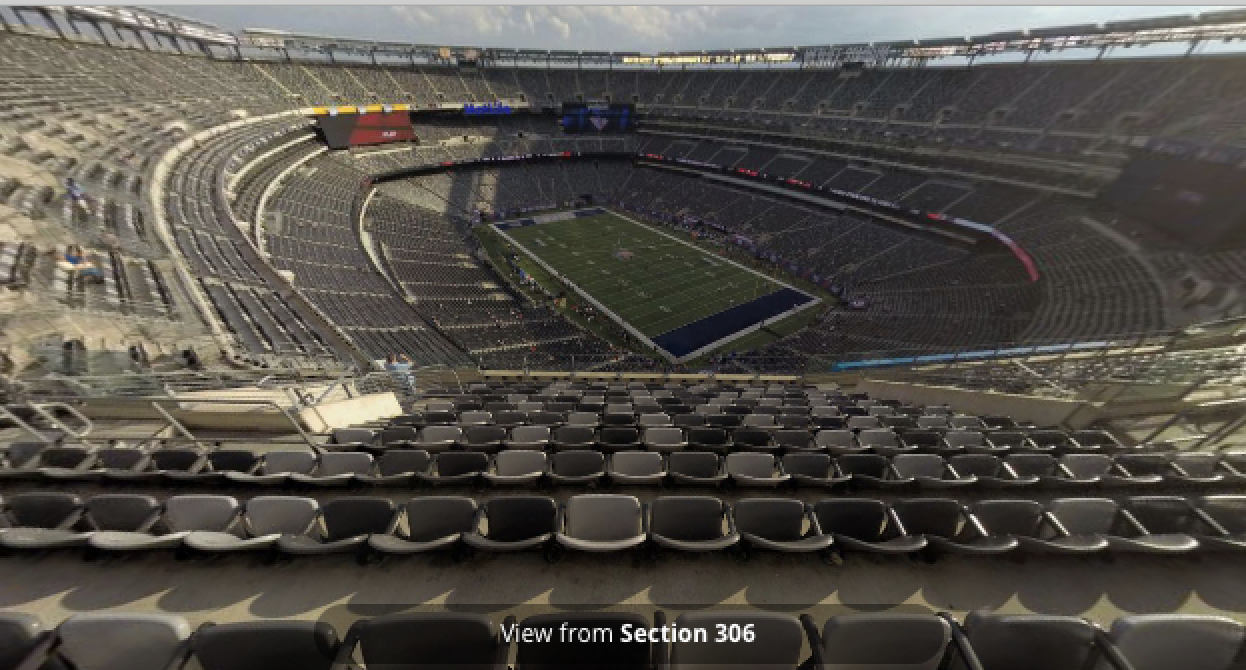 New York Jets 2021 Attendance Policy
It was recently announced that the New York Jets plan on hosting fans at full capacity for their 2021 home games at MetLife Stadium.
It was also reported recently that 30 of the 32 NFL teams already have approval for full capacity at stadiums at the start of the 2021 preseason. The Denver Broncos and Indianapolis Colts have yet to get approval, but both teams are reportedly "on track".
New York Jets 2021 Schedule
Week 1: Jets at Panthers - September 12th, 1 pm (TV: CBS)
Week 2: Jets vs. Patriots - September 19th, 1 pm (TV: CBS)
Week 3: Jets at Broncos - September 26th, 4:05 pm (TV: CBS)
Week 4: Jets vs. Titans - October 3, 1 pm (TV: CBS)
Week 5: Jets at Falcons (in London) - October 10, 9:30 a.m., (TV: NFL Network)
Week 6: BYE
Week 7: Jets at Patriots - October 24, 1 pm (TV: CBS)
Week 8: Jets vs. Bengals - October 31, 1 pm (TV: CBS)
Week 9: Jets at Colts - November 4, 8:20 pm (TV: FOX)
Week 10: Jets vs. Bills - November 14, 1 pm (TV: CBS)
Week 11: Jets vs. Dolphins November 21, 1 pm (TV: CBS)
Week 12: Jets at Texans November 28, 1 pm (TV: CBS)
Week 13: Jets vs. Eagles December 5, 1 pm (TV: CBS)
Week 14: Jets vs. Saints December 12, 1 pm (TV: FOX)
Week 15: Jets at Dolphins December 18 or 19, (TV: TBD)
Week 16: Jets vs. Jaguars December 26, 1 pm (TV: CBS)
Week 17: Jets vs. Buccaneers January 2, 1 pm (TV: FOX)
Week 18: Jets at Bills January 9, 1 p.m. (TV: CBS)
New York Jets 2021 Preseason Schedule
Thursday, Aug. 13 vs. Giants, 7:30 p.m.
Thursday, Aug. 20 at Detroit Lions, 8 p.m.
Friday, Aug. 28 vs. Pittsburgh Steelers, 7:30 p.m.
Thursday, Sept. 3 at Philadelphia Eagles, 7:30 p.m.
New York Jets 2021 Season Tickets
On the primary market, season tickets are available via Ticketmaster. Season tickets start at $600 per seat in the 300-Level Sections via the Jets' Ticketmaster page, and the most expensive available season ticket is $950 per ticket in the 200's.
Those who purchase season tickets will receive the following amenities: food, beverage, and merchandise credit, presale offers, and savings of up to 25 percent at the Jets Flagship Store and online at JetsShop.com.
There are no mini plans available, but group discounts can be used for groups of up to 350. The Jets can guarantee all their seats together after placing a deposit.
New York Jets Training Camp Tickets
The Jets are welcoming fans back to Training Camp in the summer of 2021. Fans will be able to attend public practices at the Atlantic Health Jets Training Center, the annual Green & White Practice at MetLife Stadium, and the team's joint practice with the Philadelphia Eagle in late August.
Free Mobile Tickets Are Available to download beginning on Wednesday, July 14 via the team's website and Ticketmaster.

2020 New York Jets Attendance Policy
On July 20th, New Jersey Governor Phil Murphy announced that his Executive Order limiting outdoor public gatherings would apply to event at MetLife Stadium. Meaning that Giants and Jets games will be played without fans for the 2020, and that the policy will remain in place "until circumstances change".
Below is a statement from both the Giants and Jets: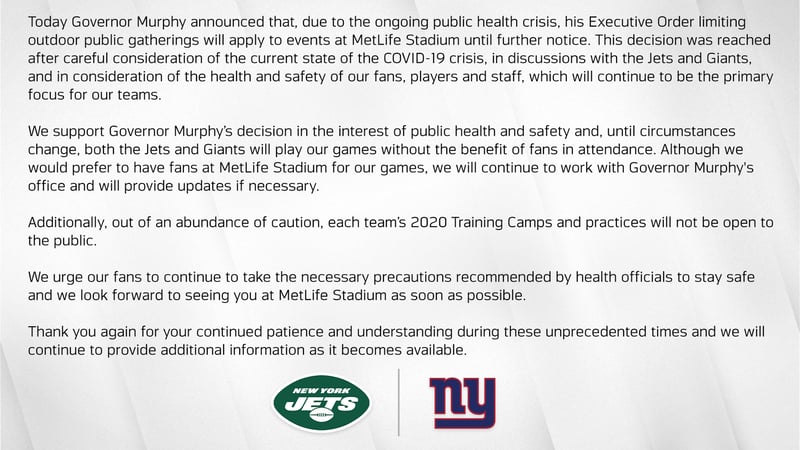 ---
TicketIQ is committed to the cheapest tickets possible, and we make much less on sold out tickets compared to other major marketplaces like StubHub and Vivid. That means ticket buyers save from up to 25% on TicketIQ on sports, music and theater. We're able to do this because we also work with teams, venues, and other ticket owners, to help them sell tickets at face price, directly to consumers like you, through Ticketmaster and Seatgeek. For an overview of the 2020 NFL Ticket Buying landscape, and details on the cheapest way to get tickets for every team, visit the TicketIQ Blog.
---
Where To Buy 2019 Jets Tickets
Single-game and season tickets are available on the Jets website, and new this season, single-game tickets will be available via mobile only, according to the team. Single-game tickets are available via Ticketmaster, and seats remain for all home games. Fans can manage their tickets on the Jets mobile app, through both the Apple and Google Play stores. Detailed instructions for how to use the app are available here.
How Much Are 2019 Jets Tickets
On the primary market, the cheapest tickets start at $55 and $58, respectively, for the Miami Dolphins and Oakland Raiders games. Seats are in the 300 sections. The cheapest face value tickets for the opening game against the Bills starts at $62, with tickets against the Browns going for $68 for tickets in section 347. Those prices are cheaper than tickets on major secondary marketplaces like StubHub. For the Cowboys game, the cheapest face value tickets in $110, which is also slightly cheaper than prices on the secondary market. Club seats for the Cowboys game in the United and Toyota Club sections start at $280. For the Giants game, the cheapest face value ticket is $106. After the Giants game, prices drop down for the remaining home games, starting at $58 for the Raiders game, $55 for the Dolphins game. Club seats for the Dolphins game start at $222. The final home game against the Steelers starts at $85.
On the secondary ticket market, as always fans will pay a premium to see the Patriots, but the game with the highest average asking price is the October 13 Dallas Cowboys game, which has an average asking price of $277. After that, Giants have the second highest average asking price, at $266. The cheapest Jets home game this season will cost fans an average of $151 to see the Miami Dolphins on December 8. Four of the Jets' eight home games have current average asking prices of more than $200.
---
*2018 Jets ticket price article is below*
New York Jets 2018 Ticket Market Overview:
Since their a big win against the Lions on Monday night the Jets head into their home opener flying as high as recent memory allows. Behind Sam Darnold's stellar coming out performance in Detroit earlier this week, Jets tickets for their season opener against their 1-0 AFC East rival Dolphins are up 12% on the secondary market. Overall season prices for 2018 Jets tickets on the secondary market are up even more, having gone up 15% this week across all home games at MetLife Stadium, with prices starting from $30-40 for most games. The Patriots game on November 25th is the most expensive game with prices starting at $90.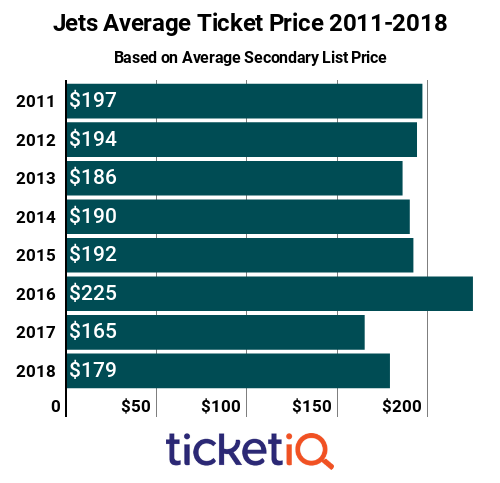 Where to Buy Tickets:

In comparison to other New York events, a ticket to see the Jets will be a great value this season. Watching Darnold progress in the team's West Coast offense behind an improved offensive line, would be well worth the price of admission. Single-game tickets on the primary market are available for all games, though they are limited for both the November 25 New England and December 23 Green Bay games. But fans can get into MetLife Stadium to see a game against Houston for less than $30. For secondary market listings, TicketIQ offers a Low Price Guarantee for all of the games listed below. As on the primary market, the Patriots and Packers games are the priciest – both games have average asking prices of more than $200 on the secondary market – but great seats are available for all games.

Prices For Each Game on 2018 New York Jets Schedule:

You'd think we'd all have Patriots fatigue by now, but the Boston-New York sports rivalry continues to thrive. Surprisingly, neither the Patriots nor Dolphins games are the most expensive this season at MetLife Stadium. That honor goes to the Packers, who, though not the Jets biggest rival, are always a big draw. The teams have played 12 times with the Jets holding an 8-4 advantage. Prices for that game will rise or fall depending on whether or not the Jets are in the playoff hunt.