UPDATE 4/17 - Taylor Swift has canceled all 2020 tour dates due to the Coronavirus. They will be rescheduled in 2021.
---
After the record-breaking Reputation Tour, Taylor Swift will be touring again in 2020, in support of her album-topping album, Lover. Currently, Swift is scheduled to kick off the fun in June with a run of shows throughout Europe and South America. On July 25 and 26, she'll perform at her very own Lover Fest West, a two-night run at the SoFi Stadium in Los Angeles, which is the future home of the Los Angeles Rams and San Diego Chargers. On July 31 and August 1, she'll perform at Gillette Stadium in Foxborough (home of the New England Patriots) for Lover Fest East.
For the shows at Sofi Stadium, Swift will make history as the first woman to ever open an NFL stadium when she performs in Los Angeles next summer.
Where To Buy Taylor Swift Lover Fest Tickets
While the onsale doesn't happen until October 17th, there are already tickets available following the Verified Fan onsale earlier in October. Below are screenshots of sold out secondary tickets at both Sofi Stadium as well as Gillette Stadium.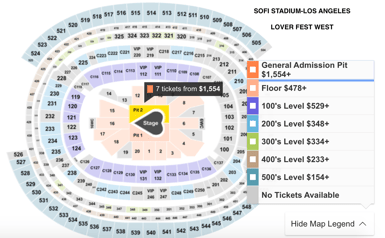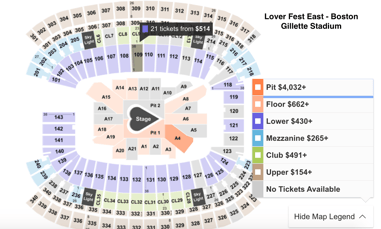 ​
How Much Are Taylor Swift Lover Fest Tickets
Floor Seats prices at Gillette Stadium are more expensive than at Sofi, with the cheapest floor seats for East going for $662 compared to $478. Upper level tickets are the same price, starting from $154. Pit seats range in price from $1,554 in Los Angeles to over $4,000 in Boston. 200-level tickets are cheaper in Boston, with ticket prices starting at $265 compared to $348 in Los Angeles.
🎟️ Download TicketIQ App for Instant $20 off any Sold Out Event or Ticket
How Much Are VIP Tickets For Taylor Swift Lover Fest
VIP tickets are priced between $800 to $1,500 and include a Front-Row Lounge Package, Lower Lounge Package, Gold Package and Bronze Package
Below are all dates on the Lover Fest Tour, in both the US and Europe:
June 20: Werchter Boutique (Werchter, Belgium)
June 24: The Waldbühne (Berlin)
June 26: Oslo Sommertid (Oslo, Norway)
July 1: Roskilde Festival (Roskilde, Denmark)
July 3: Open'er Festival (Gdynia, Poland)
July 5: Festival de Nîmes (Nîmes, France)
July 9: NOS Alive (Oeiras, Portugal)
July 18: Allianz Parque (Sao Paulo, Brazil)
July 25 and 26: SoFi Stadium (Los Angeles)
July 31 and August 1: Gillette Stadium (Foxborough, Massachusetts)
---
TicketIQ sell Tickets for for Sold Out Sports, Music and Theater events. TicketIQ is committed to the Transparent Ticketing, and we make much less on sold out tickets compared to other major marketplaces like StubHub and Vivid. That means ticket buyers save from up to 25% on TicketIQ on sports, music and theater. We're able to do this because we also work with teams, venues, and other ticket owners, to help them sell tickets at face price, directly to consumers like you, through Ticketmaster, Frontgate, Eventbrite and other primary ticketing platforms. You can read our Music Buying Guide that we think is the most objective advice on where to find the best deals on the biggest concert tours, whether they're 'sold out' on TicketIQ or 'unsold' on the primary ticket market.
If you're reading this article, chances are that you have not succeeded in being named a #VerifiedFan for the ticket onsale to Taylor Swift's 2018 Reputation Tour. It also probably means that the child you are considering buying Taylor Swift tickets for has also not been verified, which they could have done through a number of actives, including watching videos, buying albums and inviting friends to do the same. A successful and verified fan would have had a had a profile page on TaylorSwifttix.com that looked like the below.
Fans that did invest the time were compensated with 'boosts' that moved their place in the ticket queue up or down. Based on the reaction on Twitter, the sentiment seems unusually happy for a ticket onsale, especially one by a megastar like Swift.
For fans that were not able to participate, the options now are to get Taylor Swift Reputation Tour tickets through the Secondary Market as well as the primary market The below chart shows the current average prices and quantity on the secondary tickets market.

As for the secondary market, there's much more lower-level inventory on the secondary market, which means that the secondary market is more expensive, while the tickets that remain unsold on Ticketmaster are in the upper levels of stadiums where tickets are cheaper.
Here's a great article by Dave Brooks on Billboard that talks about the impact of the Verified Fan model of ticket prices and demand and who wins and looses.
Below is an interesting chart that compares how quantity came into the market for the1989 Tour in 2014 and the Reputation onsale that just happened. The unit of measurement is days for Reputation and weeks for 1989, when the secondary market essentially served as primary the distribution channel for everyone expect bots. For Reputation, the onsale with real people doing the buying actually did happen through the Ticketmaster.
Below is the onsale schedule for any interested to see how it all went down.
• Tues, December 5th, from 1-7pm Pacific
• Wed, December 6th, from 12-7pm Pacific
• Thurs, December 7th, from 12-7pm Pacific
• Fri, December 8th, from 12-7 Pacific
• Venue Presale: Saturday, December 9th to Tuesday, December 12th
• General Public Onsale: Wed, December 13th at 10am local in each market