How to Get Cheap Taylor Swift Tickets + "The Eras" Tour Dates
While the initial leg of Taylor Swift's "The Eras" tour is coming to a close, the pop superstar has announced more dates for 2024. The new run of dates will take "The Eras" tour all across the globe. The new North American dates are set to begin on October 18th, 2024, with three shows in Miami at Hard Rock Stadium. The tour will then move to New Orleans, Indianapolis, and Toronto. (UPDATE: Swift has added three dates for BC Place in Vancouver on December 6th, 7th and 8th).
Paramore, HAIM, Gracie Adams, OWENN, GAYLE, and Sabrina Carpenter will each provide support on certain dates throughout the tour. You can check out all the tour dates, plus each show's opening acts, at the bottom of this post.
Where To Buy Taylor Swift Tickets
Primary market face-value tickets for the newly announced Vancouver dates go on sale via Ticketmaster on Thursday, November 9th.
On the secondary market, TicketIQ has Fee-Free Taylor Swift tickets which also include a Refund Guarantee. Our Refund Guarantee states that if an event is canceled or deemed unfit for fans to attend, TicketIQ will refund ticket buyers in as soon as 15 days. That means that you can buy from TicketIQ worry-free. Customers on TicketIQ save between 15%- 25% compared to other secondary market ticketing sites.

How Much Do Taylor Swift Tickets Cost
When tickets initially went on sale for the first leg of "The Eras" tour, the secondary market average list price for the tour is $2,183, which is her most expensive tour to date. Prices for the tour are more than 9x any of her previous tours. Tickets are now available for all newly announced dates for the 2024 leg, and prices remain very high.
The least expensive tickets for each show range from just over $900 to $1,600+, depending on the date and venue.
Lower-level ticket prices start between $1,100 and $2,200 depending on the date and venue, and prices can go as high as $20,000+ for seats in sections closest to the stage.
How Much Are Taylor Swift Floor Seats
Floor seats are available on the secondary market for most dates, and prices start between $2,500 and $5,000, depending on the date and venue. Prices can go as high as $25,000+. Below, you can see the floor configuration for the tour: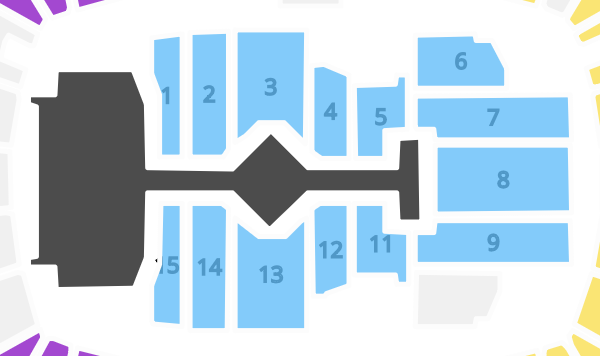 Taylor Swift 2023-24 Tour Dates
11/09 – Buenos Aires, AR @ Estadio River Plate (w/ Sabrina Carpenter)
11/10 – Buenos Aires, AR @ Estadio River Plate (w/ Sabrina Carpenter)
11/11 – Buenos Aires, AR @ Estadio River Plate (w/ Sabrina Carpenter)
11/18 – Rio de Janeiro, BR @ Estádio Nilton Santos (w/ Sabrina Carpenter)
11/19 – Rio de Janeiro, BR @ Estádio Nilton Santos (w/ Sabrina Carpenter)
11/24 – Sao Paulo, BR @ Allianz Parque (w/ Sabrina Carpenter)
11/25 – Sao Paulo, BR @ Allianz Parque (w/ Sabrina Carpenter)
11/26 – Sao Paulo, BR @ Allianz Parque (w/ Sabrina Carpenter)
02/07 – Tokyo, JP @ Tokyo Dome
02/08 – Tokyo, JP @ Tokyo Dome
02/09 – Tokyo, JP @ Tokyo Dome
02/10 – Tokyo, JP @ Tokyo Dome
02/16 – Melbourne, AU @ Melbourne Cricket Grounds (w/ Sabrina Carpenter)
02/17 – Melbourne, AU @ Melbourne Cricket Grounds (w/ Sabrina Carpenter)
02/23 – Sydney, AU @ Accor Stadium (w/ Sabrina Carpenter)
02/24 – Sydney, AU @ Accor Stadium (w/ Sabrina Carpenter)
02/25 – Sydney, AU @ Accor Stadium (w/ Sabrina Carpenter)
03/02 – Singapore, SG @ National Stadium (w/ Sabrina Carpenter)
03/03 – Singapore, SG @ National Stadium (w/ Sabrina Carpenter)
03/04 – Singapore, SG @ National Stadium (w/ Sabrina Carpenter)
05/09 – Paris, FR @ Paris La Défense Arena (w/ Paramore)
05/10 – Paris, FR @ Paris La Défense Arena (w/ Paramore)
05/11 – Paris, FR @ Paris La Défense Arena (w/ Paramore)
05/17 – Stockholm, SE @ Friends Arena (w/ Paramore)
05/18 – Stockholm, SE @ Friends Arena (w/ Paramore)
05/19 – Stockholm, SE @ Friends Arena (w/ Paramore)
05/24 – Lisbon, PT @ Estádio da Luz (w/ Paramore)
05/25 – Lisbon, PT @ Estádio da Luz (w/ Paramore)
05/30 – Madrid, ES @ Estadio Santiago Bernabéu (w/ Paramore)
06/02 – Lyon, FR @ Groupama Stadium (w/ Paramore)
06/03 – Lyon, FR @ Groupama Stadium (w/ Paramore)
06/07 – Edinburgh, UK @ BT Murrayfield Stadium (w/ Paramore)
06/08 – Edinburgh, UK @ BT Murrayfield Stadium (w/ Paramore)
06/13 – Liverpool, UK @ Anfield Stadium (w/ Paramore)
06/14 – Liverpool, UK @ Anfield Stadium (w/ Paramore)
06/15 – Liverpool, UK @ Anfield Stadium (w/ Paramore)
06/18 – Cardiff, UK @ Principality Stadium (w/ Paramore)
06/21 – London, UK @ Wembley Stadium (w/ Paramore)
06/22 – London, UK @ Wembley Stadium (w/ Paramore)
06/28 – Dublin, IE @ Aviva Stadium (w/ Paramore)
06/29 – Dublin, IE @ Aviva Stadium (w/ Paramore)
06/30 – Dublin, IE @ Aviva Stadium (w/ Paramore)
07/04 – Amsterdam, NL @ Johan Cruyff Arena (w/ Paramore)
07/05 – Amsterdam, NL @ Johan Cruyff Arena (w/ Paramore)
07/06 – Amsterdam, NL @ Johan Cruyff Arena (w/ Paramore)
07/09 – Zürich, CH @ Stadion Letzigrund Zürich (w/ Paramore)
07/10 – Zürich, CH @ Stadion Letzigrund Zürich (w/ Paramore)
07/13 – Milan, IT @ San Siro Stadium (w/ Paramore)
07/14 – Milan, IT @ San Siro Stadium (w/ Paramore)
07/17 – Gelsenkirchen, DE @ Veltins-Arena (w/ Paramore)
07/18 – Gelsenkirchen, DE @ Veltins-Arena (w/ Paramore)
07/19 – Gelsenkirchen, DE @ Veltins-Arena (w/ Paramore)
07/23 – Hamburg, DE @ Volksparkstadion (w/ Paramore)
07/24 – Hamburg, DE @ Volksparkstadion (w/ Paramore)
07/27 – Munich, DE @ Olympiastadion (w/ Paramore)
07/28 – Munich, DE @ Olympiastadion (w/ Paramore)
08/01 – Warsaw, PL @ PGE Narodowy (w/ Paramore)
08/02 – Warsaw, PL @ PGE Narodowy (w/ Paramore)
08/03 – Warsaw, PL @ PGE Narodowy (w/ Paramore)
08/08 – Vienna, AT @ Ernst-Happel-Stadion (w/ Paramore)
08/09 – Vienna, AT @ Ernst-Happel-Stadion (w/ Paramore)
08/10 – Vienna, AT @ Ernst-Happel-Stadion (w/ Paramore)
08/15 – London, UK @ Wembley Stadium (w/ Paramore)
08/16 – London, UK @ Wembley Stadium (w/ Paramore)
08/17 – London, UK @ Wembley Stadium (w/ Paramore)
10/18 – Miami, FL @ Hard Rock Stadium (w/ Gracie Abrams)
10/19 – Miami, FL @ Hard Rock Stadium (w/ Gracie Abrams)
10/20 – Miami, FL @ Hard Rock Stadium (w/ Gracie Abrams)
10/25 – New Orleans, LA @ Caesar's Superdome (w/ Gracie Abrams)
10/26 – New Orleans, LA @ Caesar's Superdome (w/ Gracie Abrams)
10/27 – New Orleans, LA @ Caesar's Superdome (w/ Gracie Abrams)
11/01 – Indianapolis, IN @ Lucas Oil Stadium (w/ Gracie Abrams)
11/02 – Indianapolis, IN @ Lucas Oil Stadium (w/ Gracie Abrams)
11/03 – Indianapolis, IN @ Lucas Oil Stadium (w/ Gracie Abrams)
11/14 – Toronto, ON @ Rogers Centre (w/ Gracie Abrams)
11/15 – Toronto, ON @ Rogers Centre (w/ Gracie Abrams)
11/16 – Toronto, ON @ Rogers Centre (w/ Gracie Abrams)
11/21 – Toronto, ON @ Rogers Centre (w/ Gracie Abrams)
11/22 – Toronto, ON @ Rogers Centre (w/ Gracie Abrams)
11/23 – Toronto, ON @ Rogers Centre (w/ Gracie Abrams)


12/06 – Vancouver, BC @ BC Place (w/ Gracie Abrams)




12/07 – Vancouver, BC @ BC Place (w/ Gracie Abrams)




12/08 – Vancouver, BC @ BC Place (w/ Gracie Abrams)