How to Get Cheap Taylor Swift Tickets + "The Eras" Tour Dates
Taylor Swift has announced even more dates for the 2023 "The Eras" stadium tour. The now 52-date trek, which will be played at football stadiums around the US, is set to kick off on March 18th at State Farm Stadium in Glendale, AZ and will run until early-August for five shows at SoFi Stadium in Inglewood, CA on the 3rd, 4th 5th, 8th and 9th.
Swift will also perform multiple shows each venue.
Paramore, GAYLE, beabadoobee, Phoebe Bridgers, Girl in Red, Gracie Adams, MUNA and HAIM will each provide support on certain dates throughout the tour. You can check out all the tour dates, plus each show's opening acts at the bottom of this post.
Where To Buy Taylor Swift Tickets
Primary market face-value tickets are available via Ticketmaster, but inventory is extremely limited. Initially the public on sale was scheduled for Friday, November 18th, but according to Ticketmaster it was canceled "due to extraordinarily high demands on ticketing systems and insufficient remaining ticket inventory to meet that demand."
On the secondary market, TicketIQ has Fee-Free Taylor Swift tickets which also include a Refund Guarantee. Our Refund Guarantee states that if an event is canceled or deemed unfit for fans to attend, TicketIQ will refund ticket buyers in as soon as 15 days. That means that you can buy from TicketIQ worry-free. Customers on TicketIQ save between 15%- 25% compared to other secondary market ticketing sites.

How Much Do Taylor Swift Tickets Cost
Currently, the secondary market average list price for the tour is $2,183, which is by far her most expensive tour to date. As you can see below, prices for this tour are more than 9x any of her previous tours. The only comparable tours we've ever tracked is Bruce Springsteen & The E-Street Band's 2023 tour (current average of $1,682), and Bad Bunny's 2022 'El Ultimo Tour Del Mundo', which was the most expensive tour we ever tracked at $2,473.
For fans looking for the least expensive tickets, at venues where she is playing more than two shows, the last shows at that venue usually have the most inventory and lower prices.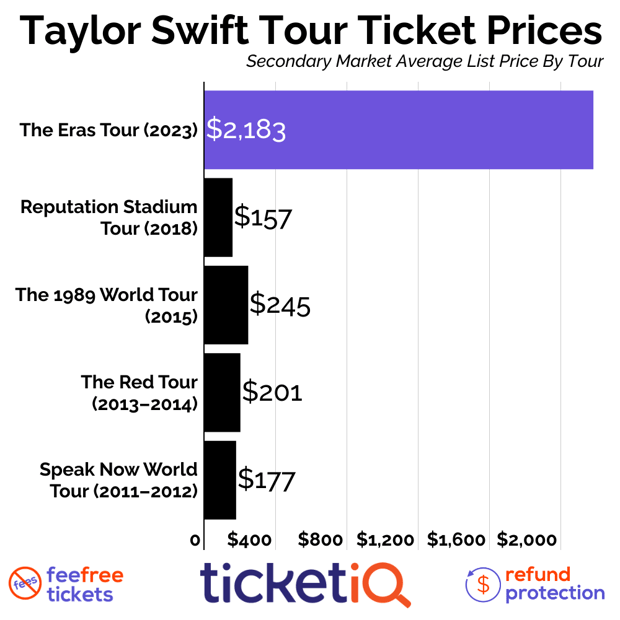 While prices are still extremely high, they had come down significantly since their peak and dropped 41% since the start of her presale.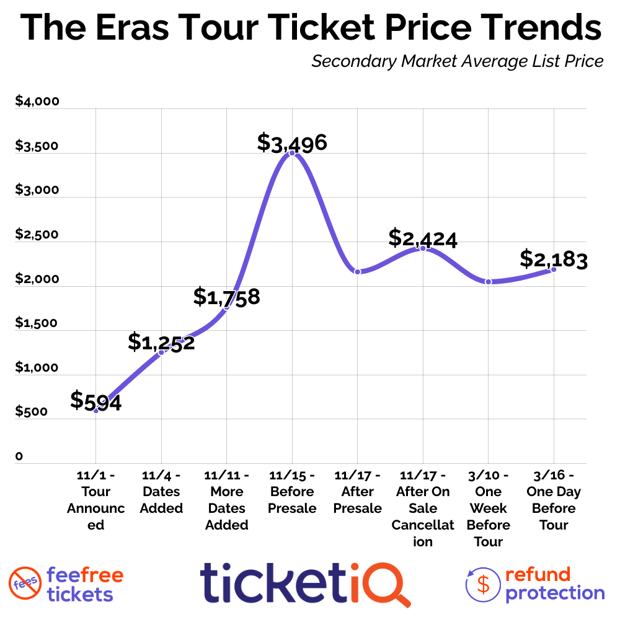 Inventory for the tour ranges from just over 300 tickets available to over 2,900 tickets available depending on the date and venue. As you might expect, most of the higher price shows are also shown with the least amount of inventory. Shows with more than 1,000 tickets available are averaging $2,219, while shows with less than 800 tickets available are averaging $2,887.
Below is a look at the average price by the city for each stop on the tour. All of the top on the list have less than 800 tickets available for each show.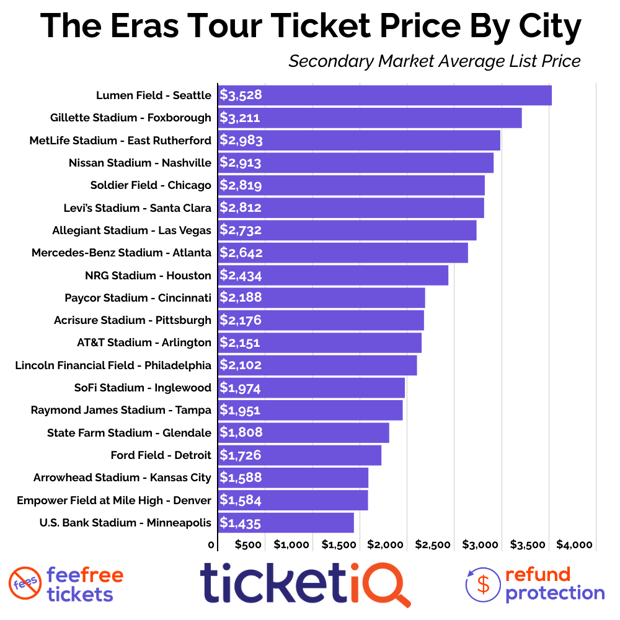 Taylor Swift Floor Seats
Floor seats are available on the secondary market for most dates, and prices start between $1,000 and $1,200 depending on the date and venue. Prices can go as high as $15,000+. Below you can see the floor configuration for the tour: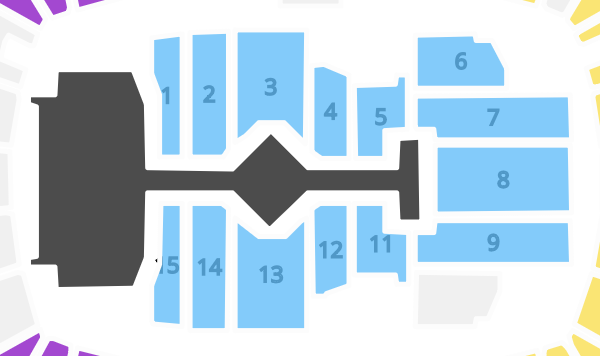 Taylor Swift 2023 Tour Dates
03/17 – Glendale, AZ @ State Farm Stadium (w/ Paramore & GAYLE)
03/18 – Glendale, AZ @ State Farm Stadium (w/ Paramore & GAYLE)
03/24 – Las Vegas, NV @ Allegiant Stadium (w/ beabadoobee & GAYLE)
03/25 – Las Vegas, NV @ Allegiant Stadium (w/ beabadoobee & GAYLE)
03/31 – Arlington, TX @ AT&T Stadium (w/ beabadoobee & GAYLE)
04/01 – Arlington, TX @ AT&T Stadium (w/ beabadoobee & Gracie Abrams)
04/02 – Arlington, TX @ AT&T Stadium (w/ beabadoobee & Gracie Abrams)
04/13 – Tampa, FL @ Raymond James Stadium (w/ beabadoobee & GAYLE)
04/14 – Tampa, FL @ Raymond James Stadium (w/ beabadoobee & Gracie Abrams)
04/15 – Tampa, FL @ Raymond James Stadium (w/ beabadoobee & Gracie Abrams)
04/21 – Houston, TX @ NRG Stadium (w/ beabadoobee & Gracie Abrams)
04/22 – Houston, TX @ NRG Stadium (w/ beabadoobee & Gracie Abrams)
04/23 – Houston, TX @ NRG Stadium (w/ beabadoobee & Gracie Abrams)
04/28 – Atlanta, GA @ Mercedes-Benz Stadium (w/ beabadoobee & Gracie Abrams)
04/29 – Atlanta, GA @ Mercedes-Benz Stadium (w/ beabadoobee & Gracie Abrams)
04/30 – Atlanta, GA @ Mercedes-Benz Stadium (w/ beabadoobee & GAYLE)
05/05 – Nashville, TN @ Nissan Stadium (w/ Phoebe Bridgers & Gracie Abrams)
05/06 – Nashville, TN @ Nissan Stadium (w/ Phoebe Bridgers & GAYLE)
05/07 – Nashville, TN @ Nissan Stadium (w/ Phoebe Bridgers & Gracie Abrams)
05/12 – Philadelphia, PA @ Lincoln Financial Field (w/ Phoebe Bridgers & GAYLE)
05/13 – Philadelphia, PA @ Lincoln Financial Field (w/ Phoebe Bridgers & GAYLE)
05/14 – Philadelphia, PA @ Lincoln Financial Field (w/ Phoebe Bridgers & Gracie Abrams)
05/19 – Foxborough, MA @ Gillette Stadium (w/ Phoebe Bridgers & GAYLE)
05/20 – Foxborough, MA @ Gillette Stadium (w/ Phoebe Bridgers & GAYLE)
05/21 – Foxborough, MA @ Gillette Stadium (w/ Phoebe Bridgers & Gracie Abrams)
05/26 – E. Rutherford, NJ @ MetLife Stadium (w/ Phoebe Bridgers & GAYLE)
05/27 – E. Rutherford, NJ @ MetLife Stadium (w/ Phoebe Bridgers & Gracie Abrams)
05/28 – E. Rutherford, NJ @ MetLife Stadium (w/ Phoebe Bridgers & OWENN)
06/02 – Chicago, IL @ Soldier Field (w/ Girl in Red & OWENN)
06/03 – Chicago, IL @ Soldier Field (w/ Girl in Red & OWENN)
06/04 – Chicago, IL @ Soldier Field (w/ MUNA & Gracie Abrams)
06/09 – Detroit, MI @ Ford Field (w/ Girl in Red & Gracie Abrams)
06/10 – Detroit, MI @ Ford Field (w/ Girl in Red & OWENN)
06/16 – Pittsburgh, PA @ Acrisure Stadium (w/ Girl in Red & Gracie Abrams)
06/17 – Pittsburgh, PA @ Acrisure Stadium (w/ Girl in Red & OWENN)
06/23 – Minneapolis, MN @ U.S. Bank Stadium (w/ Girl in Red & Gracie Abrams)
06/24 – Minneapolis, MN @ U.S. Bank Stadium (w/ Girl in Red & OWENN)
06/30 – Cincinnati, OH @ Paycor Stadium (w/ MUNA & Gracie Abrams)
07/01 – Cincinnati, OH @ Paycor Stadium (w/ MUNA & Gracie Abrams)
07/07 – Kansas City, MO @ Arrowhead Stadium (w/ MUNA & Gracie Abrams)
07/08 – Kansas City, MO @ Arrowhead Stadium (w/ MUNA & Gracie Abrams)
07/14 – Denver, CO @ Empower Field at Mile High (w/ MUNA & Gracie Abrams)
07/15 – Denver, CO @ Empower Field at Mile High (w/ MUNA & Gracie Abrams)
07/22 – Seattle, WA @ Lumen Field (w/ HAIM & Gracie Abrams)
07/23 – Seattle, WA @ Lumen Field (w/ HAIM & Gracie Abrams)
07/28 – Santa Clara, CA @ Levi's Stadium (w/ HAIM & Gracie Abrams)
07/29 – Santa Clara, CA @ Levi's Stadium (w/ HAIM & Gracie Abrams)
08/03 – Inglewood, CA @ SoFi Stadium (w/ HAIM & Gracie Abrams)
08/04 – Inglewood, CA @ SoFi Stadium (w/ HAIM & OWENN)
08/05 – Inglewood, CA @ SoFi Stadium (w/ HAIM & GAYLE)
08/08 – Inglewood, CA @ SoFi Stadium (w/ HAIM & Gracie Abrams)
08/09 – Inglewood, CA @ SoFi Stadium (w/ HAIM & GAYLE)