Where To Buy 2021 Chiefs Playoff Tickets
Primary market tickets are sold out.
On the secondary market, TicketIQ has Fee-Free tickets for all Chiefs playoff games, all NFL playoff games with fans, and Super Bowl LV. which also includes a Refund Guarantee. Our Refund Guarantee states that if an event is canceled or deem unfit for fans to attend, TicketIQ will refund ticket buyers in as soon as 15 days. That means that you can buy from TicketIQ worry-free. Customers on TicketIQ save between 15%-25% compared to other secondary market ticketing sites. And now you can buy now and pay later on TicketIQ with Affirm.
How Much Are 2021 Kansas City Chiefs Playoff Tickets
With reduced capacity, there are less than 1,300 tickets available on the secondary market for their AFC Championship round game against the Buffalo Bills. Currently, the average list price for the Chiefs divisional-round game is $1,332, with a get-in price of $883. Both are the highest prices for a Chiefs home playoff game since 2010. That get-in price is more than double the average of any other Chiefs playoff game since 2010, including last year's AFC Championship game which had an average of $415.
Below is an infographic showing how this year's prices compared to all other Chiefs home playoff games since 2010: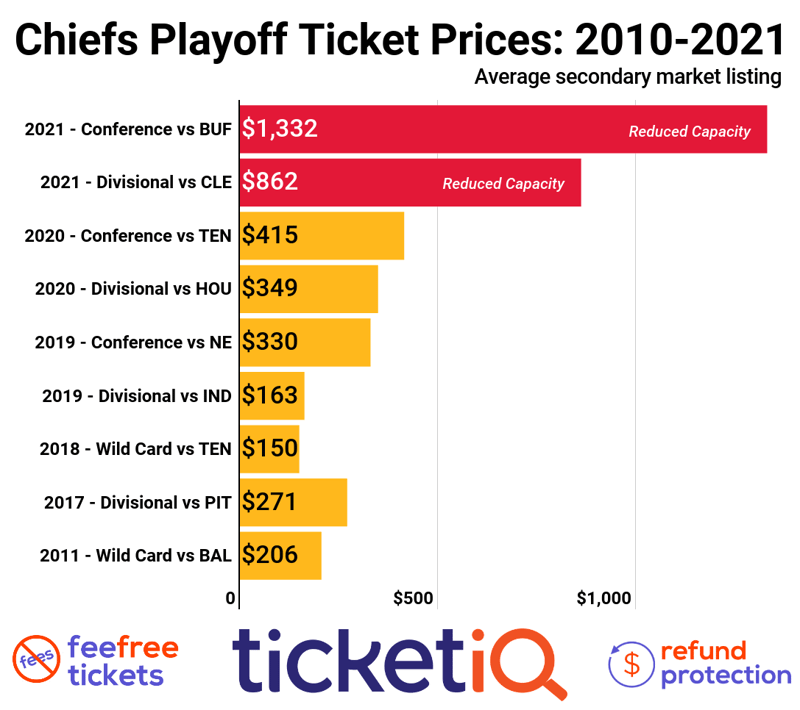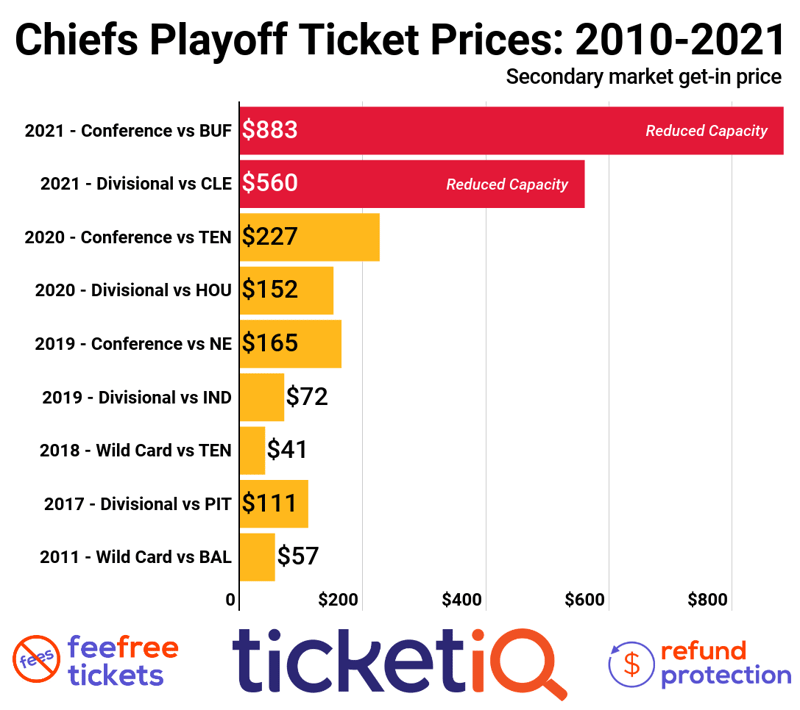 ---
---
Chiefs 2020 Attendance Policy Updates
It was reported on July 8th, that the Chiefs plan to allow fans into Arrowhead Stadium this season, but will be limiting capacity.
Season Ticket Members will be allowed into the stadium to watch the games, according to a team statement on July 8, with access to all the games. As the seating is reconfigured, members will have the opportunity to opt in or receive a refund.

Single-game ticket sales will likely only be available "for the preseason and the first few games of the regular season," according to the statement. This situation is subject to change as the organization follows guidance from health officials.
The Chiefs also announced that all existing season tickets are void for the 2020 season. Season ticket holders will now have first right to single game tickets once the layout for Arrowhead Stadium is decided. All previous single-game ticket purchases for the 2020 season are also void. Here's some more info from the Chiefs website:
Due to the inability to accommodate all Season Ticket Members, there is no way to account for purchasers who have already secured single-game tickets. All single-game tickets purchased through the primary market will be issued an automatic refund to the method of payment. For any tickets purchased through a resale marketplace, ticket purchasers will need to visit the marketplace used to review their options. Single-game parking passes that have already been purchased through the team will automatically be refunded to the method of payment as well.
Where To Buy 2020 Kansas City Chiefs Tickets
Kansas City Chiefs tickets are available for sale on the secondary market as of the NFL's 2020 schedule release.
TicketIQ has
Fee-Free tickets
with a
Low Price Guarantee
and
Refund Guarantee
, which states that in the event an event is cancelled or deem unfit for fans to attend, TicketIQ will refund ticket buyers within 15 days. That means that you can buy from TicketIQ worry-free.
Potential Covid-19 Impact On 2020 NFL Schedule
While the schedule release is a much-needed dose of exciting news for all football fans, there are some major questions marks heading into the 2020 season due to the Coronavirus pandemic. While teams know what teams they'll play, that's about all they know. Whether or not the games happen and if fans are able to attend will depend on how the virus is managed over the next 2-3 months. The league has already canceled all of its International Series games, and the league is rightly considering all possible scenarios.
Based on the varying levels of infection in each NFL city and state, it's possible that some teams may be able to host fans at a reduced capacity while others may not. The Dolphins announced a preliminary plan last week, with a 25% of capacity goal. Based on the below NFL Covid-19 Safety Index, the Dolphins fall within the low-risk category, just barely.
To create the Safety Index, we compared the active cases in each city or state to the national average and then discounted that product by Rt. Rt is a measure of how fast the virus is spreading in each city and state, most easily tracked through Rt.live.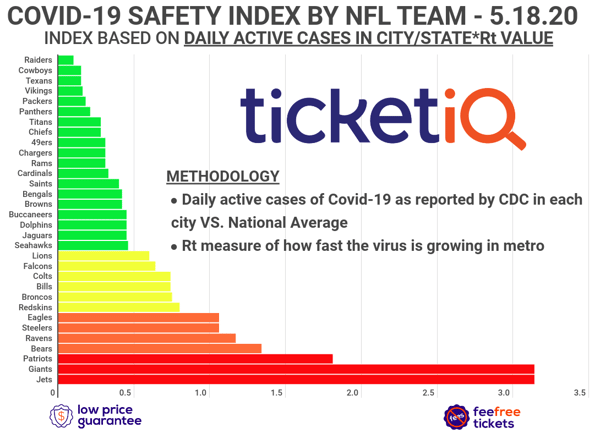 How Much Are 2020 Kansas City Chiefs Tickets
On the primary market, the Chiefs single-game ticket website page includes Ticketmaster links to each game, and tickets start at $100 at Arrowhead Stadium. The cheapest seats are upper-level tickets on December 27 against the Atlanta Falcons and January 3 against the Los Angeles Chargers. The get-in prices for these contests on the secondary market are $96 and $85, respectively.
TicketIQ has seats available for all Kansas City Chiefs home games. The average ticket price on TicketIQ is $271, which is surprisingly low for the defending Super Bowl champions. The secondary market price for Chiefs tickets has increased by 46 percent since last year.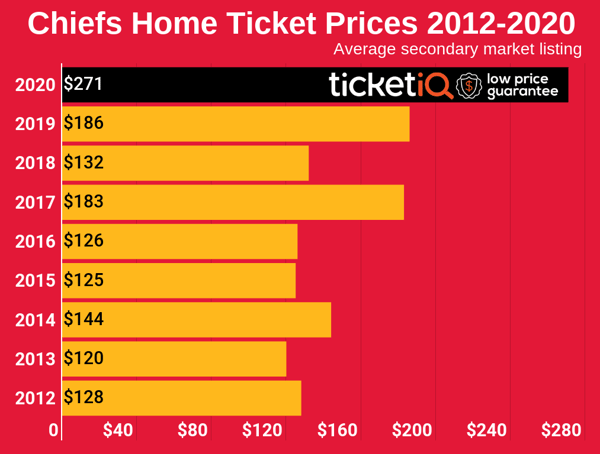 Chiefs Season Tickets & Mini Plan Options
On the primary market, season tickets are available, but fans can fill out this form to reach out to a ticket representative.
Season Ticket Members (STM) receive concession and merchandise discounts and receive invitations to exclusive events like STM Draft Fest and STM Day at Training Camp.
There are no mini plans offered, but groups of at least 10 people have tickets starting at $80 per seat.
Arrowhead Stadium Club Options
Arrowhead Stadium has the following premium seating ticket options:
The Locker Room Club, which opens 2.5 hours prior to kickoff, has all-inclusive food and beverage and gold parking passes.
The Foolish Lounge has all-inclusive food, beer, wine, specialty drinks, and non-alcoholic beverages.
The Penthouse has all-inclusive food and beverage service and a lounge area with high-definition televisions.
CommunityAmerica Club Level, which opens 2.5 hours before kickoff, includes lounges and bars that fans can also enjoy for an hour after the game.
The Founder's Club, which opens 2.5 hours prior to kickoff, has all-inclusive food and beverage and visits from Chiefs ambassadors, KC Wolf, and Chiefs cheerleaders.
The Chiefs offer many suite options, but fans only have the opportunity to purchase two to 10 seats in the luxurious Penthouse Suite on the Press Level. If fans are interested in other suites, they can join the waitlist.
Chiefs Mobile Ticketing Policy
To manage your Chiefs tickets, the team has a mobile app available on the App Store and Google Play. The app is also used for mobile entry into the venue. The Chiefs require ticket holders to use mobile tickets to enter Arrowhead Stadium, and it is suggested to add the ticket to your phone's mobile wallet to avoid slow WIFI or cellular signal while entering the stadium.
---
TicketIQ is committed to the cheapest tickets possible, and we make much less on sold out tickets compared to other major marketplaces like StubHub and Vivid. That means ticket buyers save from up to 25% on TicketIQ on sports, music and theater. We're able to do this because we also work with teams, venues, and other ticket owners, to help them sell tickets at face price, directly to consumers like you, through Ticketmaster and Seatgeek. For an overview of the 2020 NFL Ticket Buying landscape, and details on the cheapest way to get tickets for every team, visit the TicketIQ Blog.
---
Where To Buy 2019 Chiefs Tickets
TicketIQ is a ticket market place with access to Low Price Guarantees on all NFL tickets. If you find the same ticket for less, we'll give you 200% of the difference in ticket credit. TicketIQ is also the leading source of ticket market data used by major news outlets, like CNBC, Business, Insider, Fox and others. Enjoy the TicketIQ blog for most in-depth coverage of the Vikings ticket market and use TicketIQ.com to save 15% compared to other major tickets sellers.
How Much Are 2019 Chiefs Tickets
With a new face of the franchise in Patrick Mahomes and Super Bowl expectations, the price for Chiefs tickets in the secondary market is up over 40% from last season. In addition to one of the biggest jumps in the secondary market, the team also leads the league in tickets available on the secondary market, with close to 50,000 tickets available for sale across all their home games. These huge numbers are likely the result of a market consolidator deal, similar to what the Dodgers did last season. While these deals rely heavily on secondary market distribution, it also means that the team will be keeping tight reins on prices.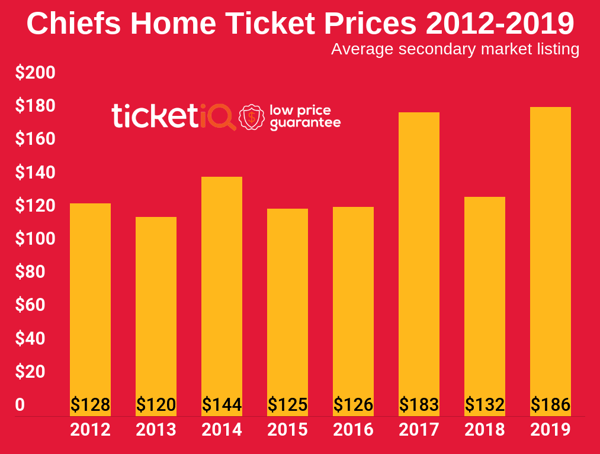 Those high prices will also benefit margin on the primary side, as the Chiefs have about 1,000 tickets available on Ticketmaster.com each game, with prices about 5% cheaper than the secondary market. In addition to maximizing margin, this price advantage also serves to signal the value of buying direct from the team. When it comes to tickets, the Chiefs seem to be having their cake and eating it as well.