Citi Field Seating Chart + Rows, Seats and Club Seats
For Sold Out Seats and Events, TicketIQ has Fee Free tickets for all events at Citi Field for New York Mets games as well as Concerts. That means that if you find a secondary market ticket for less on a site like StubHub or Vivid Seats, we'll give you 200% of the difference in ticket credit. TicketIQ customers save up to 25% compared to other secondary sites.
Citi Field Seating Chart

-Baseball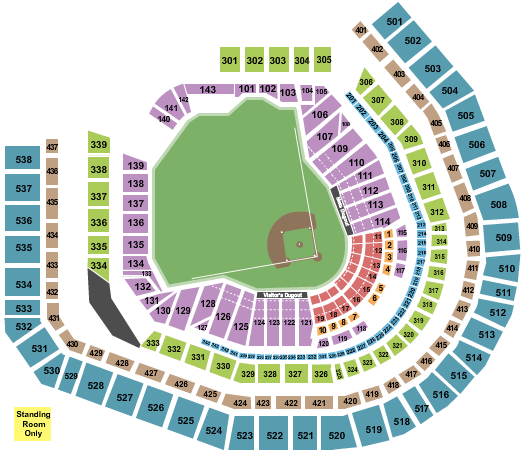 Traveling To Citi Field?
Field level sections, rows and seats

at Citi Field
The seating section of Citi Field is divided into three different sections including Field Level, Excelsior Level and Promenade Level. The field level includes sections 1-19 with rows, 1-20 in each section. The lower sections are followed by 100s level having 101-143 sections. The field level is further divided into Field Gold in sections 109-110 and 124-125 with rows A-B and Field Silver with sections 109-110 in rows C-E, 1-6 and Field Box is located in rows 7-34. Similarly baseline boxes lie in sections 104-108 and 127-132.
The 500s sections typically begin with row 1 and end with row 17.
100-level sections, rows and seats

at

Citi Field
100-level end sections include 110-114, 106-109, 120-130 with 100-level corner sections of 131-139 and 140-144. The end sections contains rows 1-31 while the corner sections have rows D-E, 1-33.
200-level sections, rows and seats

at

Citi Field
200-level sections have only 1 row per section. The center 200-sections include 212-228 while rest sections are corner sections.
300-level sections, rows and seats

at

Citi Field
300-level center sections include 316-322 and each section has 1-7 rows. 300-level corner sections include 327-331, 308-311 with rows 1-12. 300-level end sections include 312-315, 322-326 with rows 1-7.
400-level sections, rows and seats

at

Citi Field
400-level center sections include 411-418 and each section has 1-8 rows. 400-level corner sections include 405-410, 419-424 with rows 1-8. 400-level end sections include 401-404, 425-437 with rows 1-8.
Club, VIP, Box Seats and Suites at

Citi Field
The Hyundai Club is located on a private deck in sections 115-120 behind home plate giving best views of the section. Delta Club seats are located in Sections 11-19. The Metropolitan Club seats provide fans with excellent views in sections 111-114 on the first base side and sections 121-124. The three club lounges are available at the higher tiers including premium Foxwoods, Jim Beam Highball, and Porsche Grill club lounges. Also, Citi Field features club seating sections in the outfield include the 100 level reserved sections (101-103, 133-139). Sterling suite seating are located just behind home plate and above the Delta Club seats.
Mets Dugout - The Mets players sit in front of 112, 113 and 114
Visitor Dugout - The visiting team sits in front of 121, 122 and 123
The Perfect Seats for Partying and Socializing are in sections 523-526.
Where Can I Find Cheapest Tickets For Citi Field
The New York Mets have unsold face value tickets available for most games, which can be purchased directly through Ticketmaster. Prices may be above or below prices on the secondary ticket market. Many Concerts also have unsold tickets. For Sold Out Seats and Events, TicketIQ has Fee Free tickets for all events at Citi Field.
What Is Mobile Ticket Policy At Citi Field
Fans can download the MLB Ballpark app to enhance and buy their tickets to Citi Field. You can also purchase tickets through TicketIQ and Ticketmaster. Digital tickets for Mets Game must be presented within MLB Ballpark at the stadium. Screenshots of tickets will not be accepted.
Handicapped & ADA Seating At Citi Field
Citi Field offers other convenient services including wheelchair assistance, lost and found and wheelchair check in. Assistive listening devices are available at no charge by visiting the Rotunda Ticket Services Office on any game-day.
For More information regarding ADA accessibility, please contact:
Phone: (718) 565-4360
Email: Accessibility@nymets.com