For Sold Out Seats and Events, TicketIQ has Fee Free tickets for all events at Citi Field for New York Mets games as well as Concerts. That means that if you find a secondary market ticket for less on a site like StubHub or Vivid Seats, we'll give you 200% of the difference in ticket credit. TicketIQ customers save up to 25% compared to other secondary sites. TicketIQ also provides access to unsold face value tickets for all events at Citi Field via Ticketmaster.
Citi Field Seating Chart

-Baseball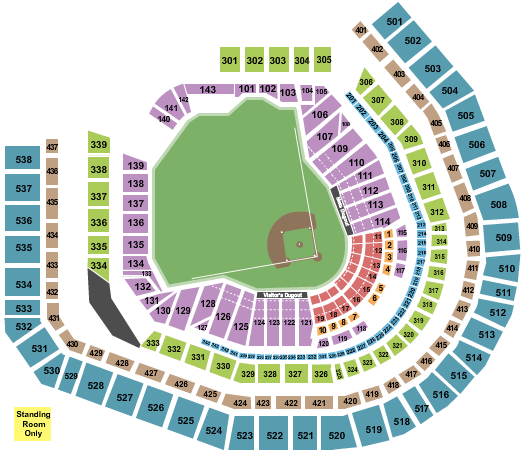 Field level sections, rows and seats

at Citi Field
The seating section of Citi Field is divided into three different sections including Field Level, Excelsior Level and Promenade Level. The field level includes sections 1-19 with rows, 1-20 in each section. The lower sections are followed by 100s level having 101-143 sections. The field level is further divided into Field Gold in sections 109-110 and 124-125 with rows A-B and Field Silver with sections 109-110 in rows C-E, 1-6 and Field Box is located in rows 7-34. Similarly baseline boxes lie in sections 104-108 and 127-132.
The 500s sections typically begin with row 1 and end with row 17.
100-level sections, rows and seats

at

Citi Field
100-level end sections include 110-114, 106-109, 120-130 with 100-level corner sections of 131-139 and 140-144. The end sections contains rows 1-31 while the corner sections have rows D-E, 1-33.
200-level sections, rows and seats

at

Citi Field
200-level sections have only 1 row per section. The center 200-sections include 212-228 while rest sections are corner sections.
300-level sections, rows and seats

at

Citi Field
300-level center sections include 316-322 and each section has 1-7 rows. 300-level corner sections include 327-331, 308-311 with rows 1-12. 300-level end sections include 312-315, 322-326 with rows 1-7.
400-level sections, rows and seats

at

Citi Field
400-level center sections include 411-418 and each section has 1-8 rows. 400-level corner sections include 405-410, 419-424 with rows 1-8. 400-level end sections include 401-404, 425-437 with rows 1-8.
Club, VIP, Box Seats and Suites at

Citi Field
The Hyundai Club is located on a private deck in sections 115-120 behind home plate giving best views of the section. Delta Club seats are located in Sections 11-19. The Metropolitan Club seats provide fans with excellent views in sections 111-114 on the first base side and sections 121-124. The three club lounges are available at the higher tiers including premium Foxwoods, Jim Beam Highball, and Porsche Grill club lounges. Also, Citi Field features club seating sections in the outfield include the 100 level reserved sections (101-103, 133-139). Sterling suite seating are located just behind home plate and above the Delta Club seats.
Mets Dugout - The Mets players sit in front of 112, 113 and 114
Visitor Dugout - The visiting team sits in front of 121, 122 and 123
The Perfect Seats for Partying and Socializing are in sections 523-526.
Where Can I Find Cheapest Tickets For Citi Field
The New York Mets have unsold face value tickets available for most games, which can be purchased directly through Ticketmaster. Prices may be above or below prices on the secondary ticket market. Many Concerts also have unsold tickets. For Sold Out Seats and Events, TicketIQ has Fee Free tickets for all events at Citi Field.
What Is Mobile Ticket Policy At Citi Field
Fans can download the MLB Ballpark app to enhance and buy their tickets to Citi Field. You can also purchase tickets through TicketIQ and Ticketmaster. Digital tickets for Mets Game must be presented within MLB Ballpark at the stadium. Screenshots of tickets will not be accepted.
Handicapped & ADA Seating At Citi Field
Citi Field offers other convenient services including wheelchair assistance, lost and found and wheelchair check in. Assistive listening devices are available at no charge by visiting the Rotunda Ticket Services Office on any game-day.
For More information regarding ADA accessibility, please contact:
Phone: (718) 565-4360
Email: Accessibility@nymets.com
Citi Field COVID-19 And Health And Safety Guidelines
BALLPARK ENTRY
In order to enter Citi Field, ticketed guests will be responsible for obtaining and displaying proof of one of the following:

Full vaccination, meaning both doses of either the Pfizer or Moderna vaccine or one dose of the Johnson and Johnson vaccine received at least 14 days prior to the day of the game.
A negative test result from a PCR COVID-19 test taken within 72 hours of the day of the game.
A negative test result from a COVID-19 Antigen test taken within six (6) hours of the game's scheduled start time (i.e. 1:00 p.m. for a 7:10 p.m. game).

More information about COVID-19 testing and proof of COVID-19 vaccination will be posted shortly.
FACE MASKS
All guests ages two (2) years and older must wear a face covering at all times on ballpark property except when actively eating or drinking at their ticketed seats. Face coverings must cover nose and mouth.
Gaiters, bandanas and face coverings with an exhalation valve are not permitted.
PHYSICAL DISTANCING
In accordance with New York State government prescribed mandates, Citi Field will initially operate at 20 percent of its full capacity (capped at 8,492 seats).
Seats will be sold in pod format with seating clusters ranging in size from one to six seats. Each location will be separated from other pod locations by at least six feet.
Guests must maintain six feet of distance from anyone not in their seating pod at all times.
Lines at gates, concession stands, retail stores and restrooms will utilize floor markers to maintain proper distancing.
Elevator use will be limited to ADA guests or those requiring assistance. Elevator capacities have been reduced to assist with distancing.
CLEANING & SAFETY PROTOCOLS
Citi Field will be sanitized between games. All high-touch areas will be frequently cleaned and disinfected during games.
Guests and staff are encouraged to wash their hands frequently.
Hand sanitizer stations will be available throughout the ballpark for guest and staff use.
MOBILE TICKETING
All tickets will be delivered via mobile utilizing the MLB Ballpark app. Print-at-home and paper ticket options will no longer be made available.

Be sure to download the MLB Ballpark app in advance (download:

App Store

|

Google Play

) to access your digital ticket and to get essential information about your visit to Citi Field.
SOCIALLY DISTANCED SEATING
Seats will be sold in pods ranging from one to six seats, with guests from the same household/purchase group in the same pod. Guests must sit in the seats assigned to them.
All pods are separated by a six-foot radius. Unavailable seats will be blocked off to restrict usage.
For more information visit the Mets website.