Comerica Park Seating Chart + Rows, Seats and Club Seats
For Sold Out Seats and Events, TicketIQ has Fee Free tickets for all events at Comerica Park for Detroit Tigers games as well as Concerts. TicketIQ customers save up to 25% compared to other secondary sites. TicketIQ also provides access to unsold face-value tickets for all events at Comerica Park via Ticketmaster.
Comerica Park Seating Chart

- Baseball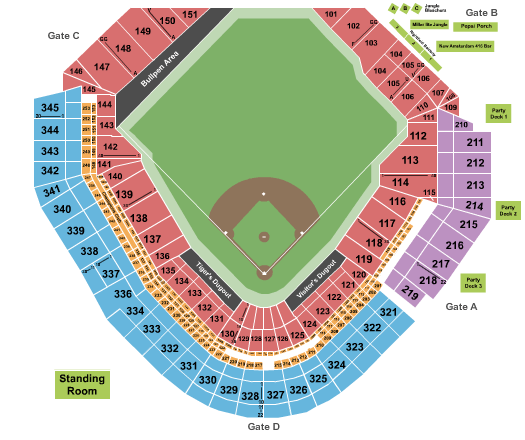 100-level sections, rows and seats at Comerica Park
Lower-level center sections include 123-132. 100-level end sections include 122-116, 133-129 with 100-level corner sections of 101-114, 140-150.
Lower-level center rows run from A-H, 1-35 with rows in end sections starting at row 1-35. Corner Section starts at row A-Z, AA-GG.
200-level sections, rows, and seats at Comerica Park
200-level corner sections include 211-219 and have variable rows between A-G, 1-22.
300-level sections, rows and seats at Comerica Park
300-level center sections include 325-331. 300-level corner sections include 334-345. 300-level end sections include 322-324, 332, 333.
300-level center and corner rows run A to F, 1-20 and rows A to G, 1-22 in end sections.
Club, VIP, Box Seats, and Suites at Comerica Park
The Blue Moon Brew House is a special lounge type seating arena located behind section 330. The Tiger Den Seats, are located in rows A-H around sections 120-135. These seats are padded with large area, and provide access to the club and lounge. The Club Seats are located behind the Tiger Den Seats, and are padded. Shaded seats can be found in row D and above.
The Detroit Tigers offer an exclusive club for fans below the age of 14 behind section 120
The Detroit Tigers Dugout is located in sections 131-135, while visitors dugout is located around sections 120-124.
Detroit Tigers Bullpen- located in left field in front of sections 143-151.
Traveling To Comerica Park?
Concert Seating Chart At Comerica Park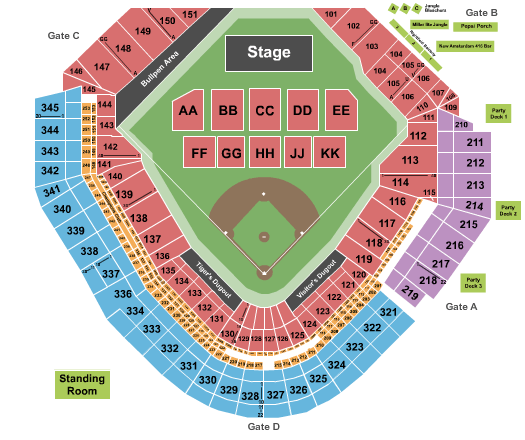 Floor seating at Comerica Park of as many as 10 sections, numbered AA through KK, with sections AA-EE closest to the stage and FF-KK farther from the stage. Behind the stage, sections include 147-158, 101-110.
Where Can I Find Cheapest Tickets For Comerica Park
The Detroit Tigers have unsold face-value tickets available for most games, which can be purchased directly through Ticketmaster. Prices may be above or below prices on the secondary ticket market. Many Concerts also have unsold tickets. For Sold Out Seats and Events, TicketIQ has Fee Free tickets for all events at Comerica Park.
What Is Mobile Ticket Policy At Comerica Park
Official ticketing partners for Comerica Park are Baseball Ballpark App, or the StubHub App. All paper or print out tickets, either will no longer be accepted. Only mobile tickets are allowed for entry.
Handicapped & ADA Seating At Comerica Park
Comerica Park offers other convenient services including wheelchair assistance, lost and found and wheelchair check-in. Access to 100 level, lower bowl seating is also available via the ramps at sections 119 and 141.