Coors Field Seating Chart+ Rows, Seats and Club Seats
For sold out seats and events, TicketIQ has Fee Free tickets for all events at Coors Field for Colorado Rockies games as well as Concerts. TicketIQ customers save up to 25% compared to other secondary sites. TicketIQ also provides access to unsold face-value tickets for all events at Coors Field via Ticketmaster.
Coors Field Seating Chart - Baseball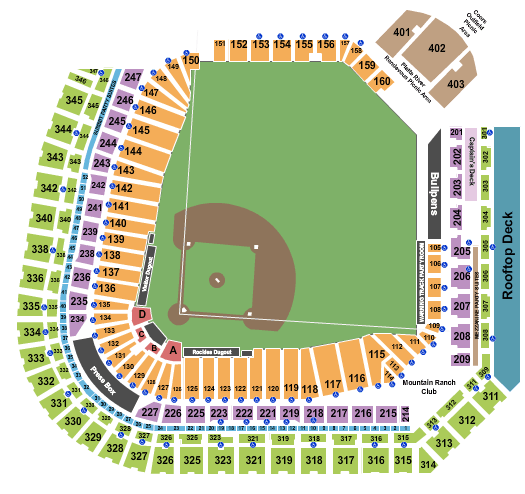 100-level sections, rows, and seats at Coors Field
Lower-level center sections include 123-138, 100-level end sections include 116-122, 124-138 with 100-level corner sections of 115-105, 145-160.
Lower-level center rows run from 5 to 39, with end section rows starting at row 1 through row 39. The section at corner ends starts at row 12-39.
200-level sections, rows, and seats at Coors Field
200-level center sections include 225-238. 200-level corner sections include 23-214, 229-47.
200-level center and corner rows run from 1 to 13.
300-level sections, rows, and seats at Coors Field
300-level center sections include 321-342. 300-level corner sections include 301-319, 343-347.
300-level center and corner rows run from 1-25.
Club, VIP, Box Seats and Suites at Coors Field
The Wells Fargo Club in second level of Coors Field is located in sections 214 to 227 on the first base side and 234 to 247. Toyota Land Cruiser Club premium seating area is located behind home plate in the Lower Press Level. Moreover, there are around 31 private suites on the private Suite Level for full and partial season rentals.
The Mountain Ranch Bar & Grille features Rockies memorabilia and contains upscale dining options. It is located in the right-field corner in Section 111 and Section 114 in the the right field side of the Suite Level. Infield Suites are located along the Suite Level and provide an upscale Suite experience. The Infield Suite package includes 12 to 20 suite tickets and access to other premium Club as well. INFINITI Club is a premium seating arena located behind sections 136. Patrons in the club enjoy premium seating and cuisine options.
Sections 121-125 are designated as Rockies' dugout and Sections 136-140 are located near visiting team's dugout. The bullpens are located in front of sections 201-204.
Concert Seating Chart at Coors Field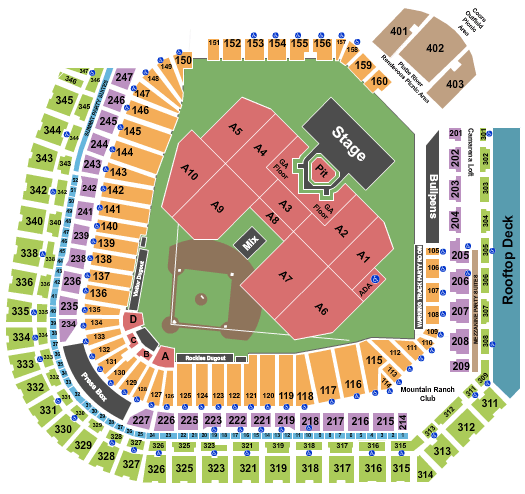 Floor seating at Coors Field of as many as A1-A10 sections, numbered 1 through 6, with sections A1-A5 closest to the stage and A6-A10 farther from the stage. Behind the stage, sections include 151-160.
Where Can I Find Cheapest Tickets For Coors Field
The Colorado Rockies have unsold face-value tickets available for most games, which can be purchased directly through Ticketmaster. Prices may be above or below prices on the secondary ticket market. Many Concerts also have unsold tickets. For Sold Out Seats and Events, TicketIQ has Fee Free tickets for all events at Coors Field.
What Is Mobile Ticket Policy At Coors Field
Will Call tickets are available during regular business hours at 20th and Blake Streets. Guests must present a legal ID to pick up tickets for a Rockies' game.
Tickets to Coors Field are available on:
By Phone: Call (303) ROCKIES (762-5437) to book your tickets for another Rookies' game.
Online: Online tickets can be purchased at ROCKIES.com/tickets. Digital tickets are also available at platforms like Ballpark app and TicketIQ.
In Person: Tickets may be purchased in person at Coors Field Ticket Box Office during office hours.
Handicapped & Ada Seating At Coors Field
Coors Field offers other convenient services including wheelchair assistance, lost and found and wheelchair check-in. For guests who wish to transfer to a seat from their wheelchair, Coors Field will store the wheelchair at Guest Services on four different level.There are approximately 1,000 accessible and companion seats available in the Coors Field. You may filter ADA option while searching for tickets.