Dodger Stadium Seating Chart + Rows, Seat Numbers and Club Seating
For sold out seats, TicketIQ has Fee Free tickets for events, concerts, and Los Angeles Dodgers games at Dodger Stadium. TicketIQ customers save up to 25% compared to other secondary sites.
Dodger Stadium Seating Chart

- Baseball

Traveling To Dodger Stadium?
Field Level sections, rows and seats

at Dodger Stadium
The field level at Dodger Stadium is divided into Zone A to Zone N. Zone A has rows from AA-JJ while 100-level has rows A-X. A-Z rows are available at 200 level. Left field bleachers consist of sections 301-315 while Right field bleachers are found in sections 302-316. Top Deck seats are found in sections 1-13 and are cheapest seats in the whole stadium. The field boxes consist of sections 1-25 and are closest to mid-field action.
Standing Room Only is present in 200 level of Dodger Stadium.
Sections 1-11 row M or higher in the are shaded and covered by the Dodger Stadium Top Deck overhang. Dodger Stadium Infield Reserve Sections 12-19 do not have overhead coverage and are exposed to the elements.
Club, VIP, Box Seats and Suites at Dodger Stadium
The club seats at Dodger Stadium are also known as the "Executive Club". They consist of sections 229-261 on the 3rd level of Dodger Stadium. The area extends from third base to the left field foul pole. The club suites accommodate 15-30 people. The rows are all lettered A-H. Coca-Cola AYCE Pavilion VIP are found at Right Field Bleachers of sections 302-316. Loge Box are found in the 100s section in 151-168. Infield Loge Box are located in sections 137-150. Dugout Club Seats consist of the front part of sections 1-25. United Club Suites are a part of 201-233, E1 and E2, overlooking infield.
The Los Angeles Dodgers Bullpen is located in front of sections 9-15, and the visitors dugout is located in front of sections 6-10. The Dodgers bullpen is located between sections 53, 167, and 301. The visitors bullpen is located in front of sections 52, 168, and 302.
Dodgers Dugout - The Dodgers players sit in front of Dugout Club 11 , Dugout Club 13 , Dugout Club 15 and Dugout Club 9
Visitor Dugout - The visiting team sits in front of Dugout Club 10 , Dugout Club 6 and Dugout Club 8
Dodger Stadium Seating Chart- Concert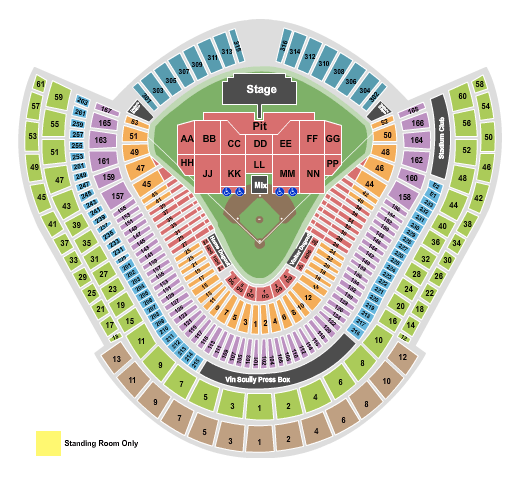 Floor seating at Dodger Stadium consists sections AA to PP. Sections AA-GG are closer to the stage and sections HH-PP are farther from the stage. Behind the stage sections consists of 300 sections including 300-311 and 314-340.
Where Can I Find Cheapest Tickets For Dodger Stadium
The Los Angeles Dodgers have unsold face value tickets available for most games, which can be purchased directly through Ticketmaster. Prices may be above or below prices on the secondary ticket market. Many Concerts also have unsold tickets. For Sold Out Seats and Events, TicketIQ has Fee Free tickets for all events at Dodger Stadium.
What Is Mobile Ticket Policy At Dodger Stadium
Select the Mobile App version for ticket delivery. A square QR code is displayed. This will be scanned by the ticket taker upon entry. Tickets for Dodger Stadium can be purchased either from Ticketmaster outlets. Screenshots of tickets will not be accepted. Digital tickets must be presented within MLB Ballpark or MyTickets Mobile at the stadium.
Handicapped & ADA Seating At Dodger Stadium
Dodger Stadium offers other convenient services including wheelchair assistance, lost and found and wheelchair check in. Wheelchair and Accessible seating can be purchased by calling the Dodgers' ticket office at 866-DODGERS or online at Dodgers.com. Each seating section is surrounded by accessible seating at the top of the level.