The Miami Heat is making the most of Dwyane Wade's jersey retirement. The team announced in January a three-day celebration of one of its most celebrated alumni, and tickets are tough to come by. The festivities begin Friday, February 21, with the actual jersey retirement ceremony set to take place at halftime of the Saturday, February 22 game against Cleveland.
Where To Buy Dwyane Wade Jersey Retirement Game Tickets
Primary market tickets to the game are nearly sold out, but a few seats remain on the 300 Level through Ticketmaster.
On the secondary market, TicketIQ has seats available for the Dwyane Wade Jersey Retirement Game, and will offer fans a Low Price Guarantee on all Miami Heat tickets in addition to Low Price Guarantees on all NBA tickets. That means that if you find a secondary market ticket for less on a site like StubHub or Vivid, we'll give you 200% of the difference in ticket credit. TicketIQ customers save up to 25%.
How Much Are Tickets For Dwyane Wade's Jersey Retirement Game
According to TicketIQ, the average asking price on the secondary market for this game is $605, making it the third priciest jersey retirement game in recent history, behind only a $1,477 average when Kobe Bryant's jersey was retired in Los Angeles in 2017, and $910 when Paul Pierce's was retired in Boston in 2018. Rounding out the top six priciest are $591 for Tim Duncan, $409 for Shaquille O'Neal' (Lakers), and $214 for Yao Ming.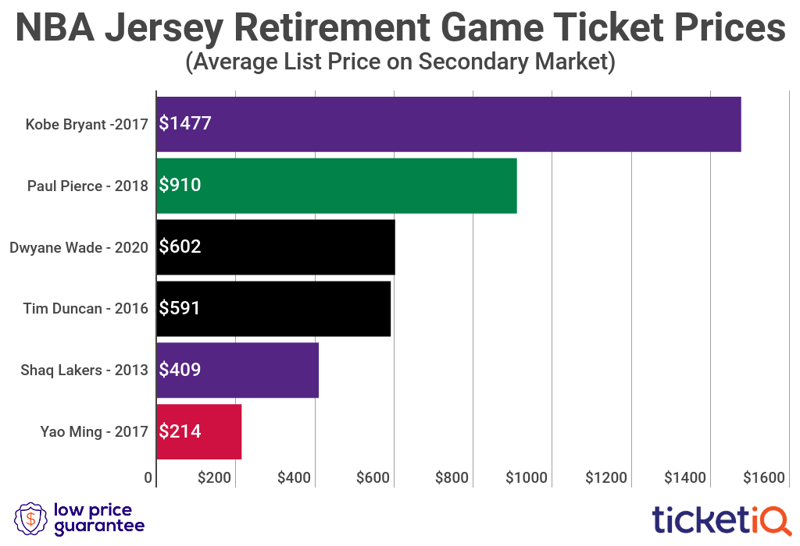 On the primary market, Ticketmaster shows 17 seats in Rows 20 and 21 of Section 308 available for $175 for the game.
The opening event of the weekend, called "The Flashback," will be open only to season-ticket holders, premium-seat holders and corporate partners. On Sunday, February 23, a screening of the documentary "D. Wade: Life Unexpected," is set for 3:30 p.m. at American Airlines Arena. This event is open to the public, tickets are on sale for $3 on Ticketmaster, and Wade will make an appearance at this event.
On the secondary market, the cheapest seats are currently trending at $175 in the 400 Sections. Seats are available throughout the arena, including 100-Level seats at midcourt in Sections 118, 119, 106 and 107, starting at $555 in Section 106, Row 28. If money is no object, seats in Section 107, Row 3 are listed at $4,049. Below is a screenshot of secondary market inventory and get-in price by zone: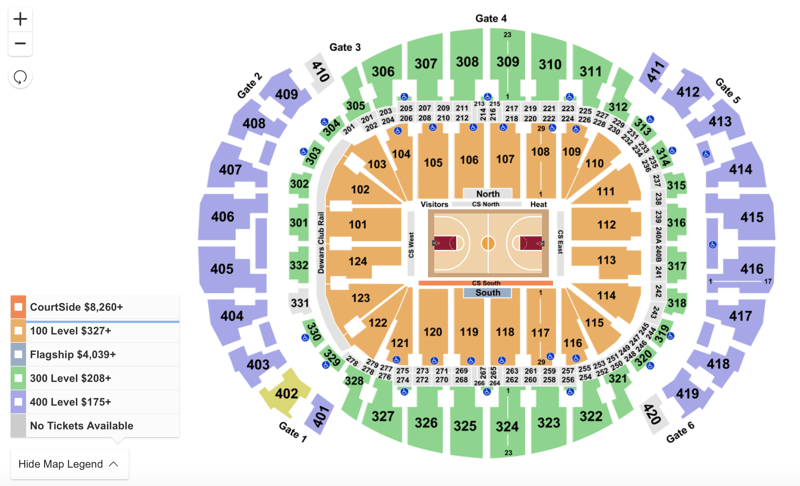 When Wade retired from the Heat after the 2018-19 season, he did so as the team's all-time leading scorer, a 13-time All-Star, and a Finals MVP (2006). He was part of three Heat NBA championships. He played nearly all of his career in Miami, with short stints in Chicago and Cleveland.
---
TicketIQ is committed to Transparent Ticketing and offers Low Price Guarantees on sold out tickets + unsold face value ticket through Ticketmaster, Eventbrite and other partners.