2020 Philadelphia Eagles Attendance Policy
UPDATE: On August 28th, it was confirmed that no fans will be allowed at Lincoln Financial Field for Eagles games "until further notice". The team is going to continue working with the state and city on fan attendance, with hopes that fans will be allowed back later in the season.
---
On July 14th, the city of Philadelphia announced a ban on large events for 6 months, which will remain in effect until Feb. 8, 2021. This ban does not affect "performance venues and stadiums", so professional sports can return. However, if and when they do return it appears that it will be without fans in the venue. Here's more from the Philadelphia Inquirer:
Health Commissioner Thomas Farley said the protocols for the major sports leagues "look pretty good" but having spectators would not be safe.

"I do think that games can be played with the kind of safety precautions that they're proposing. I do not think that they can have spectators at those games. There's no way for them to be safe having a crowd there," Farley said. "I can't say what the plans are for the league, but from a safety perspective, they can play games but not [have] crowds."
"The Eagles are still going to be allowed to play, although without crowds. The Phillies will continue to be allowed to play, although without crowds," Managing Director Brian Abernathy said.
Where to Buy Philadelphia Eagles Tickets
Philadelphia Eagles tickets are available for sale on the secondary market as of the 2020 schedule release.
TicketIQ has
Fee-Free tickets
with a
Low Price Guarantee
and
Refund Guarantee
, which states that in the event an event is cancelled or deem unfit for fans to attend, TicketIQ will refund ticket buyers in as soon as 15 days. That means that you can buy from TicketIQ worry-free.
Potential Covid-19 Impact On 2020 NFL Schedule
While the schedule release is a much-needed dose of exciting news for all football fans, there are some major questions marks heading into the 2020 season due to the Coronavirus pandemic. While teams know what teams they'll play, that's about all they know. Whether or not the games happen and if fans are able to attend will depend on how the virus is managed over the next 2-3 months. The league has already canceled all of its International Series games, and the league is rightly considering all possible scenarios.
Based on the varying levels of infection in each NFL city and state, it's possible that some teams may be able to host fans at a reduced capacity while others may not. The Dolphins announced a preliminary plan last week, with a 25% of capacity goal. Based on the below NFL Covid-19 Safety Index, the Dolphins fall within the low-risk category, just barely.
To create the Safety Index, we compared the active cases in each city or state to the national average and then discounted that product by Rt. Rt is a measure of how fast the virus is spreading in each city and state, most easily tracked through Rt.live.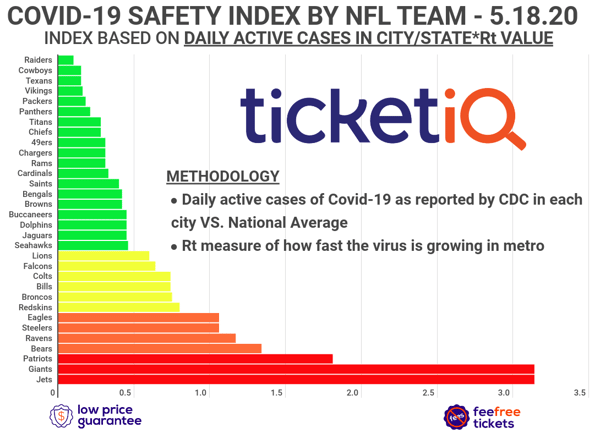 How Much Are 2020 Philadelphia Eagles Tickets
The average asking price for a Philadelphia Eagles ticket on the secondary market is $484, according to TicketIQ. This is the seventh priciest across the NFL, and fourth highest in the NFC. The priciest ticket in the NFL on the secondary market is $1,098 for the Raiders, who will be making their Las Vegas debut in the fall.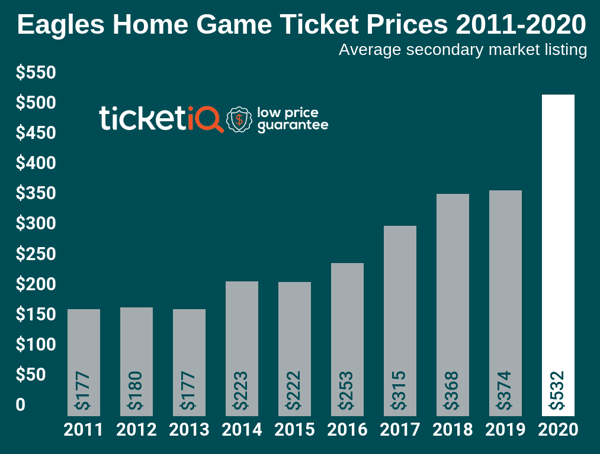 Season Ticket and Mini Plan Options
Season tickets are currently available on the Eagles website, and fans are required to purchase a Stadium Builder License in addition to season tickets. Season tickets can be purchased for a lump-sum fee or the Eagles offer financing. Prices vary depending on seat location.
All season ticket holders get merchandise discounts and access to the NFL RedZone channel via smartphone.
Club Seating and Premium Options
The Eagles offer multiple premium and club seating options, and all come with access to VIP parking and pre-sales to other events at Lincoln Financial Field. In addition to Club and Premium seating, the Eagles also have suite rentals and single-game hospitality packages available.
Axalta Tunnel Club: Members of this club get access to on-field seating as well as the Axalta Tunnel Club, which is located in the tunnel the Eagles use to access the field. Inside the Club, fans will find all-inclusive high-end food-and-beverage options, wide-screen televisions and other amenities. Each pair of Axalta Tunnel Club seats includes a charging station and access to a MicroSoft Surface Tablet.
Club Level Seating: Ticket holders get access to the Tork and Hyundai Clubs, which are climate-controlled lounges with upscale food-and-beverage options. Club Level seats have extra padding and are wider than standard seats. Ticket holders also have access to preferred parking.
Touchdown Club: Featuring 50-yard-line seats, Touchdown Club ticket holders also get all-inclusive food-and-beverage in the Touchdown Club, as well as preferred season parking. In-game field access and pre-game sideline passes.
Mobile Ticket Policy
The Philadelphia Eagles app is available to download at the App Store or Google Play. Fans can use the app for mobile ticketing and to manage season tickets. Fans who do not have smartphones can call the Eagles to arrange for other options to enter Lincoln Financial Field.
---
TicketIQ is committed to the cheapest tickets possible, and we make much less on sold out tickets compared to other major marketplaces like StubHub and Vivid. That means ticket buyers save from up to 25% on TicketIQ on sports, music and theater. We're able to do this because we also work with teams, venues, and other ticket owners, to help them sell tickets at face price, directly to consumers like you, through Ticketmaster and Seatgeek. For an overview of the 2020 NFL Ticket Buying landscape, and details on the cheapest way to get tickets for every team, visit the TicketIQ Blog.
---
Following Super Bowl, Prices For Eagles Tickets Are Highest This Decade
Carson Wentz's return and a Super Bowl victory are driving the average asking price of 2018 Philadelphia Eagles ticket prices to an all-time high. According to data from TicketIQ.com, the secondary average market asking price of $368 is the highest since the company began tracking data in 2011. And that number is more than double the cost of a ticket to Lincoln Financial Field at the start of the decade.

Wentz, the No. 2 overall pick in 2016, went 11-2 before suffering a knee injury in December 2017, but Philadelphia surprised the league when Nick Foles stepped in and took the team all the way to its first Super Bowl victory, 41-33, against New England. The Patriots have played in three of the last four Super Bowls, winning two. That success has translated into sky-high tickets at Gillette Stadium – for the third consecutive year, Patriots tickets are the highest on the secondary market, currently trending at $624.

For the Eagles, the $368 average asking price represents a 17% increase over the $315 asking price in 2017.

The highest average asking price for an Eagles ticket is for a game that won't be played at Lincoln Financial Field – or in the U.S., for that matter. According to TicketIQ.com data, the Eagles-Jacksonville Jaguars game slated for Oct. 28 in London has extremely limited inventory and an average asking price on the secondary market of $1,000.

At home, the average secondary market ticket price runs the gamut, with a get-in price of less than $100 for the Dec. 23 Houston Texans game to an average of $569 for the season opener against the Atlanta Falcons. The game will be a rematch of last season's divisional playoff game (Philadelphia won, 15-10) and pits the last two NFC Champions. Fans will likely get a chance to see the Lombardi Trophy before the game and the stadium is already adorned with Super Bowl banners.

The second highest average asking price is currently $392 for the Nov. 11 Dallas Cowboys game, and six of eight home games have an average asking price of more than $342. Only the final two games of the season (vs. Washington and Houston) are currently available on the secondary market for less than $300.

Since February, the Eagles have seen plenty of turnover – 13 members of the Super Bowl roster became free agents, and only LB Nigel Bradham was re-signed. That said, Philadelphia shored up its defense with DE Michael Bennett and added Ravens WR Mike Wallace.