Updated FC Dallas 2020 Schedule
Major League Soccer has revealed their schedule for the first phase of the return to play for the 2020 regular season. The continuation of the season will have three phases and see each team will play an additional 18 regular-season games, with the first phase having most teams play six matches against regional opponents. This phase will run through September 14th. The only exception to this is FC Dallas and Nashville SC who will play an additional three games to make up for those missed having to withdraw from the MLS is Back Tournament.
The regular season is set to run through November 8th. The playoffs, which will be expanded to 18 teams are scheduled to start on November 20th and run through December 12th. 10 teams in the East and 8 teams in the West will qualify due to the conferences currently being unbalanced with Nashville's temporary placement in the Eastern Conference.
Phase 1 Schedule:
August 12th - 7:30 PM vs. Nashville SC
August 16th - 7:30 PM vs. Nashville SC
August 21st - 7:00 PM at Houston Dynamo
August 26th - 7:30 PM vs. Colorado Rapids
August 29th - 7:30 PM vs. Minnesota United FC
September 2nd - 7:30 PM at Sporting Kansas City
September 9th - 7:30 PM at Minnesota United FC
September 14th - 7:00 PM vs. Houston Dynamo
Phase 2 Schedule:
Saturday, September 19th at Sporting KC, 2:30 p.m. CT
Wednesday, September 23rd at Atlanta United FC, 6 p.m. CT
Sunday, September 27th vs Orlando City, 7:30 p.m. CT
The rest of the schedule will be announced at a later date.
Where To Buy FC Dallas Tickets
A limited number of single-game tickets on the primary market for FC Dallas First Phase of the resumption of the 2020 regular season will be available via the team's website. Based on current guidelines, only 5,110 fans will be allowed to attend. So far, only tickets for the opening game will become available and fans will be required to wear a face mask at all times.
On the secondary market, TicketIQ offers fans a Low Price Guarantee on all sold out FC Dallas tickets, in addition to Low Price Guarantees on all Major League Soccer tickets. That means that if you find a secondary market ticket for less on a site like StubHub or Vivid Seats, we'll give you 200% of the difference in ticket credit. In our efforts to continue to provide our customers with the best deals, we've removed all fees.TicketIQ now shows you the full ticket price from the start of your search. TicketIQ customers save an average of 5%-20% compared to StubHub and Vivid Seats.
How Much Are FC Dallas Tickets
On the primary market, seats for the February 29
season opener
against the Philadelphia Union start at $14 for a seat in the 100 Sections along the sideline. The priciest seats for the game are $65 in Sections 105, 106, and 107 at midfield.
On the secondary market, the overall average asking price for a ticket to see FC Dallas on the secondary market is $42, making it one of the best deals of the decade. The cheapest season cost fans an average of $34 in 2019, and the priciest was an average of $78 in 2015, when they won the Western Conference and got to the Conference Finals before losing to Portland.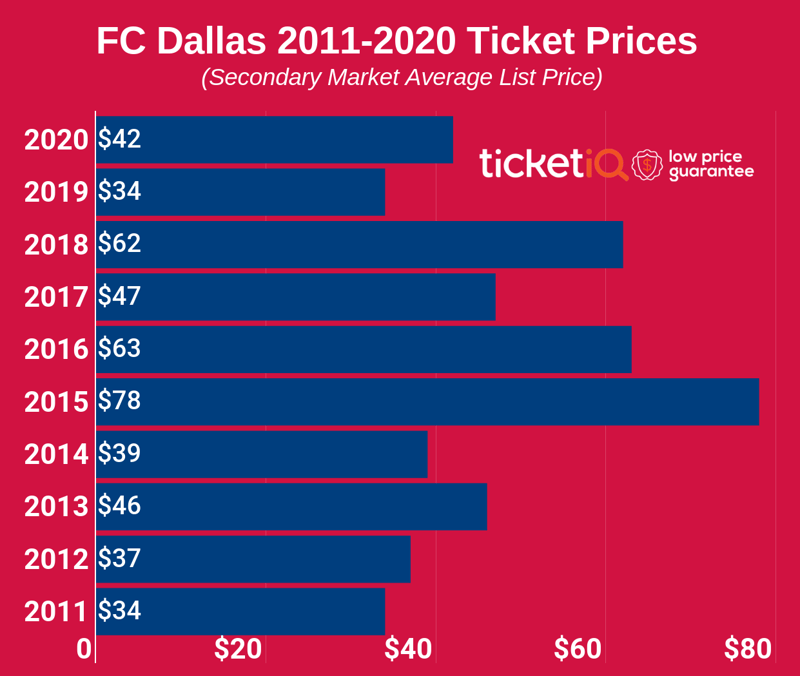 FC Dallas Season Tickets & Multi Game Packs
Season ticket holders get access to two clubs at the stadium, as well as free parking and access to match-day giveaways. Season tickets are available in select sections and start at an average of $25 per game for seats in Section 101 on the sideline at the goal line to $55.50 in Section 107 at midfield behind the team benches.
Flexible plans allow fans to select which games they want to attend and where they want to sit. A minimum of three games must be selected, and only packages of four or more can include a premium game against a top-tier opponent. Prices vary depending on the number of games and seat location.
FC Dallas 2020 Schedule
February
Feb. 29: vs. Philadelphia Union
March
March 7: vs. Montreal Impact
March 14: at New York City FC
March 21: at Seattle Sounders
April
April 4: vs. Los Angeles FC
April 11: at Portland Timbers
April 18: at Minnesota United
April 25: at Colorado Rapids
May
May 2: vs. Chicago Fire FC
May 9: at Nashville SC
May 16: vs. Houston Dynamo
May 23: at Vancouver Whitecaps
May 30: vs. Sporting KC
June
June 6: at Real Salt Lake
June 13: at Inter Miami CF
June 17: vs. Columbus Crew
June 20: vs. Minnesota United
June 27: at FC Cincinnati
July
July 1: at DC United
July 4: vs. San Jose Earthquakes
July 11: vs. Los Angeles Galaxy
July 18: vs. Orlando City SC
July 25: at Sporting Kansas City
August
Aug. 1: at New York Red Bulls
Aug. 8: vs. Real Salt Lake
Aug. 15: vs. Colorado Rapids
Aug. 20: at Houston Dynamo
Aug. 23: vs. Nashville SC
Aug. 29: at San Jose Earthquakes
September
Sept. 5: vs. Portland Timbers
Sept. 11: at Los Angeles FC
Sept. 20: vs. Seattle Sounders
Sept. 26: vs. Vancouver Whitecaps
October
Oct. 4: at Los Angeles Galaxy
---
TicketIQ is committed to Transparent Ticketing and offers Low Price Guarantees on sold out tickets + unsold face value ticket through Ticketmaster, Eventbrite and other partners. For an overview of the 2020 MLS Ticket buying landscape, and details on the cheapest way to get tickets for every MLS team, visit the TicketIQ Blog.