FedExField Seating Chart + Section, Row & Seat Number Info
TicketIQ has fee free tickets on events at FedEx Field. That means that if you find a secondary market ticket for less on a site like StubHub or Vivid Seats, we'll give you 200% of the difference in ticket credit. TicketIQ customers save up to 25%. TicketIQ also provides access to unsold face value tickets for all events at FedEx Field via Ticketmaster.
FedExField Seating Sections
The lower bowl is the Dream Seats, 100-lower level sections and 200-terrace level sections. Dream Seats sections 1, 2, 3, 4, 5, 6, 9, 10, 11, 12, 13, 14, 17, 18, 19, 20, 21, 22, 23, 24, 25, 26, 27, 30, 31, 32, 33, 34, 35, 38, 39, 40, 41, 42; 100-level is comprised of center sections 101, 102, 103, 104, 118, 119, 120, 121, 122, 123, 124, 125, 139, 140, 141 and 142; corner sections 105, 106, 107, 108, 114, 115, 116, 117, 126, 127, 128, 129, 135, 136, 137 and 138; end zone sections 109, 110, 111, 112, 113, 130, 131, 132, 133, 134. 200-level section is comprised of center sections 201, 202, 203, 204, 218, 219, 220, 221, 222, 223, 224, 225, 239, 240, 241, 242; corner sections 205, 206, 207, 208, 214, 215, 216, 217, 226, 227, 228, 229, 235, 236, 237, 238; end zone sections 209, 210, 211, 212, 213, 230, 231, 232, 233, 234.
The middle bowl is comprised of Zone A Club (sidelines) sections 301, 302, 303, 319, 320, 321, 322, 323, 324, 340, 341, 342; Zone B Club (corners) section 304, 305, 317, 318, 325, 326, 338, 339; Zone D Club sections 306, 307, 308, 309, 313, 314, 315, 316, 327, 328, 329, 330, 334, 335, 336, 337. The East Party Deck is sections 329-335 and the West Party Deck is sections 308-314.
The upper bowl is comprised of Sideline/Corner sections 401, 402, 403, 404, 405, 406, 407, 408, 409, 410, 419, 420, 421, 422, 423, 424, 425, 426, 427, 428, 429, 430, 431, 432, 433, 434, 435, 436, 446, 447, 448, 449, 450, 451, 452, 453, 454; End zone sections 411, 412, 413, 414, 415, 416, 417, 418, 437, 438, 439, 440, 441, 442, 443, 444, 445.
Standing Room Only Sections include: 410 SRO - 418 SRO and 437 SRO - 445 SRO.
FedExField Row Number
Sections in the 100 sections of the lower bowl have as many as 30 rows, though center sections have 28, on the corners with have 13. The 200 sections have up to 23 rows, while some of the end zone sections have just 4. Seats in the 300 sections have to 32 rows. Club and other special sections have fewer rows.
FedExField Seat Numbers
Seats in each row start with the No. 1 and that seat is the one closest to the previous section. For example, in Section 132, Seat No. 1 would be the seat closest to Section 131. The average section in the 100 and 200 Sections has between 20-22 seats per row. In the 300 sections, there are up to 24 seats per row. In the 400 sections there are up to 29 rows.
FedExField Seating Chart
Redskins Seating Chart - Football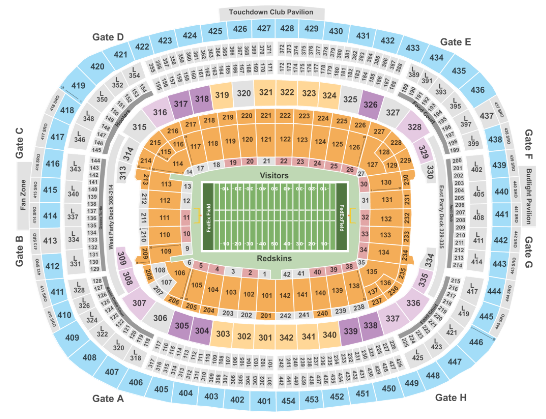 Rolling Stones Seating Chart - Concerts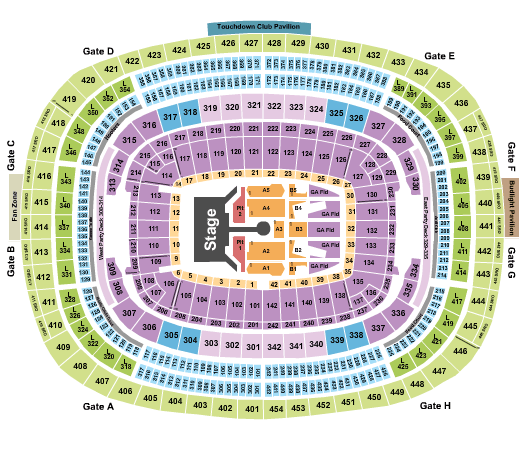 Soccer Seating Chart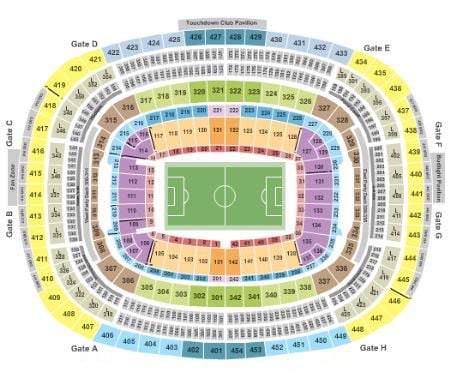 FedExField Handicap ADA SEATING
According to the Redskins website, there is accessible seating on all levels at FedEx Field, and those who need accessible seating can visit Guest Services at Gates A and E on game day. Accessible parking is available in designated locations with a current state-issued disabled parking permit. For a map of available accessible parking, click here.
FedExField SUITE and CLUB SEATING
Dream Seats
This seats, located in the first three rows of the stadium, provide a unique experience, allowing fans to all but be on the field. Located in Sections 1-42, and are directly in front of 100-level seats with the same number (i.e. Section 1 vs. Section 101). Fans in these seats also have access to Club Level amenities.
Club Level
Known as the Joe Gibbs Club Level, fans in these sections are treated to an enclosed concourse with furnished lounges, big-screen televisions, food courts and multiple lounges all located in the upper bowl in the 300 sections. Fans holding tickets to Dream Seats (exclusive field-level seats in the first three rows), Loge, Suites, or Owner's Club may use the Club Level amenities throughout the game. Below is a look at what's available on the Club Level, in alphabetical order:
DeLeon Platinum Lounge
Located between Sections 306-308, this lounge offers bar- and table- service throughout the game, including a wide selection of specialty margaritas and craft beers. The architectural highlight of the lounge is a 130-foot long bar. The lounge opens two hours before kickoff and closes two hours after.
EA Players Sports Lounge
Located between Sections 330-334, this lounge offers fans the chance to use Madden game consoles while also enjoying a full bar, plush seating, and a live band on the patio after the game. The lounge opens two hours before kickoff and closes two hours after.
FanDuel Lounge
Located at Sections 309-313, fans in this lounge can get up-to-date fantasy stats from around the league, while watching the game in a comfortable setting.
Hooter's Club Restaurant
Located between Sections 314-316, the Hooter's restaurant offers fans a bevy of flat-screen TVs on which to check out pregame shows, highlights from around the league or other games, either before Redskins kickoff or after. Fans can order off the menu and enjoy table service. The restaurant opens two hours before kickoff and closes two hours after.
Suites
The Redskins offer a variety of suite options, including Owners Club Suites, which include access to the VIP Club, all-inclusive gourmet catering, and stunning field views. In addition, Executive Suites can be customized to your brand and Loge Suites offer an open-air experience with complimentary catering. The team also offers single-game suites that include pregame hospitality and gourmet catering.
Which side is the Washington Redskins bench on?
The Redskins bench is located in front of Sections 101 and 142.
What's the best way to tailgate at FedEx Field?
Fans are invited to tailgate at FedEx Field, but the Redskins do have some restrictions, noted here.
In general, tailgating is permitted in designated areas, but only until the space being used to tailgate is needed to park other vehicles. Tailgating is prohibited in Platinum lots. Fans are permitted to bring grills and alcohol into the parking lots, but should take all trash with them and drink responsibly. Smoking it permitted only in designated areas.
What is the mobile ticketing policy at FedEx Field?
The Redskins encourage mobile ticketing, which can be accessed via My Redskins Account. The team also provides detailed instructions on how to download and use the app. Last season, the Redskins implemented digital ticketing for all home games, but patrons had the option of receiving physical tickets, as well. With the Redskins app, tickets can be accessed, transferred or sold, and patrons do not need their own phones to do this – the My Redskins Account can be accessed from any mobile device.
FedExField Shaded Seating
Shaded seats at FedExField are mostly on the 200 and 300 level and make up only 15% of the total seats in the stadium. On the 200 level shaded seating begins at row 3 and above and in the 300 level they start at row 18 and above.
---
TicketIQ is committed to the cheapest tickets possible, and we make much less on sold out tickets compared to other major marketplaces like StubHub and Vivid. That means ticket buyers save from up to 25% on TicketIQ on sports, music and theater. We're able to do this because we also work with teams, venues, and other ticket owners, to help them sell tickets at face price, directly to consumers like you, through Ticketmaster and Seatgeek For an overview of the 2019 NFL Ticket Buying landscape, and details on the cheapest way to get tickets for every team, visit the TicketIQ Blog.