Fenway Park Seating Chart + Rows, Seats and Club Seats
For sold out seats, TicketIQ has Fee Free tickets for all events at Fenway Park. TicketIQ customers save up to 25% compared to other secondary sites. For unsold face value tickets at Fenway Park, visit MLB.com.
Fenway Park Seating Chart - Baseball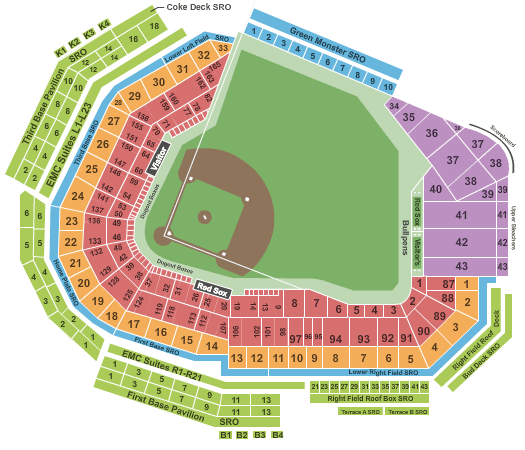 Fenway Park Seating Chart - Concerts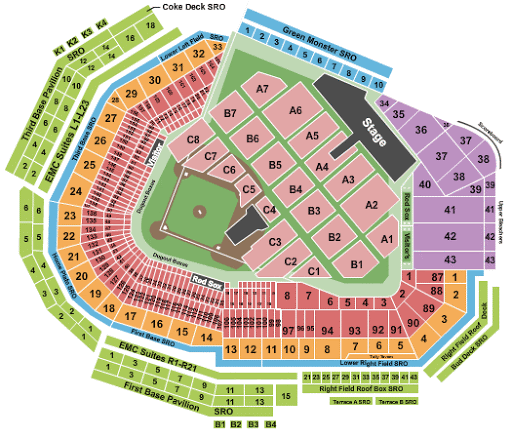 Red Sox Dugout - The Red Sox players sit in front of Field Box 22, Field Box 23, Field Box 24, Field Box 25 and Field Box 26
Visitor Dugout - The visiting team sits in front of Field Box 62, Field Box 63, Field Box 64, Field Box 65 and Field Box 66
Traveling To Fenway Park?
Field Level sections, rows and seats

at

Fenway Park
The floor seating at Fenway Park is surrounded by sections A1-A7, B1-B7, C1-C8 and 1-165. The A or higher sections have 1-30 rows while B and C sections have 1-20 rows in total. Bleacher Seating is located at highest tier with 1-40 rows each seating section.
The lower level of Fenway Park is made up of three semi-continuous seating zones, known as Field or Dugout Boxes, followed by Loge Boxes and the Grandstand. There are 1-18 rows in Grandstand sections and are located at highest position amongst three. Loge Boxes begin with row AA and end at row RR. The lowest section, the Field or Dugout Section has typically 1-2 rows followed by rows A-M.
There are five (5) Entrance Gates to Fenway Park, Gates A-E. There are three elevators at Gate D.
Club, VIP, Box Seats and Suites at

Fenway Park
EMC club seats are located on the second level above grandstand seating. The club seats are padded with extra legroom, with in-seat wait service. The Ford Clubhouse serves as a private venue for Red Sox home games for Dugout Seat Patrons.
The Royal Rooters Club is located behind Section 3 in the east end of Fenway Park near Gate B concourse.
Dugout padded seats are located at field level. The first row in Sections 39-50 (A1) will also have a TV monitor on the ground in front of them. The Champions Club is located in the big concourse where guests frequently gather and eat before a Red Sox game.
Family Restrooms are at Gate E. Additionally, there is a family restroom located on the Pavilion Level under Pavilion Box 14 and Pavilion Box 2. Grandstand Sections 32 and 33 are designated family sections.
The Boston Red Sox have luxury suites that can be rented on a game-to-game basis. Six "K" suites adorn the third-base side, five "B" suites reside along the first-base side.
Where Can I Find Cheapest Tickets for Fenway Park
The concert and Boston Red Sox tickets have unsold face value tickets available for most games, which can be purchased directly through Ticketmaster. Prices may be above or below prices on the secondary ticket market. Many Concerts also have unsold tickets. For Sold Out Seats and Events, TicketIQ has Fee Free tickets for all events at Fenway Park.
What is Mobile Ticket Policy at Fenway Park
Ticlets for Boston Red Sox and concerts at Fenway Park can be purchased from the Red Sox Ticket Office, located at 4 Jersey Street. You can also purchase tickets online through Ticketmaster and TicketIQ.
Will call tickets are available beginning 90 minutes prior to games at all gates. Fans are required to show a photo id when picking-up their tickets. No ticket drop-offs are accepted.
Handicapped & ADA Seating at Fenway Park
Fenway Park is fully equipped with ADA Accessibility entrances and seating. Patrons MUST SPECIFY if they need ADA, hearing impaired, or visually impaired seating at the time of ticket purchase. All gates of Fenway Park are handicap-accessible. Grandstand wheelchair ticket holders must enter through Gates D or E.