Where To Buy Final Four Tickets
Set for April 4 and April 6 at Atlanta's Mercedes-Benz Stadium, primary market packages for the NCAA Men's Basketball Final Four are available via Primesport. Individual game tickets are sold out on the primary market.
On the secondary market TicketIQ offers a Low Price Guarantee on all sold out NCAA Men's Basketball Final , which means that if you find a secondary market ticket for less on a site like StubHub or Vivid Seats we'll give you 200% of the difference in ticket credit. TicketIQ customers save an average of 5%-20% compared to StubHub and Vivid Seats. Below are screenshots showing secondary market availability and get-in price by zone for the Semifinals and Championship Game.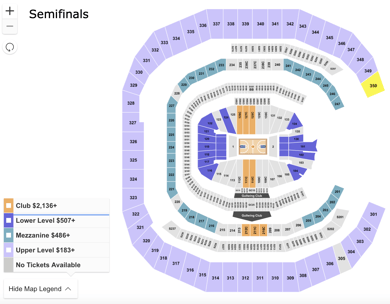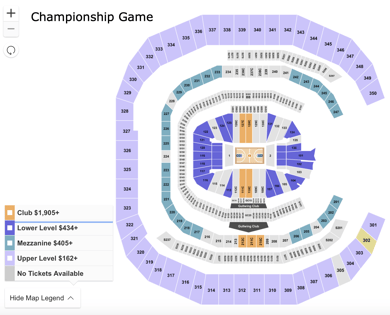 How Much Are Final Four Tickets
The average asking price for the national semifinals on the secondary market is $774, and the cheapest seat is $171. If the price holds, this national semifinal would be the third cheapest since 2011, when TicketIQ began tracking data. The priciest was $1,343 in 2017, when Kansas, Michigan, Oregon, and Purdue were in the field. The cheapest was $595 in 2011, when Butler, Connecticut, Kentucky, and Virginia Commonwealth all played. The national championship is trending at $742, which would make it the third priciest since 2011. The highest average was $761 in 2015 when Duke played Wisconsin, and the second priciest was $746 in 2016, when Villanova played USC. The cheapest was $316 in 2011 for title game featuring Connecticut and Butler.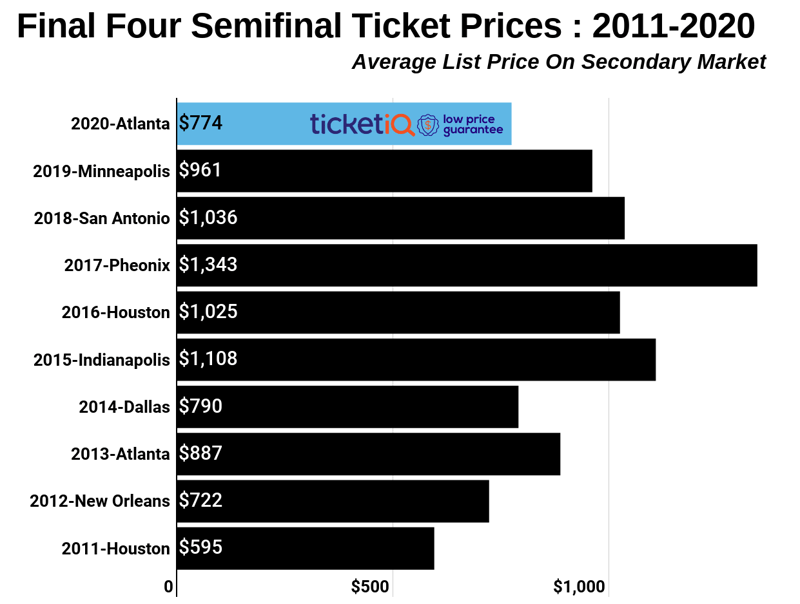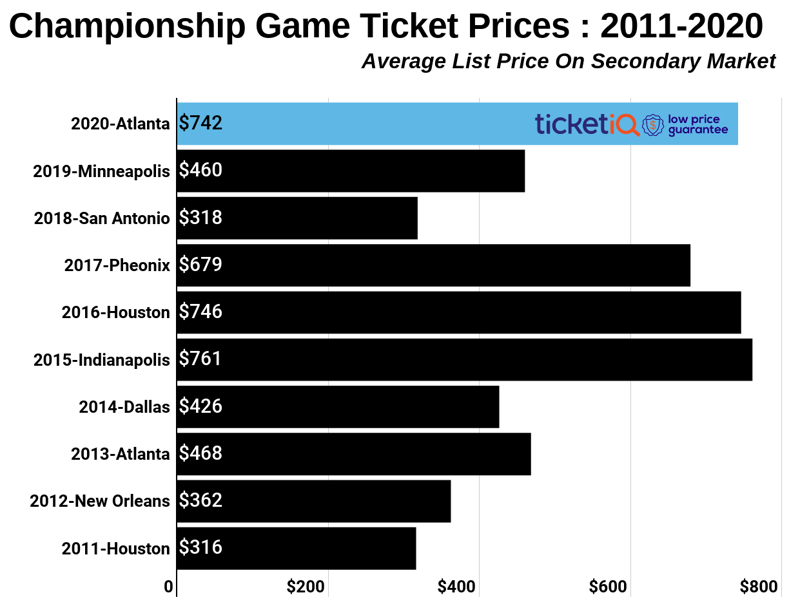 On the primary market, Primesport has All-Session Packages available starting at $541, including tickets to both the national semifinals and finals, access to the NCAA Experience, and access to a full cash bar and light appetizers. Fans can also purchase individual session packages starting at $383.50 for the semifinals on April 4 and $316.50 for the championship on April 6. Packages that include and open bar and all-you-can-eat buffet start at $715 for the championship session, $782.50 for the semifinal session or $1,290 for both sessions. Packages that include access to an all-inclusive bar and all-you-can eat buffet in addition to Club access start at $1,486 for the championship game, $1,666 for the semifinals and $2,656 for both sessions.
On TicketIQ, fans can get an All-Session pass for $304 for a seat in Upper Corner 301, high above the court, or in Row 1, Upper Endzone 325 with the TicketIQ Low Price Guarantee for $862. For the semifinals only, secondary market tickets start at $176 in Upper Corner 350. For the championship game only, seats start at $167 in Upper Corner 324.
Premium Seating For Final Four
Mercedes-Benz Stadium has multiple club options, including the AMG Lounge and SunTrust Club, the Mercedes-Benz and Delta Sky360 Clubs and the Harrah's Cherokee Casino Clubs. On the secondary market, fans can buy All-Session tickets to the AMG Lounge or Sun Trust Club starting at $3,615. Overall, club seats range in price from $3,059-$16,680
Fans can also get suite access for as little as $1,972 in Suite S140.
The AMG Lounge and SunTrust Club are private clubs located at what would be field-level for a football game, and include a VIP entrance to the stadium, VIP parking, and all-inclusive food-and-beverage options.
The Mercedes-Benz and Delta Sky360 Clubs are climate-controlled clubs available only to certain ticket holders. These clubs have private bars and restrooms, lounge seating and plenty of big-screen televisions.
The Harrah's Cherokee Casino Clubs have retractable glass overhead doors, a dining area, and private restrooms.