While the Bucks look to even their second-round playoff series with the Celtics tonight at Fiserv Forum, nervous Bucks fans can distract themselves with some big concerts coming to Milwaukee in what will be the first summer of music at the $500 million arena. While sports fans are hoping to be shopping for Bucks playoff tickets into June, music fans have nine concerts in May, June and July to choose from.
Games five and seven of the Celtics series take place on May 8th and May 13th, and are the two most expensive events scheduled at the arena in May, with the cheapest tickets going for $150. For music fans, prices are considerably cheaper for Pink and Cher, the two big female-headliner tours that gives fans something to cheer for on the nights the Bucks aren't playing.
If the Bucks advance all the way to the NBA finals, the first game would take place on on May 30th. Prices for that game start around $950, which would be the most expensive event ever held at Fiserv, which opened in 2018. The first live event held at Fiserv was a concert featuring The Killers and Violent Femmes on September 8, 2018, which means this is the first summer of a full concert schedule in the new arena, and certainly something to cheer, even after the Bucks play their last game of the season. Bucks fans are hoping that last game will be on or around June 16th, which would be Game 7 of the NBA finals, and nice night to close out the team's first NBA championship since 1971. Based on the below screen shot, the cheapest prices are close to $1,000, which makes the rest of the summer value.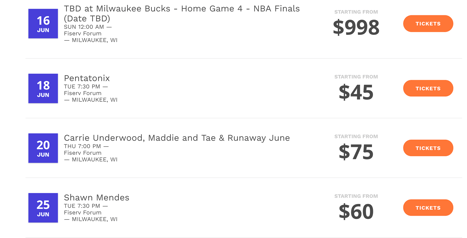 May Concerts at Fiserv Forum
If the Bucks are still playing in June, the city will be buzzing through the final potential finals game on June 10th. If they're not, the non-sports calendar peaks in June with four major tours scheduled to perform.
June Concerts at Fiserv Forum
While things cool off a little bit in July, Ariana Grande is scheduled for July 5th. In addition the the Thank You, Next' superstar, Grammy Award-winning singer Mary J. Blige and acclaimed rapper Nas will perform at Fiserv Forum on Tuesday, July 30. Part of their first-ever joint tour, called The Royalty Tour, tickets go on sale May 3rd. on Ticketmaster.com.
Right now the only August show on the schedule right now is John Mayer
August 11th-- John Mayer -- Tickets from $66
For this summer, fans sports or music fans can get in their pre-game at the entertainment block, which spans Fourth Street from W. Highland Ave. to W. Juneau Ave. and is a central element of the arena. Features an active space designed for year-round community use with a mixture of dining, entertainment and retail. According to OnMilwaukee, there are 10 restaurants within 5-minutes of the venue, with options for every appetite. For fans just looking for drinking with a side of snacks, the new Drink Wisconsinbly Pub has some classic Sconnie snacks, including meat sticks, jerky, and of course cheese.
One important thing to keep in mind for going to events at Fiserv is that all tickets are issued electronically — the Bucks have no print-at-home tickets for Fiserv Forum events. In order to enter, you'll need to download the Bucks app, even if you're planning to see a concert. You can download the app on Itunes or Google play, and it's good idea to have it installed on your phone if you're planning to attend any events.
TicketIQ is a ticket market place with access to Low Price Guarantees on all tickets. If you find the same ticket for less, we'll give you 200% of the difference in ticket credit. TicketIQ is also the leading source of ticket market data used by major news outlets, like CNBC, Business, Insider, Fox and others. Enjoy the TicketIQ blog for most in-depth coverage of the Cubs ticket market and use TicketIQ.com to save 15% compared to other major tickets sellers.
Directions to Fiserv Forum
From Chicago:
Head south on S Federal St toward W Van Buren St
Turn right onto W Congress Pkwy
Continue straight on I-290 W
Keep right to continue toward I-90 W/I-94 W
Follow I-94 W to WI-145 S/W Fond Du Lac Ave in Milwaukee for 91.7 miles
Take exit 73A from I-43 N to merge onto WI-145/W Fond Du Lac Ave
Head onto McKinley Ave
Turn right onto Vel R. Phillips Ave
From Green Bay
Take I-43 S from E Walnut St and Webster Ave
Follow I-43 S to W Fond Du Lac Ave in Milwaukee for 114 miles
Continue on W Fond Du Lac Ave to W McKinley Ave
Turn right onto Vel R. Philips Ave