Florida Gators 2018 Ticket Market Overview:
With the regular season set to start next week, below is a look at how Florida Gators tickets stack up on the secondary market across the league. As you can see,
Gators tickets are down 27%
compared to last year, down from the 11th most expensive in 2017 to 14th this season. Tickets are the fourth cheapest since 2011 -- the least expensive was in 2015, the first year of the Jim McElwain era.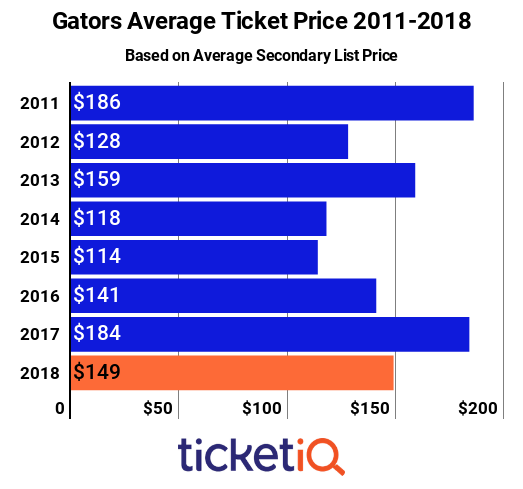 Where to Buy Tickets:
Tickets are relatively cheap this season, and it's a good opportunity to get a seat at Ben Hill Griffin Stadium. For secondary market listings, TicketIQ offers a Low Price Guarantee for all of the games listed below. The cheapest seats on the secondary market for all games range between $21-$45, while fans can buy through
Ticketmaster
, Florida's ticket partner, for as little as $20.
Prices For Each Game on 2018 Florida Gators Schedule:
The marquee game of every Florida season is the annual Florida-Georgia game in Jacksonville, Fla. Referred to as "the World's Largest Outdoor Cocktail Party," the October 27 game is sold out on the primary market and there are
limited seats available on the secondary market
. Should either team have a shot the SEC championship, prices will only soar.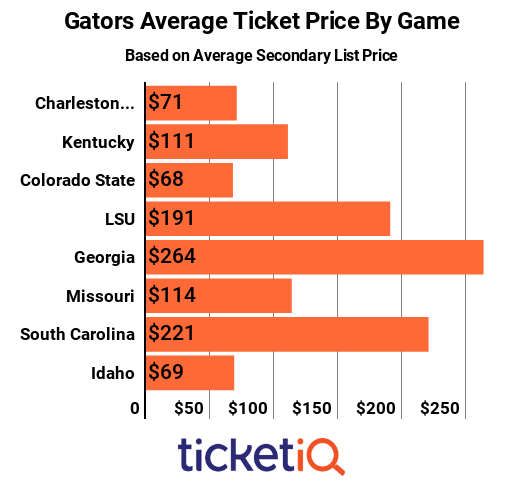 Real-Time Ticket Data And Listings: