Where to Buy Florida Football Tickets
No matter where you choose to sit, a Florida football season ticket costs $380. The true meat of the price, however, comes in the form of a required Booster Club donation. That donation scales based on seating location; seats in the upper bleachers only require a $50 annual contribution, but the best club seats in the house cost an extra $2850 on top of your $380. All season tickets also have a $15 processing fee.
A limited amount of single game tickets for Florida's home games are available on Ticketmaster, but availability is limited. Also, make sure you're looking at standard tickets rather than resale tickets; both are displayed together by default so you could pay extra if you're not careful.
On the secondary market TicketIQ has Low Price Guarantees on Florida football tickets for all games on the 2019 schedule, in addition to Low Price Guarantees on all college football tickets, which means that if you find a secondary market ticket for less on a site like Stubhub or Seatgeek, we'll give you 200% of the difference in ticket credit. TicketIQ customers save an average of 5%-20% compared to Stubhub and Seatgeek.
Download the TicketIQ app for $20 off your first ticket purchase 📲🎟️

How Much Are Florida Football Tickets
Like most other teams, Florida plays three types of home games this season. They have three games against two non-conference opponents plus Vanderbilt, three mid-tier games against Florida State, Auburn, and Tennessee, then one marquee neutral site game against Miami. That means anyone should be able to see a Gators game at any price point this season.
Overall, secondary market Gators tickets are averaging $218 for the 2019 season, the most expensive they've been this decade.
No matter the game, however, you can find deals on the secondary market. Some of the games against lesser opponents have get-in prices as low as $26 and on the other side of the spectrum, the Gators' most expensive game—the Camping World Kickoff against Miami—has get-in price of $300 on the secondary market.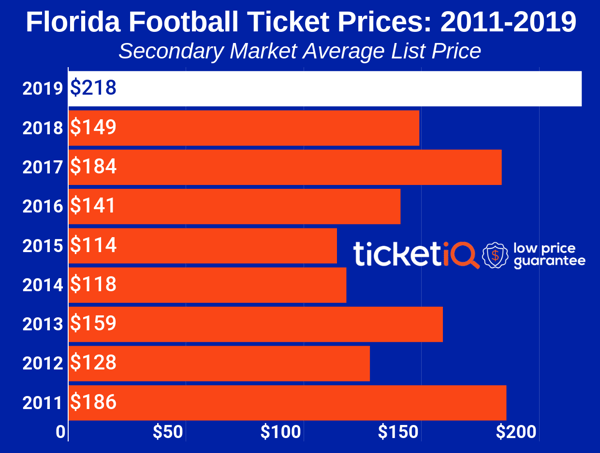 Ticket Prices for All Florida Home Games On The 2019 Schedule
Secondary Market Average Price: $480
Secondary Market Cheapest ticket: $300
There's no better way to start off the college football season than a massive rivalry game. Miami has dominate the series historically but the two schools haven't played for nearly six years, so both teams will be looking to make a statement.
Secondary Market Average Price: $118
Secondary Market Cheapest ticket: $47
Last year, the Skyhawks finished next to last in the Ohio Valley conference with a 2-6 record (2-9 overall). Look for the Gators to take care of business early here and move on to the next one.
Secondary Market Average Price: $179
Secondary Market Cheapest ticket: $83
Florida's next major rival comes to town on the traditional third Sunday of September. The Gators have won 13 of the last 14 meeting between the schools, but the game always is worth watching. There'll be some fireworks here.
Secondary Market Average Price: $71
Secondary Market Cheapest ticket: $27
Towson's put together some solid seasons in the Colonial Athletic Association but, unless something goes seriously wrong in Gainesville, FCS school isn't going to give Florida any problems.
Secondary Market Average Price: $227
Secondary Market Cheapest ticket: $105
While these old rivals haven't met since 2011, Auburn has won their last three meetings and 43 of their 83 all-time games. Home field has played a big role in the series, however, so this one could come down to the wire.
Secondary Market Average Price: $136
Secondary Market Cheapest ticket: $39
Vandy's been producing some NFL players lately, but they haven't been able to push into the top tier of the SEC. A win in the swamp would send a message to the conference, but Florida will probably be too much to handle.

Secondary Market Average Price: $200
Secondary Market Cheapest ticket: $101
Florida starts their regular season with a bang and ends it with another. Last season, they hung 41 points on the Seminole defense, so FSU will be making a point to prevent a similar outcome this year. Regardless of who you support, this is a game to key in on.

TicketIQ is committed to the cheapest tickets possible, and we make much less on sold out tickets compared to other major marketplaces like StubHub and Vivid. That means ticket buyers save from up to 25% on TicketIQ on sports, music and theater. We're able to do this because we also work with teams, venues, and other ticket owners, to help them sell tickets at face price, directly to consumers like you, through Ticketmaster and Paciolan. For an overview of the 2019 College Football Ticket Buying landscape, and details on the cheapest way to get tickets for every pre-season top 25 team, visit the TicketIQ Blog.

---
Florida Gators 2018 Ticket Market Overview:
With the regular season set to start next week, below is a look at how Florida Gators tickets stack up on the secondary market across the league. As you can see, Gators tickets are down 27% compared to last year, down from the 11th most expensive in 2017 to 14th this season. Tickets are the fourth cheapest since 2011 -- the least expensive was in 2015, the first year of the Jim McElwain era.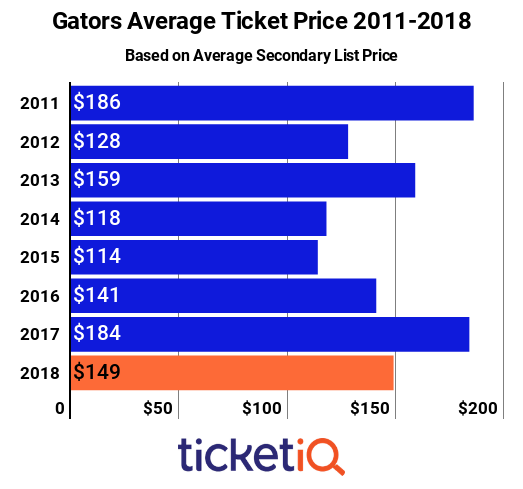 Where to Buy Tickets:
Tickets are relatively cheap this season, and it's a good opportunity to get a seat at Ben Hill Griffin Stadium. For secondary market listings, TicketIQ offers a Low Price Guarantee for all of the games listed below. The cheapest seats on the secondary market for all games range between $21-$45, while fans can buy through Ticketmaster, Florida's ticket partner, for as little as $20.
Prices For Each Game on 2018 Florida Gators Schedule:
The marquee game of every Florida season is the annual Florida-Georgia game in Jacksonville, Fla. Referred to as "the World's Largest Outdoor Cocktail Party," the October 27 game is sold out on the primary market and there are limited seats available on the secondary market. Should either team have a shot the SEC championship, prices will only soar.