For the Best Deal on NBA Western Conference Finals Tickets, Consider Buying Now (Unless you're a Warriors fan)
With a 42-16 record coming out of the All Star break, The Golden State Warriors seem like a lock for a trip back to the Western Conference Finals. 2019 would be their fifth consecutive NBA Finals and at this pount winning championships has become old hat for the Warriors. Despite that fact, prices for a potential conference and league championship will likely be as high as past years, in part because it's their final season in Oakland at Oracle Arena.
For Fans looking see the Warriors in the NBA Finals, the best option may be to wait and get tickets directly from the team. Last year, the Warriors didn't sell out for some of their biggest games, including the Game 1 of the NBA Finals, as noted by Darren Rovell on Twitter.
For the other four teams vying for a Western Conference finals appearance, the best option to get the cheapest tickets may be to make a bet on your team now through Shoowin.com--even with the conference Finals almost three-months away.
For 2019, NBA Playoffs Shoowin is selling face-price reservations for not only the Warriors but also the second-seeded Nuggets, third-seeded Thunder, fourth-seeded Blazers and fifth-seeded Rockets. While the Warriors prices are sky high, prices for as low as $15, as the below infographic shows. Click and of the above link to see all prices, both lower and upper level.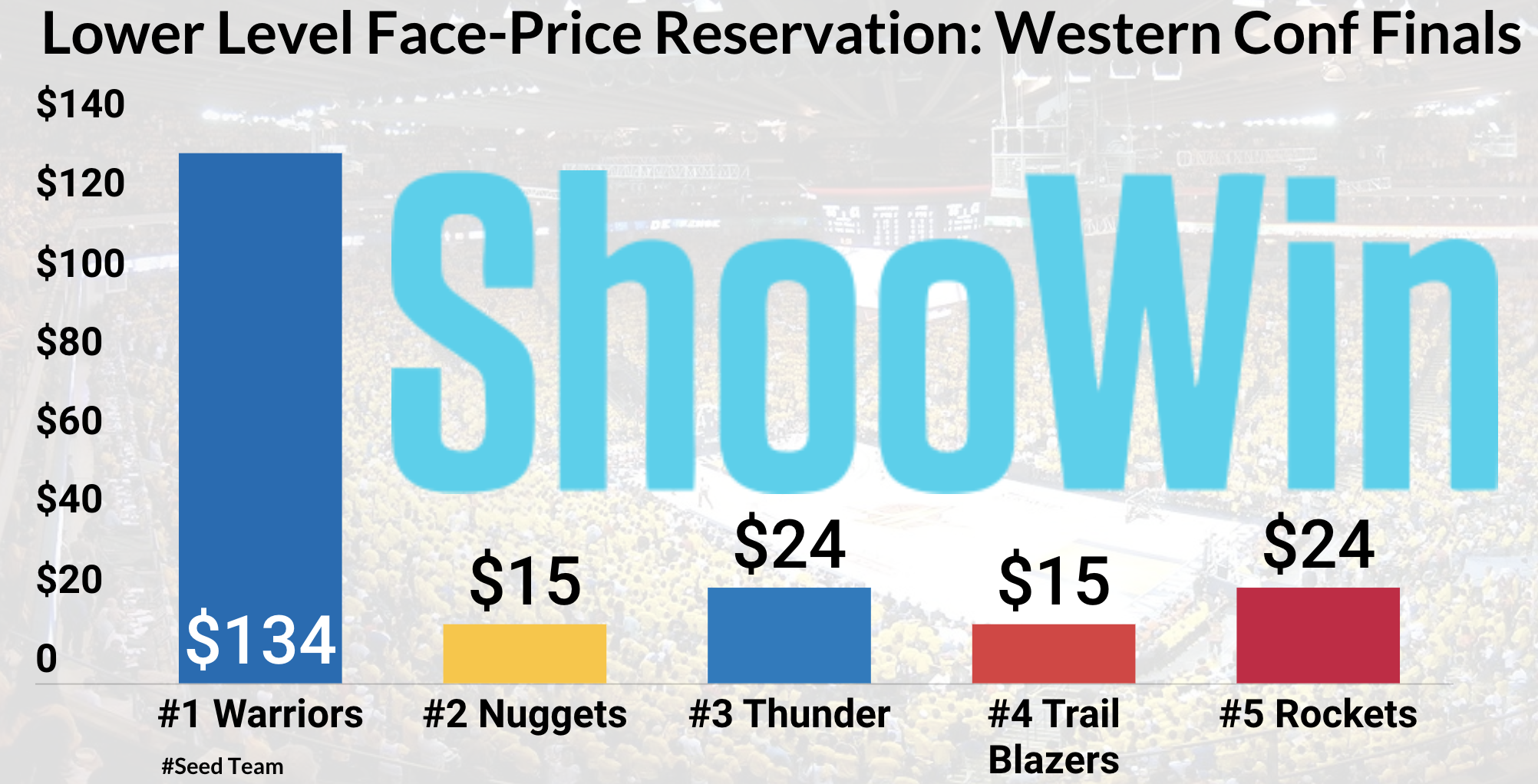 For any other ticket price reservation, you can check out Shoowin.com, and get reservation that guarantees access to a face price ticket for any post-season game to any team. While face prices haven't been released for any playoff games, compared to last year's average price in the two conference finals, fans of the Nuggets, Thunder, Blazers and Rockets would save as much as 75% by locking in a face-price reservation now.
Visit Shoowin.com to check out face price reservations for NBA and NHL. For the March Madness, they've gone a step further and eliminated the face-price and just have a single price you pay to lock in tickets for the final four for any of the teams preparing to dance in March.
If you're interested in what Western Confernce Final Prices have looked like on the secondary market, you can check prices for the last 8 years below.
Year
Team
Avg
Get-in
Series Avg

2017-18

Rockets
$758
$135

$947

Warriors
$1,200
$170

2016-17

Warriors
$790
$173

$737

Spurs
$614
$119

2015-16

Warriors
$793
$215

$769

Thunder
$682
$140

2014-15

Warriors
$732
$204

$665

Rockets
$571
$184

2013-14

Spurs
$379
$77

$378

Thunder
$373
$84

2012-13

Spurs
$235
$67

$223

Grizzlies
$202
$55

2011-12

Spurs
$289
$68

$314

Thunder
$407
$80

2010-11

Mavericks
$289
$93

$351

Thunder
$383
$112
All images are used and governed in accordance with the Creative Commons License from Michael Tipton and bryce_edwards