Thank you for visiting TicketIQ's Ford Field seating chart blog post. Our goal is to provide the most detailed Ford Field seating chart, with details on row and seat numbers, club seats, and how to find the cheapest tickets for the Detroit Lions. The indoor stadiums home every year to the Quick Lane Bowl.
FORD FIELD SEATING SECTIONS
The main concourse is the 100-level sections and is comprised of center sections 102 to 110 and 123 to 131; corner sections 100, 101, 111 to 114, 119 to 122, 132 to 135, 140, and 141; and end-zone sections 115 to 118 and 136 to 139.
The upper level includes some of the 200-level sections, which include some club seating. The center sections are 226 to 235 while the end-zone sections are 215 to 219 and 242 to 246. The corner sections are 220 to 225 and 236 to 241. The club sections are 227C to 234C.
The club level includes the rest of the 200-level sections (200C to 2014C) and is all club seating.
The 300-level sections are the highest ones in the stadium: center sections 328 to 334; corner sections 320 to 327 and 335 to 342; and end-zone sections 315 to 319 and 343 to 347. The club sections are 330C to 332C.
FORD FIELD ROW NUMBERS
The 100 sections have as many as 41 rows. The 200 sections have 8 to 11 rows. Seats in the 300 sections have up to 21 rows. Club and other special sections have fewer rows.
FORD FIELD SEAT NUMBERS
Seats in each row start with No. 1 and that seat is the one closest to the previous section. For example, in section 132, seat No. 1 would be the seat closest to section 131. The average section in the 100 and 200 Sections has between 7 and 22 seats per row. In the 300 sections, there are up to 26 seats per row.
FORD FIELD SEATING CHARTS
Football/Detroit Lions Seating Chart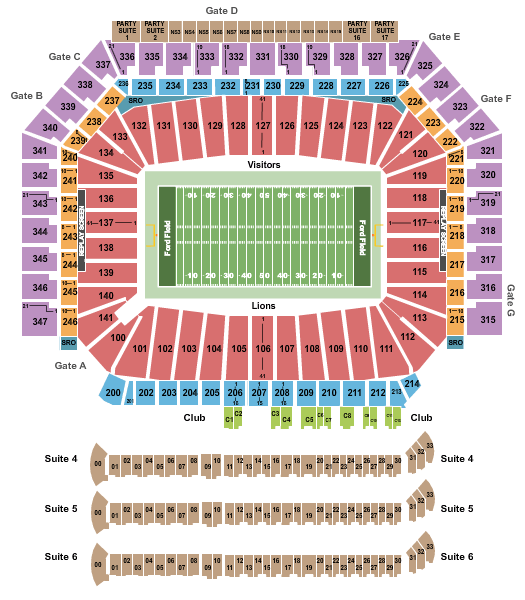 Concert Seating Chart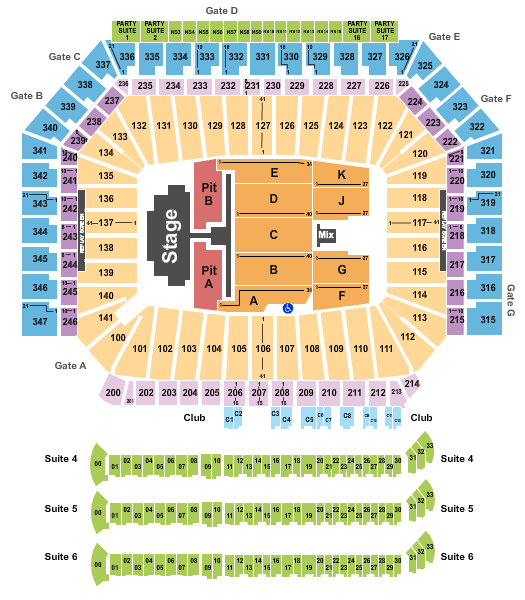 Supercross Seating Chart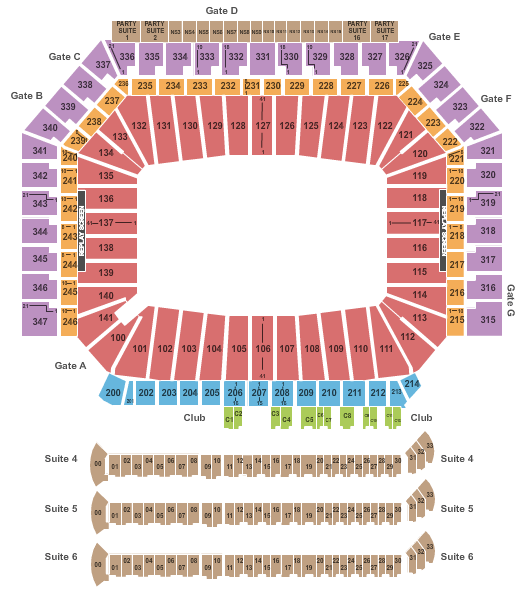 FORD FIELD HANDICAP ADA SEATING
Parking on game days is found in Lot 4, which is located on Montcalm St. (located just north of Ford Field and east of Brush Street), in addition to the Ford Field Parking Deck, which is on St. Antoine off of Madison. The drop-off and pick-up areas are located on the corner of Montcalm and Brush near Gate B at Section 133 as well as on the corner of Adams and John R outside of Gate A at Section 100.
The "COM" ticket refers to the companion seat, and the "HAN" ticket stands for the space that requires a wheelchair or folding chair. Guest should contact the Ford Field Ticket Office in advance at 313-262-2167 for more information and availability. Seat relocation may also be available on game and event days.
Seat Relocation: tickets can be exchanged on game and event days inside of Ford Field at the Advance Ticket Windows at Gate A located on the side of the escalators by Section 100 or Gate G located next to the escalators by Section 112.
Wheelchairs are available for transporting guests from the Guest Services locations to and from their stadium seats before and after the game, but will not be available for use during the event. There are also passenger elevators at Ford Field.
FORD FIELD SUITE AND CLUB SEATING
Ford Field offers a variety of club and premium seating options, including many with air conditioning, concierge service, and access to food and beverage. Below is a look at club and premium seating.

For more detail and views on Club and Premium Seating options, visit the Lions tickets website.
Club 200
The exclusive club includes a private bar and lounge; all-you-can-eat menu, which includes hot dogs, nachos, candy, popcorn, and pretzels; two beer or wine vouches; and televisions displaying the Lions game, other NFL games, and the NFL RedZone.
Loge Boxes
Relax in your theater-style seats overlooking the Lions sideline as the VIP wait staff serves an all-inclusive menu. Each week, guests can select a new menu.
Single Event Suites
The single event suites accommodate 12 or more guests and offer VIP parking, an all-inclusive menu, club access, and high-definition flat-screen televisions with NFL Sunday Ticket.
MGM Tunnel Club
The luxury lounge offers fans exclusive access to the stadium three hours prior to pre-game, as they get to see the Lions players leaving and entering the locker room. Fans get to enjoy unlimited food and beverage, which includes wine and beer. There is also deluxe lounge seating and flat screen televisions.
Which side is the Detroit Lions Bench on?
The Detroit Lions bench is directly in front of sections 105 to 107.
What's the best way to tailgate at Ford Field?
According to the Ford Field website, tailgating is prohibited in the Ford Field parking lots. Eastern Market is the place to tailgate before Lions home games. However, fans must be there as early as 8:00 am to get parking. Tickets can be purchased here.
What is the mobile ticketing policy at Ford Field?
Mobile ticketing is available for many Ford Field events, including Detroit Lions games. The Lions offer a step-by-step guide to mobile ticketing, and the Detroit Lions app is available through the App Store or Google Play Store.