Where to Buy Georgia Football Tickets
Like most other major football programs, Georgia's season tickets are linked with a fund, in this case the William C. Hartman Jr. Fund. Making a donation to the fund allows you to receive a priority ticketing application, but nothing is guaranteed beyond that. Sanford Stadium was completely sold out last season and the school doesn't currently offer an estimate of how many points will be required to get tickets for the upcoming season. Last year, you needed 23,900 points to receive two renewable tickets, so you're likely looking at a sizable donation.
A limited amount of single game tickets for Georgia's games against lesser opponents are also available through the same fund. While each donation level is able to request a different number of seats for each game, everyone will need 100 points to make the order.
For fans looking for tickets to the biggest game at Sanford Stadium this season against Notre Dame, we break down the cheapest tickets for every level of Sanford Stadium. There are no seats available for the most expensive game of the 2019 season against Notre Dame
On the secondary market TicketIQ has Low Price Guarantees on Georgia football tickets for all games on the 2019 schedule, in addition to Low Price Guarantees on all college football tickets, which means that if you find a secondary market ticket for less on a site like Stubhub or Seatgeek, we'll give you 200% of the difference in ticket credit. TicketIQ customers save an average of 5%-20% compared to Stubhub and Seatgeek.
Download the TicketIQ app for $20 off your first ticket purchase 📲🎟️
How Much Are Georgia Football Tickets
This season, Georgia play two marquee home games surrounded by cheaper ones against lesser opposition. They open the season with two games against Murray State and Arkansas State before the big boys, Notre Dame and South Carolina, come to town. The home schedule then wraps up with visits from Kentucky, Missouri, and Texas A&M.
For the second straight season the Bulldogs lead the nation in terms of secondary market average list price. This year, that average price is over $480 per ticket. However, you can find deals on the secondary market. While virtually every game has get-in prices at least 50% cheaper than the average resale price, some games provide particular bargains. The Kentucky and Missouri games, for example, are a chance to see solid opponents for only $66.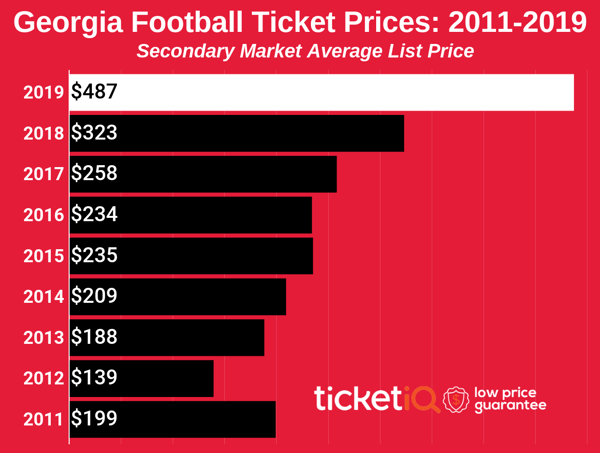 Ticket Prices for All Georgia Home Games On The 2019 Schedule
Secondary Market Average Price: $109
Secondary Market cheapest ticket: $46
Getting off to a good start is key for any program, let alone one with serious postseason aspirations. After a tough season opener at Vanderbilt, UGA will look to—and most likely will—do just that against Murray State.
Secondary Market Average Price: $118
Secondary Market cheapest ticket: $47
Arkansas State put together a solid season in the Sun Belt Conference last season, but they won't throw anything at Georgia that they can't handle in this one.
Secondary Market Average Price: $1161
Secondary Market cheapest ticket: $384
We'll just let the ticket prices for this game speak for themselves. Two major programs meet on a September Saturday; as a football fan, you can't ask for much more than that.
Secondary Market Average Price: $346
Secondary Market cheapest ticket: $130
Georgia's next home game brings another major program to Athens. The Bulldogs have dominated recent history against USC and shouldn't have much trouble in this game on paper, but anything can happen in a rivalry game.
Secondary Market Average Price: $240
Secondary Market cheapest ticket: $66
You probably thing of Kentucky as a basketball school, but their football program is gaining momentum each season. Georgia will still be favored, but it might be a closer game than some fans are expecting.
Secondary Market Average Price: $187
Secondary Market cheapest ticket: $66
These teams have only met a handful of times in recent history, with UGA winning all but one of the match-ups. Based on the schedule, however, this game could shape up as a trap game; neither fans nor players should overlook it.
Secondary Market Average Price: $438
Secondary Market cheapest ticket: $207
This is the first meeting between the Bulldogs and Aggies since the 2009 Independence Bowl. Expect Georgia to be a favorite but, with both teams potentially having postseason aspirations on the line, neither team will concede a yard easily.
---
TicketIQ is committed to the cheapest tickets possible, and we make much less on sold out tickets compared to other major marketplaces like StubHub and Vivid. That means ticket buyers save from up to 25% on TicketIQ on sports, music and theater. We're able to do this because we also work with teams, venues, and other ticket owners, to help them sell tickets at face price, directly to consumers like you, through Ticketmaster and Paciolan. For an overview of the 2019 College Football Ticket Buying landscape, and details on the cheapest way to get tickets for every pre-season top 25 team, visit the TicketIQ Blog.