Vegas Golden Knights 2018-19 Ticket Market Overview:
The Vegas Golden Knights had the best debut season for an expansion team in the history of North American sports, winning the NHL's Pacific Division and getting all the way to the Stanley Cup Finals before losing to the Washington Capitals. Demand has pushed ticket prices to a $271 average asking price, an increase of more than 38%. Below is how Golden Knights tickets stack up against the secondary market across the NHL. The average asking price in the Golden Knights' debut season was $196, which ranked No. 7 in terms of ticket price, in the league.
Where to Buy Tickets:
As the first and only professional team in Las Vegas (though the Raiders could be joining them in either 2019 or 2020), the Golden Knights enjoy all the perks of being the only game in town. Among those perks is high ticket demand, which has pushed ticket prices to No. 2 in the NHL, behind only the Toronto Maple Leafs, who are commanding $332. Season tickets are sold out for 2018-19, but fans can join the "Can't Wait List" for a $100 non-refundable deposit. Single-game tickets are available through the Golden Knights website, and T-Mobile Arena appears about half sold out for most games already. On the secondary market, TicketIQ.com has seats available for all games, including the October 4 home opener against the Philadelphia Flyers. Seats are available beginning at $230 with the company's Low Price Guarantee in the 200-Level sections.
Top 5 Games on the 2018-19 Vegas Golden Knights Schedule:
The Pittsburgh Penguins look to be the biggest draw at T-Mobile Arena, with the average asking price for the January 19 game trending at $327 on the secondary market. Four other dates have average asking prices above $270, including the December 4 Stanley Cup Finals rematch. The average asking price for the Washington Capitals visit to Las Vegas is $285 and is sure to rise if either (or both) teams start the season with a bang. For the Penguins game, TicketIQ.com has seats in Row L, Lower 19 at the corner of the ice available for $296, as well as a wide selection in the upper level.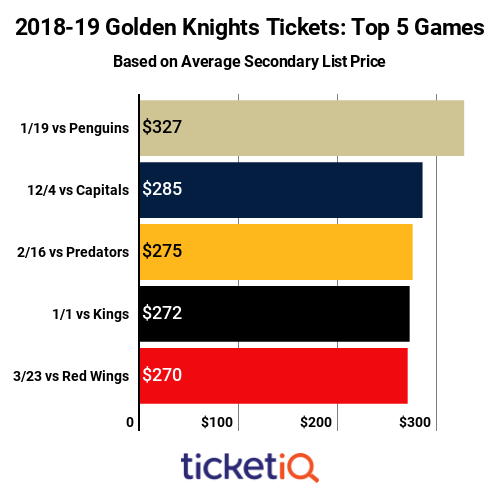 Real-Time Ticket Data & Listings: