Acrisure Stadium Seating Chart + Section, Row & Seat Number Info
Attendance for the 68,400 seat stadium has sold out for every Steelers home game at Acrisure Stadium. This streak dates back to 1972 (a year before local telecasts of sold out home games were permitted in the NFL). The maximum stadium attendance was over 75,000 for a Garth Brooks Concert in 2019.
Acrisure Stadium STADIUM SEATING SECTIONS
100 Level Sections: the 100s sections of the Acrisure Stadium row A is the first row row, row Z is the 26th row, and row AA is the 27th row. The best seats for the Pittsburgh Steelers are on or near the 50 yard line (near section 111 or 134). When you are sitting in the first 10 rows are actually a negative because you won't have enough height, to actually see the football field. For 100-level, we recommend between rows 10 and 20.
200 Level sections: center sections run from row A to Q while some of the end-zone sections, which are only located in the north end of the stadium, start at row B, including section 226, 224, 221, 219, 218 and 217. 200-level club seats 208, 209, 210, 211, 212, 213, 232, 233, 234, 235, 236, and 237
North Club Section: Located behind the 200-level has three rows, A, B and C .
500 Level Sections The upper level of Acrisure Stadium starts at row A and runs through to row LL, with seats running from 1 to 24.
Acrisure Stadium SEATING CHART
Football Seating Chart - Steelers and Pitt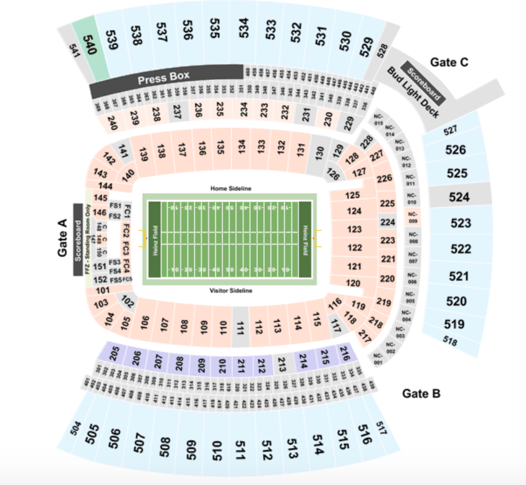 Concert Seating Chart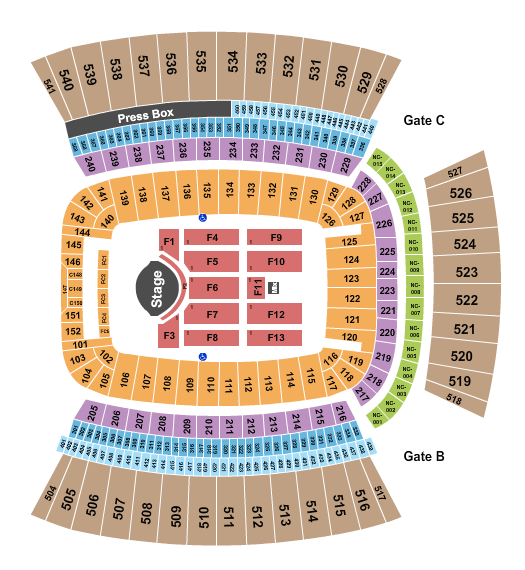 🎟️ SHOP LOW PRICE GUARANTEES FOR ALL SOLD OUT CONCERTS AT Acrisure Stadium 🎟️
Acrisure Stadium HANDICAP ADA SEATING
Guests needing to exchange current tickets for accessible seating may do so at any Guest Services Room. Guest Services Rooms are located behind sections 104, 123, 504, and 528. All exchanges must be done the day of the event and operate on a first-come, first-served basis. Wheelchair platform ticket exchanges accommodate a guest with a disability and one companion, exchanging two tickets total. Guests with questions may contact the Acrisure Stadium Guest Services Department at 412697-7150, Ext. 4.
Acrisure Stadium STADIUM SUITE AND CLUB SEATING
Pittsburgh Steelers Club Level 1 seats are spread amongst six sections on each side of the field. The east sideline holds: 208, 209, 210, 211, 212, and 213. West sideline club sections are 232, 233, 234, 235, 236, and 237. Steelers Club Level 1 tickets provide access to the 200 level concourses on both sidelines including exclusive use of restroom and concession facilities. Club level amenities also include cushioned, indoor seating areas with flat-screen televisions, a full bar, and an improved perspective for viewing the game from assigned, outdoor seats.
Pittsburgh Steelers Club Level 2 sections are divided into four groupings with three sections in each corner of the stadium. The sections in the south-east corner are 205, 206, and 207. In the north-east corner, club sections are 214, 215, and 216. The north-west corner contains club sections in 229, 230, and 231, while the south-west corner has clubs in 238, 239, and 240. All Steelers Club Level 2 tickets provide access to the entire club level and the amenities offered exclusively to club ticket holders.
Suites are located in the 300 and 400 Level. The PNC Champions Club Suite is an all-inclusive Club seat package for 10 with a private, pregame buffet, plus access to all amenities of the PNC Champions Club throughout the game. Suite Experience Group has a list of all available Acrisure Stadium Suites and Prices. Visit Suite Experience Group Here.


Which side is the Steelers and Pitt Bench on?
The home sideline and bench are located in front of sections 133-136, and and the visitor bench & sideline is located in front of sections 109-112.
What's the best way to tailgate at Acrisure Stadium ?
The Steelers partner with Tailgate guys for full service options. For fans looking to do it themselves, all pre-sold parking lot open five hours prior to game time. Pre-sold parking tickets must be on display at all times from your vehicle's rear-view mirror. Campers, limos, uhaul trucks, RVs, buses and motorhomes are not permitted in stadium parking lots.
What is the mobile ticketing policy at Acrisure Stadium?
Fans attending events and concerts at Acrisure Stadium may be required to use a mobile app or online website to view and scan their tickets for entry. Below are step-by-step guides for entering Acrisure Stadium with a mobile ticket.
On the day of the event, make sure you have a fully charged phone battery to ensure there are no issues when entering and exiting the building. If you experience issues on the day of the show or do not have a smartphone, see a Acrisure Stadium ticketing representative at the Ticket Windows along Art Rooney Ave. Screenshots of the Mobile Ticket QR codes will not work at entry. QR codes must be active through your ticketing app. Details on the Ticketmaster App are available here.
Where are Student Sections for Pittsburgh Panthers Games
Student sections at Acrisure Stadium are located in Sections 116-130 along the North end zone. There's also more student seating in Sections 528-531, and we'd recommend avoiding sitting in those sections if you're a fan of the visiting team.
Where are Alcohol Free Sections At Acrisure Stadium
If you went to avoid sections where alcohol consumption i be taking place, you can look for seats in Section 120, Rows BB-EE, where alcohol is strictly prohibited for all football games