Below are the cheapest ticket prices for each game at Oracle Arena against the Portland Trail Blazers in the Western Conference Finals.
TicketIQ.com has Low Price Guarantees on Warriors Tickets. While a nosebleed will cost around $200, there are a handful of lower-level seats available under $400. If the series goes to Game 7, the cheapest ticket is currently going for $374.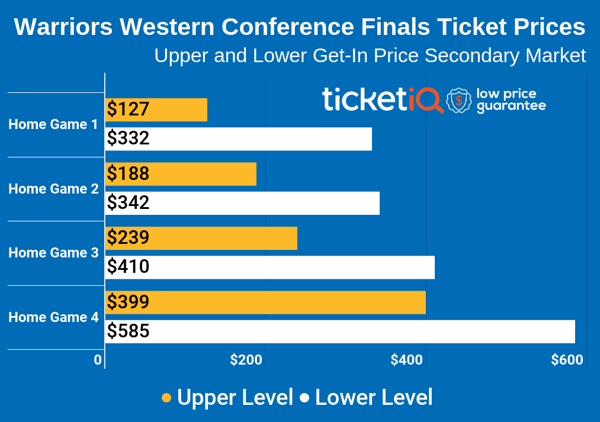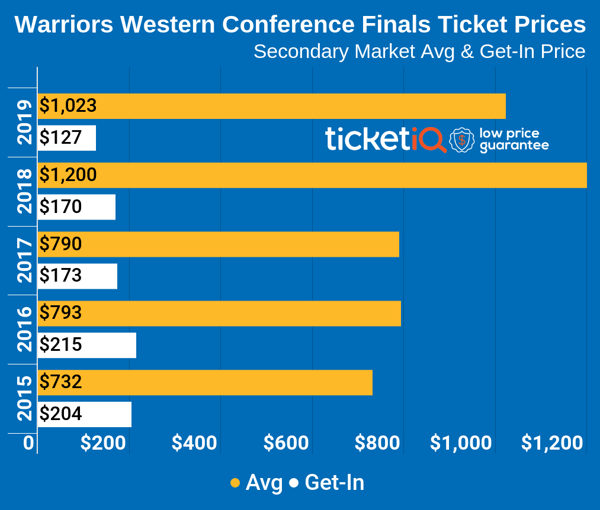 Despite this being their 5th consecutive Western Conference Finals, prices at Oracle Arena in 2019 are the 2nd most expensive over that period. While the prices may be high because they're sensing that this is the last opportunity for a championship before the current-cast of Warriors go their separate ways, the know for certain that it is the last championship run in Oakland at Oracle Arena. While prices are far from cheap, if the Warriors advance to the NBA Finals,
tickets start at $588 on the secondary market for the NBA Finals at Oracle Arena.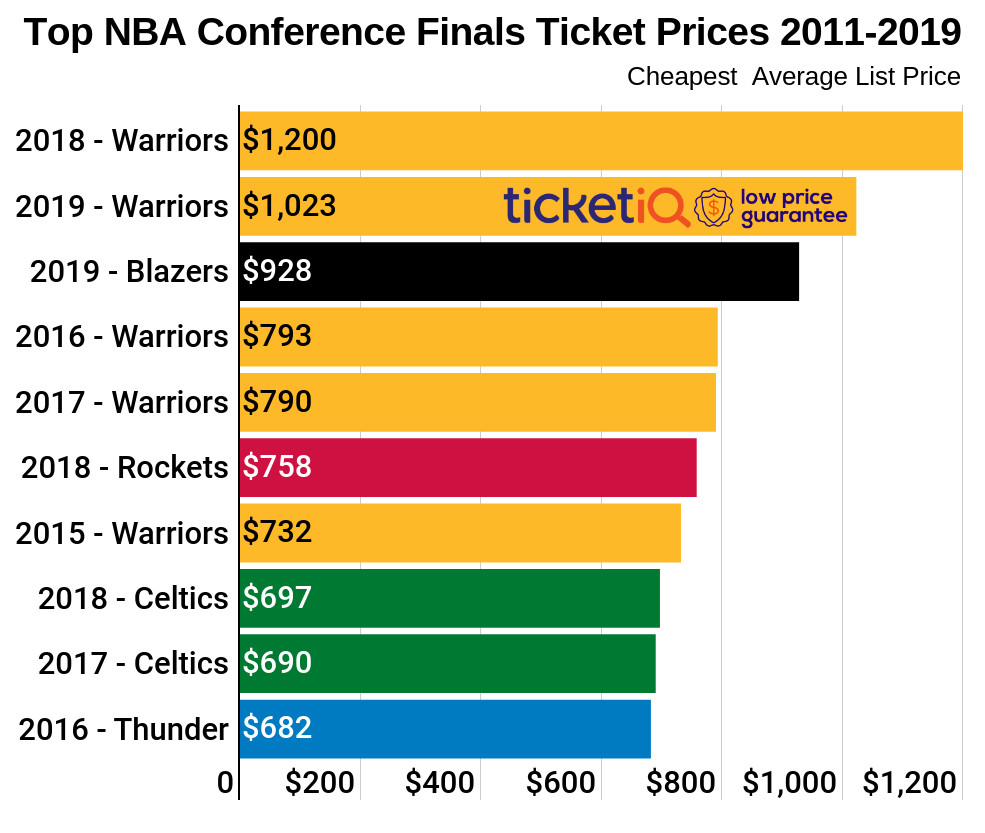 For TicketIQ Blog readers, use code
Warriors25 for $25 off over $200; Warriors50 for $50 over $400.
TicketIQ offer Low Price Guarantees on all Warriors Playoff tickets for games at Oracle Arena and on the road. With
TicketIQ's Low Price Guarantee
, if you find the same ticket for less (after fees) on any other major secondary site like StubHub or Seatgeek, TicketIQ will give you 200% of the difference toward the purchase.
📊 🎟️
Below are the average and cheapest ticket for each game at Oracle Arena and in Houston. Many analysts believe that the winner of this season will win the NBA title, and prices for the series reflect the anticipation of a semi-final. With an average price over $500 for both teams, it's double the price of any other NBA second-round series.
| | | |
| --- | --- | --- |
| GSW vs HOU | Avg | Get-In |
| Game 1 @ GSW | $642 | $179 |
| Game 2 @ GSW | $707 | $193 |
| Game 3 @ HOU | $498 | $156 |
| Game 4 @ HOU | $502 | $151 |
| Game 5 @ GSW | $825 | $201 |
| Game 6 @ HOU | $612 | $176 |
| Game 7 @ GSW | $986 | $312 |
The defending NBA champions aren't the best team in the NBA, but when it comes to buying a ticket to see the Golden State Warriors play at home, that's a different story. The Warriors are No. 1 in terms of average asking price for regular-season tickets on the secondary market, according to secondary ticket marketplace TicketIQ.com. And the current $463 average asking price is up about 1.5% over 2017-18. Only the Warriors and Los Angeles Lakers have average asking prices of more than $400.
The Warriors, who have played in the last four consecutive NBA Finals and won three, won't be a cheap ticket in the postseason, either. According to TicketIQ.com, postseason tickets generally cost about 54% more than regular-season tickets. Primary marketfirst round tickets go on sale this Friday via Ticketmaster. Below is a look at secondary market prices for Warriors playoff tickets over the last decade.
Fans wanting to secure a face value spot at Oracle Arena later in the playoffs can do so on Shoowin.com, a unique ticket-selling website that allows fans to reserve face-value tickets for big events. Here's how it works: fans reserve tickets for big games, and then purchase those tickets at face value when they become available. According to the company website, fans can save up to 98% over other ticket-selling sites.
As of April 5, the Shoowin website shows that the reservation market is closed for first-round games. However, reservations remain available for later rounds, starting at $25 for the Western Conference semifinals and $60 for the Western Conference finals. NBA Finals reservations are significantly more expensive, with prices starting at $175 for upper level seats, and $242 for lower level seats.
Golden State, which as of April 5 had the best record in the Western Conference, has already clinched the Pacific Division, marking the fourth consecutive season it has done so. The playoffs begin April 13.