For sold out seats, TicketIQ has Fee Free tickets for all events at Hollywood Casino Amphitheatre. TicketIQ customers save up to 25% compared to other secondary sites. TicketIQ also provides access to unsold face value tickets for all events at Hollywood Casino Amphitheatre via Ticketmaster.
Hollywood Casino Amphitheatre-Chicago Seating Chart - Concert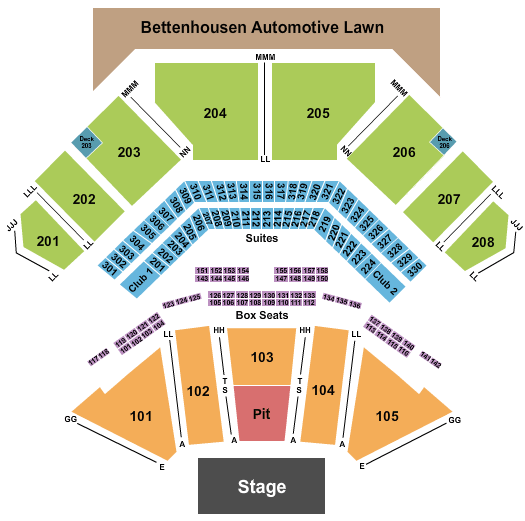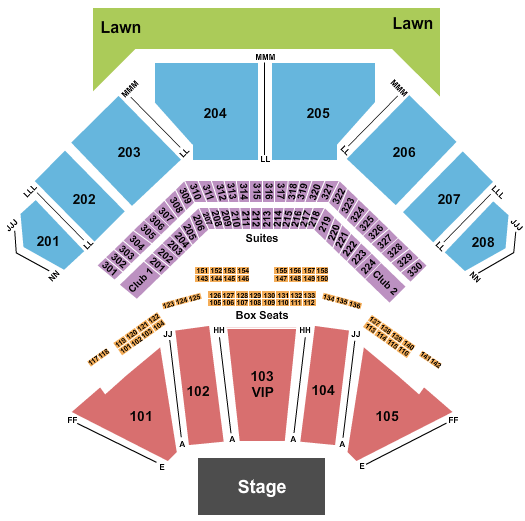 Lower Level sections, rows and seats

at

Hollywood Casino Amphitheatre
The floor seating at Hollywood Casino Amphitheatre is surrounded by 100s section(lower level) and 200s section(upper level). The extreme right and left sections have rows E-FF while other sections in 100s level have A-JJ and A-HH rows.
The upper bowl has variable rows in each section ranging from NN-JJJ in extremes and LL-LLL in left section. Please note that the center sections namely 204 and 205 have rows LL-MMM.
Club, VIP, Box Seats and Suites at

Hollywood Casino Amphitheatre
Club Level VIP is located below 200s section ranging from 201-222 and 301-330. 100-level VIP suites are installed above 100 sections ranging from 101-158. VIP Boxes are located just behind the 100 level section, the VIP Boxes offer fans a premium option for taking in a performance without having to be on the higher Suite Level seating tier.
The 300 level of suites is directly above the 200 level, with all suites offering a great view of the stage.
The general admission pit area is situated in front of section 103. For most shows, seats in rows A through S are removed to make room for the pit. Floor boxes can be found behind the 100 sections & are numbered from 101-160. These seat numbers also run from right to left.
2 levels of sky suites in the 200 & 300 levels are accessible by stairs or elevators on either side of the pavilion which require a sky box ticket to access.
WHERE CAN I FIND CHEAPEST TICKETS FOR HOLLYWOOD CASINO AMPHITHEATRE
The concert tickets have unsold face value tickets available for most games, which can be purchased directly through Ticketmaster. Prices may be above or below prices on the secondary ticket market. Many Concerts also have unsold tickets. For Sold Out Seats and Events, TicketIQ has Fee Free tickets for all events at Hollywood Casino Amphitheatre.
WHAT IS MOBILE TICKET POLICY AT
HOLLYWOOD CASINO AMPHITHEATRE
The only authorized sellers of tickets to Hollywood Casino Amphitheatre are the Hollywood Casino Amphitheatre box office, Ticket Liquidator, and Ticketmaster. "Print at home" ticket(s) is no longer available.
HANDICAPPED & ADA SEATING AT
HOLLYWOOD CASINO AMPHITHEATRE
Hollywood Casino Amphitheatre are fully equipped with ADA Accessibility entrances and seating. Patrons MUST SPECIFY if they need ADA, hearing impaired, or visually impaired seating at the time of ticket purchase. A ticket will be sold in the designated ADA section on a best available basis.