Where to Buy Houston Dynamo Tickets
Single-game primary market tickets for Major League Soccer's Houston Dynamo are available via AXS. Season tickets are not listed as an option to purchase on the team website. Houston opens its season February 29 agains the L.A. Galaxy, and it plays home games at NNVA Stadium.
On the secondary market, TicketIQ offers fans a Low Price Guarantee on all sold out Houston Dynamo tickets, in addition to Low Price Guarantees on all Major League Soccer tickets. That means that if you find a secondary market ticket for less on a site like StubHub or Vivid Seats, we'll give you 200% of the difference in ticket credit. In our efforts to continue to provide our customers with the best deals, we've removed all fees.TicketIQ now shows you the full ticket price from the start of your search. TicketIQ customers save an average of 5%-20% compared to StubHub and Vivid Seats.
How Much Are Houston Dynamo Tickets
On the primary market, seats to eight home games can be had for $12 or less, including tickets for $7 to the Thursday, August 20 "Texas Derby," against FC Dallas. Fans can get a spot high up on the corners for $7, while the priciest section is $165 for Field Seating. For the season opener on February 29 against Los Angeles, fans can get seats on the 200 Level for $20. Club seats and field seating for this game are sold out on the primary market.
Among other higher-interest games, it will cost fans $35 to get in the stadium for the Saturday, March 14 game against Seattle, which includes a t-shirt giveaway, and Saturday, June 13 against Atlanta United, which is Tab Ramos Bobblehead night.
On the secondary market, the cheapest game is Wednesday, April 15 against Minnesota United. Fans can get a seat in Section 222, Row B on the corner for $15. Field seating for this game starts at $92. Fans can get into the season opener against the Galaxy for $40 in the General Admission 200 Sections behind the goal, or $222 for a seat in Row B, Section VIP Club 106 right behind the team benches.
Overall, the average asking price on the secondary market for a Houston Dynamo home game is $48, up $1 over last year's average, but the fourth cheapest since 2011, when TicketIQ began tracking data. The priciest season was $68 in 2018, and the cheapest was $43 in 2011.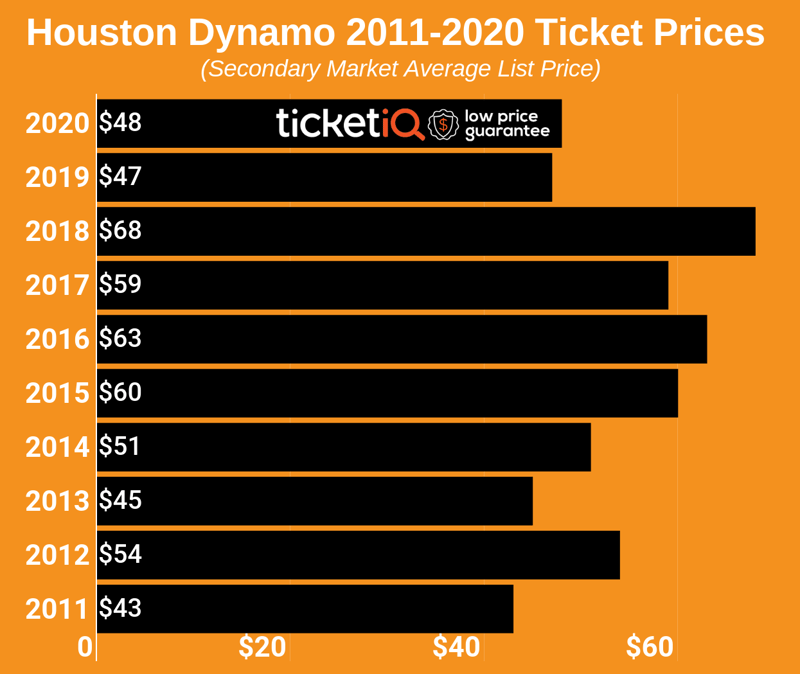 Houston Dynamo Mobile Ticketing Policy
The Dynamo and BBVA Field invite fans to use digital ticketing through Flash Seats, which allows fans to buy, sell or transfer tickets. Fans can download the Flash Seats app via iTunes or Google Play.
Houston Dynamo 2020 Schedule
FEBRUARY
February 29th - 3:30 PM vs. LA Galaxy
MARCH
March 7th - 8:30 PM @ Sporting Kansas City
March 14th - 8:30 PM vs. Seattle Sounders
March 21st - 9:00 PM @ Colorado Rapids
APRIL
April 4th - 8:30 PM vs. Portland Timbers
April 11th - 3:00 PM vs. Inter Miami CF
April 15th - 8:30 PM vs. Minnesota Untied
April 18th - 1:00 PM @ Montreal Impact
April 25th - 10:30 PM @ LA Galaxy
MAY
May 3rd - 4:00 PM vs. San Jose Earthquakes
May 6th - 7:00 PM @ Orlando City SC
May 9th - 7:00 PM @ D.C. United
May 16th - 8:30 PM @ FC Dallas
May 23rd - 8:30 PM vs. Nashville SC
May 30th - 10:00 PM @ LAFC
JUNE
June 13th - 8:30 PM vs. Atlanta United FC
June 20th - 10:00 PM @ Real Salt Lake
June 27th - 8:30 PM vs. Colorado Rapids
JULY
July 3rd - 8:30 PM vs New England Revolution
July 11th - 6:00 PM @ New York Red Bulls
July 18th - 9:00 PM vs. Vancouver Whitecaps
July 22nd - 10:30 PM @ Seattle Sounder
July 25th - 10:30 PM @ Portland Timbers
AUGUST
August 1st - 8:30 PM vs Real Salt Lake
August 5th - 8:00 PM @ Nashville SC
August 9th - 9:00 PM @ San Jose Earthquakes
August 15th - 8:30 PM vs. NYCFC
August 20th - 8:30 PM vs. FC Dallas
August 29th - 9:00 PM vs. Toronto FC
SEPTEMBER
September 12th - 7:30 PM @ Columbus Crew
September 16th - 8:30 PM vs. LAFC
September 19th - 7:00 PM @ Vancouver Whitecaps
September 27th - 7:00 PM vs Sporting Kansas City
OCTOBER
October 4th - 4:30 PM @ Minnesota United FC
---
TicketIQ is committed to Transparent Ticketing and offers Low Price Guarantees on sold out tickets + unsold face value ticket through Ticketmaster, Eventbrite and other partners. For an overview of the 2020 MLS Ticket buying landscape, and details on the cheapest way to get tickets for every MLS team, visit the TicketIQ Blog.