How Much Are 2020 National Championship Tickets
With LSU headed to their first national championship since 2011-12, the average price for tickets to the January 13th game at the New Orleans Superdome is $2,232. At that price, it's the 4th most expensive National Championship game this decade.
At the end of the semi-finals, the cheapest tickets were $1,353 for a pair in the Terrace Level, Section 649. However, since then prices have fallen and now you can get in for $964. The m
ost expensive ticket is $4,553 for a ticket on the Plaza Sideline in Section 115. The c
heapest Lower Level Ticket is $1,638 in Plaza Endzone. There are currently just over 1,9
00 tickets available on secondary market.
On the secondary market TicketIQ will offer fans a Low Price Guarantee on all sold-out College Football playoff tickets. That means that if you find a secondary market ticket for less on a site like StubHub or Vivid, we'll give you 200% of the difference in ticket credit. TicketIQ customers save up to 25%.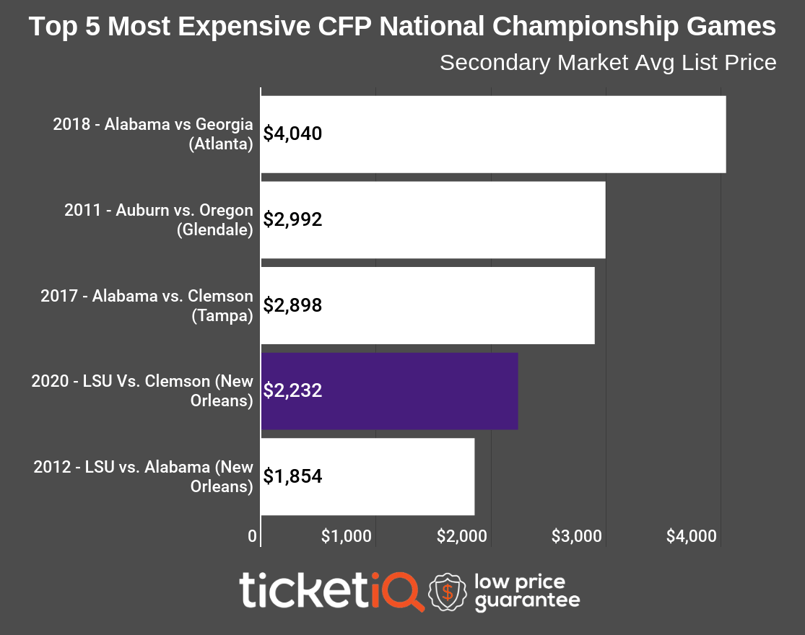 The cheapest prices, also known as the 'get-in' had also increased 18% since the start of the Semi-final game, as the below shows. Prices reached their peak between the Peach and Fiesta Bowl and then dropped by 51% when Clemson defeated Ohio State. However, as game time is rapidly approaching the get-in price is ticking back up again and is now $964.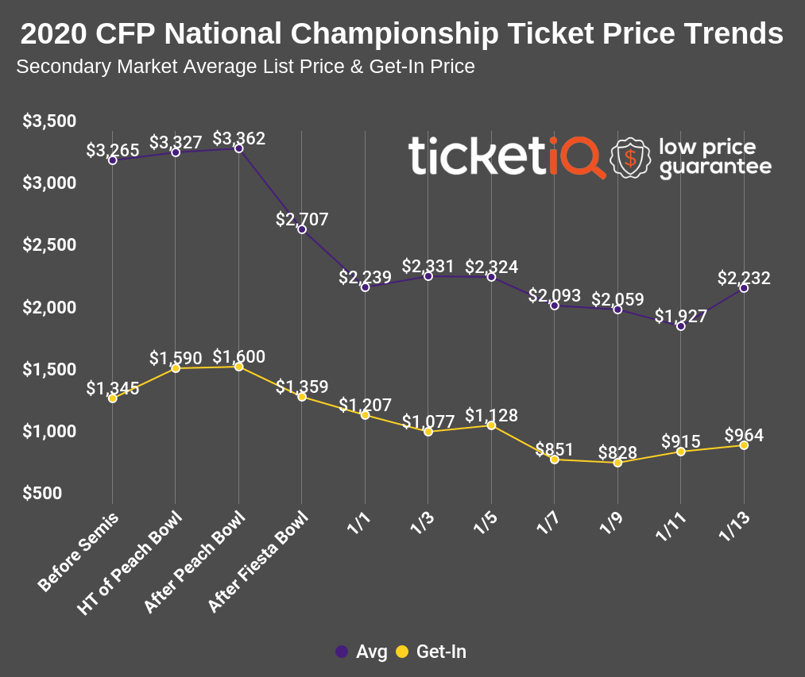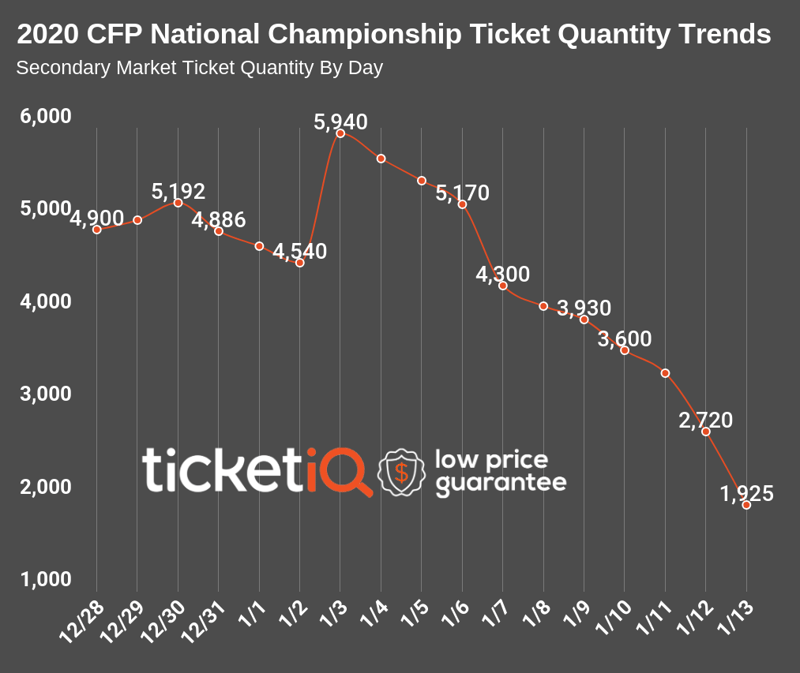 What is mobile ticketing policy For 2020 National Championship Tickets
All tickets for the 2020 National Championship are electronic, meaning you'll need your phone to get into the stadium. Below is a video from from the College Football Playoffs detailing the CFP playoff app, which you'll need to download via the App Store or Google Play.
MERCEDES-BENZ SUPERDOME - CHAMPIONSHIP GAME - JANUARY 13th, 2020
MERCEDES-BENZ SUPERDOME FOOTBALL SEATING CHART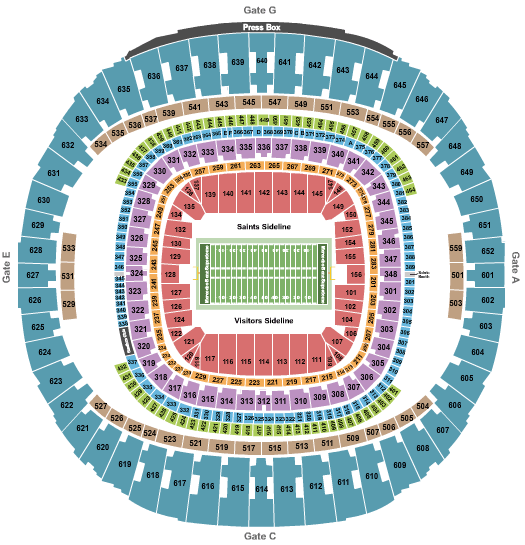 🎟️ SHOP LOW PRICE GUARANTEES FOR ALL SOLD OUT EVENTS AT MERCEDES-BENZ SUPERDOME
MERCEDES-BENZ SUPERDOME SEATING SECTIONS
The lower bowl is the 100-level and comprised of center sections 111 to 117 and 139 to 145; corner sections 104, 106, 107, 109, 119, 121, 122, 124, 132, 134, 135, 137, 147, 149, 150, and 152; and end-zone sections 101, 102, 126 to 130, and 154 to 156.
The second level includes the 200-level and 300-level and comprised of center sections 217, 219, 221, 223, 225, 227, 259, 261, 263, 265, 267, 269, 308 to 316, and 332 to 340; corner sections 205, 207, 207C, 209, 211, 212, 213, 215, 229 to 234, 235C, 235, 237, 247, 249, 249C, 251, 253 to 255, 272, 273, 275, 276, 277C, 277, 303, 304, 304C, 305 to 307, 317 to 319, 320C, 321, 327, 328, 328C, 329 to 331, 341 to 343, 344C, 344, and 345; and end-zone sections 201, 203, 239, 241, 243, 245, 279, 281, 283, 301, 302, 322 to 326, and 346 to 348. The club sections are 207C, 235C, 249C, 277C, 304C, 320C, 328C, 344C.
The upper level's sections are the 500's and 600's and are comprised of center sections ; corner sections 504 to 507, 524 to 527, 539, 554 to 557, 605 to 609, 619 to 624, 631 to 636, and 644 to 650; and end-zone sections 501, 503, 529, 531, 533, 559, 601 to 604, 625 to 630, 651, and 652.
MERCEDES-BENZ SUPERDOME HANDICAP ADA SEATING
Those who are in need of accessible parking should contact the parking department, which can be reached at (504) 587-3805. The drop-off and pick-up area is Gate A Ground (Sugar Bowl Drive parallel to Poydras Street). Wheelchair accessible seating is found on the plaza level of the Superdome. More ADA information can be found here.
What's best way to tailgate at Mercedes-Benz Superdome?
All tailgating can occur up to five hours prior to kick-off, but oversized vehicles are not allowed in the parking garages. All spaces are reserved in the garages on game day. Glass containers are not allowed in the garages. More information can be found here.
How Much Are Hotels In

New Orleans For National Championship Game
---
TicketIQ is committed to the cheapest tickets possible, and we make much less on sold out tickets compared to other major marketplaces like StubHub and Vivid. That means ticket buyers save from up to 25% on TicketIQ on sports, music and theater. We're able to do this because we also work with teams, venues, and other ticket owners, to help them sell tickets at face price, directly to consumers like you, through Ticketmaster and Paciolan. For an overview of the 2019 College Football Ticket Buying landscape, and details on the cheapest way to get tickets College Football Playoff tickets,
visit the TicketIQ Blog
.