After their win the SEC championship, LSU is one game away from the national championship. The National Championship takes place at the Superdome in New Orleans, which would effectively be a home game. Currently, the cheapest ticket prices for the 2020 National Championship is $1,267, which is up 71% in the last month. At current prices, it's the 5th most expensive national championship this decade, and prices will likely continue to rise if LSU continues to win.
🎟️Visit TicketIQ For Low Price Guarantees On National Championship Tickets
🎟️Visit TicketIQ For Low Price Guarantees On Peach Bowl Tickets
📲 Download the TicketIQ app for $20 off your first ticket purchase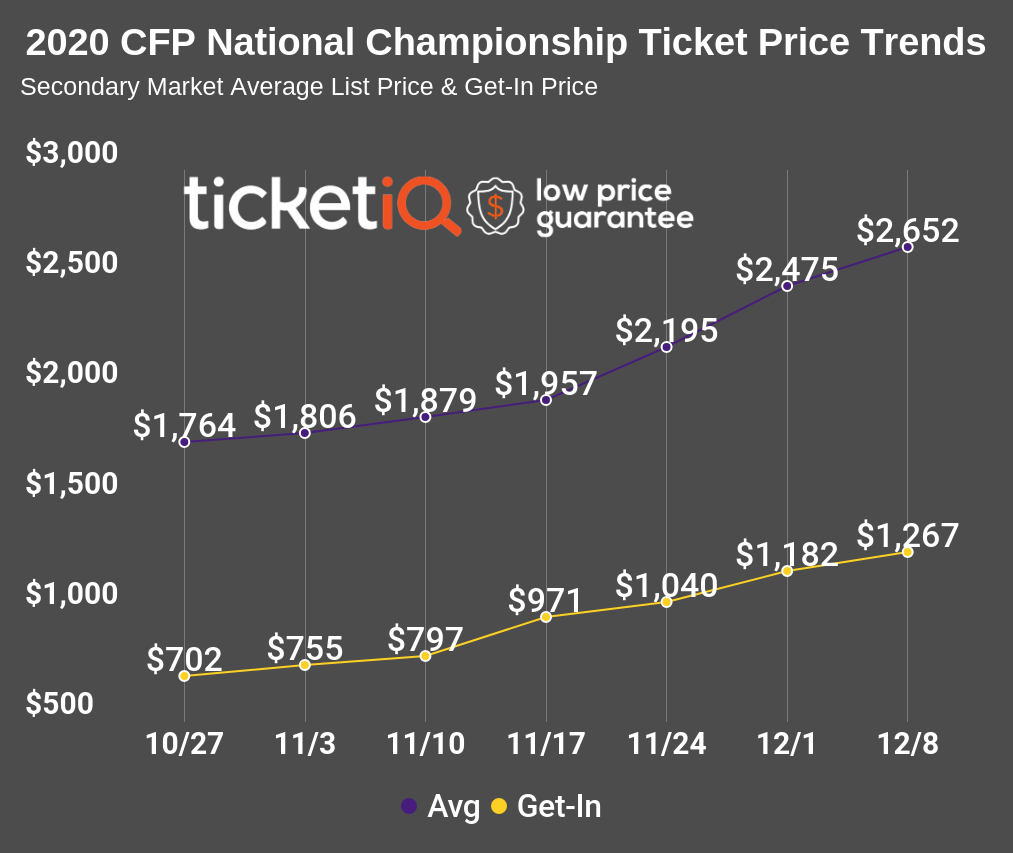 As for how high they could go, LSU's last visit to the national championship may be the best guide. That game, in 2011, also took place at the Superdome, against Alabama. At kick-off, the cheapest ticket available for sale was $1,125, which is just 20% above current prices for the 2020 game. A better guide might be 2017, when Alabama met Georgia in Atlanta at Mercedes Benz Stadium, in a game that was basically a home game for Georgia. For that game prices, the cheapest tickets reached an astronomical $1,725 for the cheapest tickets just before kick-off. Right now, 2020 National Championship are not that far from that all-time high. If LSU is able to get past Oklahoma to reach their first championship game since 2011, they might give 2018 a run for everyone's money.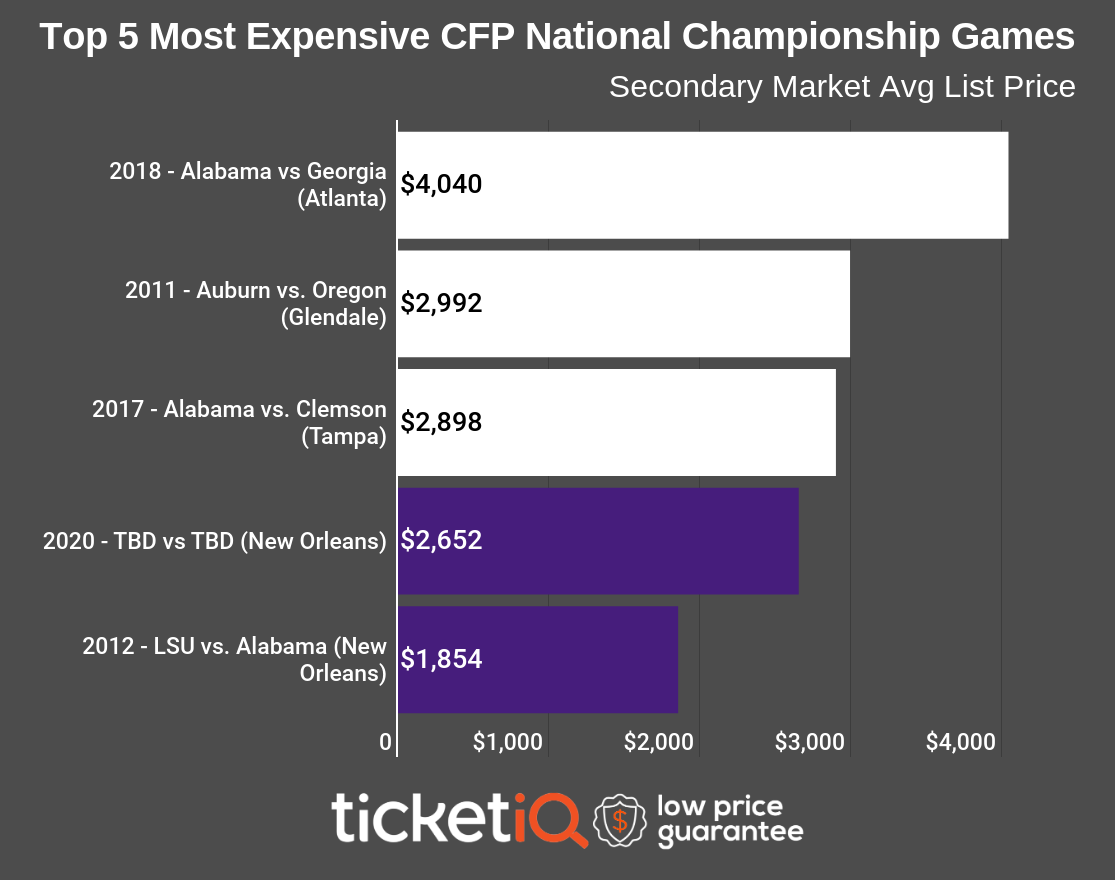 Apart from LSU, Georgia would likely be the highest-demand regional opponent. Ohio State also travels as well as any program, and it's likely the Scarlet and Gray would show up in Nola in numbers. With three visits to the National Championship in four years, Clemson might be the only school in the current top four that would lower demand. Even with Clemson as an opponent, National Championship prices for any game with LSU would be historically high.

As an alternative, LSU fans might want to think about the SEC championship, which has tickets starting at $225. While that's just 25% of the cost for National Championship tickets, it's the most expensive conference championship by a lot, with the Big 10 Championship the next most expensive game, starting at $77.
On the secondary market TicketIQ will offer fans a Low Price Guarantee on all sold-out College Football playoff tickets. That means that if you find a secondary market ticket for less on a site like StubHub or Vivid, we'll give you 200% of the difference in ticket credit. TicketIQ customers save up to 25%.
TicketIQ is committed to the cheapest tickets possible, and we make much less on sold out tickets compared to other major marketplaces like StubHub and Vivid. That means ticket buyers save from up to 25% on TicketIQ on sports, music and theater. We're able to do this because we also work with teams, venues, and other ticket owners, to help them sell tickets at face price, directly to consumers like you, through Ticketmaster and Paciolan. For an overview of the 2019 College Football Ticket Buying landscape, and details on the cheapest way to get tickets College Football Playoff tickets,
visit the TicketIQ Blog
.