Coming off of their first MLS Cup championship and the departure of their biggest star, perhaps it wasn't a surprise that Atlanta United FC was winless in their first 5 games of the season. After that slow start, however, defending MLS Cup champion has rattled off three wins in a row and is climbing the league tables.
For fans looking to see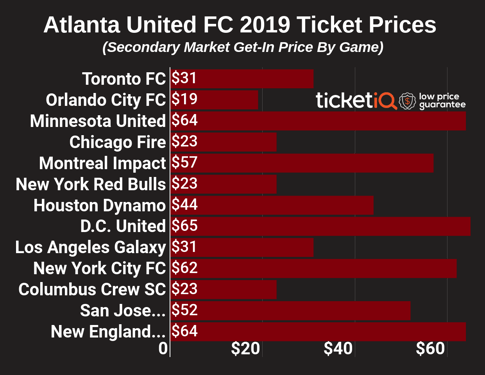 the team's summer push back to the MLS Playoffs at Mercedes Benz Stadium, the secondary ticket market is the best option. At an average price of $96, Atlanta United FC has the most expensive average ticket price in the Eastern conference of the MLS, in just their third year of existence. Despite the impressive demand, there are tickets available directly on Ticketmaster.com for the majority of games. For most games, Mercedes-Benz Stadium holds 42,500 people. The team used the curtains for six of nine home matches during the inaugural season. When expanded to full capacity, the stadium can hold 71,000 people, with standing room for at least 73,019 people.
Almost all the tickets available on the primary market are for upper level seats, either in the 300s or 200s level. For fans looking to get lower level seats in the 100s section, the secondary ticket market is the best options. Mid Field Club Seats in sections 126 to 130 and 108 to 112 start around $200 for most games. Below is a breakdown of each game that lays out prices on the secondary market as well as the primary market.
Five of the remaining games are on a Sunday before 4pm, Five are on a Saturday, with start times from 4:30 to 7pm, while three games scheduled for Wednesday night with a 7pm start time. For a handful of games the 300-level is also open, which means that tickets are typically available for under $20.
Visit TicketIQ For Low Price Guarantees on all Atlanta United FC Tickets.
TicketIQ is a ticket market place with access to Low Price Guarantees on MLS Tickets. If you find the same ticket for less on another secondary marketplace, we'll give you 200% of the difference in ticket credit. TicketIQ is also the leading source of ticket market data used by major news outlets, like CNBC, Business, Insider, Fox and others. Enjoy the TicketIQ blog for most in-depth coverage of the 2019 NBA playoff ticket market and use TicketIQ.com to save 15% compared to other major tickets sellers like Stubhub and Seatgeek.