How to Buy Standing Room Only (SRO) Tickets at AT&T Stadium
A Standing Room Only (SRO) ticket gives Dallas Cowboys fans the chance to enjoy a Cowboys or college football game day experience, often for as little as $20. The Standing Room Only ticket gives fans access to six decks, on the 200 level, 300 level and 400 level. SRO tickets do not grant access to a physical seat or seat location.
These spaces are first-come, first-serve and while there are no seats to sit in, two of the SRO areas have couches and televisions where you can sit and watch the game on TV. Below is a video we did on the most popular SRO areas at AT&T Stadium. We thought the Miller Lite Landing on the 300 level, which like the Pepsi Fan Deck has TVs and Couches, as well as access to bars without lines. Dr. Pepper Platform doesn't have any couches to sit on, but it has a very cool Star Bar. While the Ford Deck has a cool fountain, it feels more like a car dealership than a football stadium.
Tap the image of the Pepsi Fan Deck below to see an Instagram Reel we put together on our top picks SRO areas at AT&T Stadium, where there are couches and TVs to watch the game on.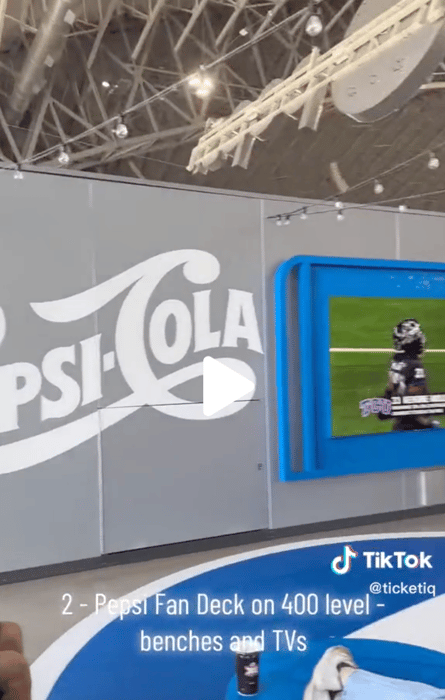 Where To Buy SRO Tickets at AT&T Stadium
On the secondary market, TicketIQ has Fee-Free SRO Cowboys tickets, which also include a Refund Guarantee. Our Refund Guarantee states that if an event is canceled or deemed unfit for fans to attend, TicketIQ will refund ticket buyers in as soon as 15 days. That means that you can buy from TicketIQ worry-free. Customers on TicketIQ save between 15%-25% compared to other secondary market ticketing sites.
How Much Are Standing Room Tickets at AT&T Stadium
Prices for SRO Cowboys tickets start as low as $20 depending on the opponent match-up. The most expensive SRO tickets are usually around $50.