How To Find Cheapest Citi Field Concert Series Tickets
Where To Buy Citi Field Concert Tickets
Primary market face-value Citi Field Concert tickets are available via MLB.com, Ticketmaster, and Frontgate for music festivals.
On the secondary market, TicketIQ has Fee-Free Citi|Field concert tickets, which also include a Refund Guarantee. Our Refund Guarantee states that if an event is canceled or deemed unfit for fans to attend, TicketIQ will refund ticket buyers in as soon as 15 days. That means that you can buy from TicketIQ worry-free. Customers on TicketIQ save between 15%-25% compared to other secondary market ticketing sites.
How Much Are Citi Field Concert Tickets
Most concert venues have two or three-levels, with Floor seats and 100 levels being the most expensive, and 200/300 levels less expensive. Upper-level seats across from the stage are usually cheaper than side stage seats, and even more so in the last 10 rows of the section.
The closer to stage, the more expensive tickets get. The cheapest tickets for current concert tours start under $25 for lower-demand artists. Prices for higher demand tours in major markets start from $100 to $200. The most expensive concert tickets for all artists are in the first few rows on the floor sections. These seats are often hard to find, as they're in very high demand.
Where Are The Best Seats at Citi Field For Concerts
The seating section of Citi Field is divided into three different sections including Field Level, Excelsior Level and Promenade Level. The field level includes sections 1-19 with rows, 1-20 in each section. The lower sections are followed by 100s level having 101-143 sections. The field level is further divided into Field Gold in sections 109-110 and 124-125 with rows A-B and Field Silver with sections 109-110 in rows C-E, 1-6 and Field Box is located in rows 7-34. Similarly baseline boxes lie in sections 104-108 and 127-132.
Floor Seating Sections
The floor seating at Citi Field consists sections A1-A8 and B1-B9.
100-level sections, rows and seats

at

Citi Field
100-level end sections include 110-114, 106-109, 120-130 with 100-level corner sections of 131-139 and 140-144. The end sections contains rows 1-31 while the corner sections have rows D-E, 1-33.
200-level sections, rows and seats

at

Citi Field
200-level sections have only 1 row per section. The center 200-sections include 212-228 while rest sections are corner sections.
300-level sections, rows and seats

at

Citi Field
300-level center sections include 316-322 and each section has 1-7 rows. 300-level corner sections include 327-331, 308-311 with rows 1-12. 300-level end sections include 312-315, 322-326 with rows 1-7.
400-level sections, rows and seats

at

Citi Field
400-level center sections include 411-418 and each section has 1-8 rows. 400-level corner sections include 405-410, 419-424 with rows 1-8. 400-level end sections include 401-404, 425-437 with rows 1-8.
Club, VIP, Box Seats and Suites at

Citi Field
The Hyundai Club is located on a private deck in sections 115-120 behind home plate giving best views of the section. Delta Club seats are located in Sections 11-19. The Metropolitan Club seats provide fans with excellent views in sections 111-114 on the first base side and sections 121-124. The three club lounges are available at the higher tiers including premium Foxwoods, Jim Beam Highball, and Porsche Grill club lounges. Also, Citi Field features club seating sections in the outfield include the 100 level reserved sections (101-103, 133-139). Sterling suite seating are located just behind home plate and above the Delta Club seats.
Citi Field Seating Chart - Concerts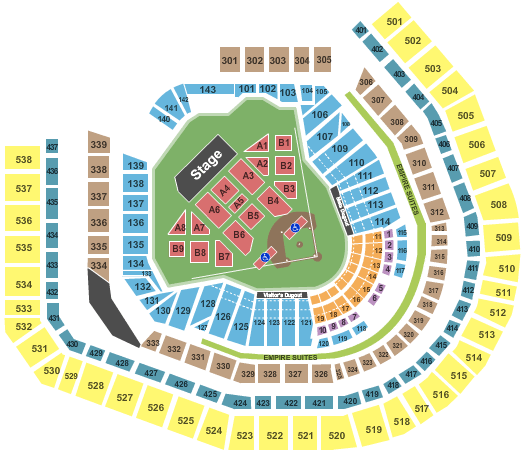 Traveling To Citi Field?