How To Find Cheapest Madison Square Garden Concert Tickets
Where To Buy Madison Square Garden Concert Tickets
Primary market face-value Madison Square Garden Concert tickets are available via Ticketmaster.
On the secondary market, TicketIQ has Fee-Free Madison Square Garden concert tickets, which also include a Refund Guarantee. Our Refund Guarantee states that if an event is canceled or deemed unfit for fans to attend, TicketIQ will refund ticket buyers in as soon as 15 days. That means that you can buy from TicketIQ worry-free. Customers on TicketIQ save between 15%-25% compared to other secondary market ticketing sites.
How Much Are Madison Square Garden Concert Tickets
Most concert venues have two or three-levels, with Floor seats and 100 levels being the most expensive, and 200/300 levels less expensive. Upper-level seats across from the stage are usually cheaper than side stage seats, and even more so in the last 10 rows of the section.
The closer to stage, the more expensive tickets get. The cheapest tickets for current concert tours start under $25 for lower-demand artists. Prices for higher demand tours in major markets start from $100 to $200. The most expensive concert tickets for all artists are in the first few rows on the floor sections. These seats are often hard to find, as they're in very high demand.
Where Are The Best Seats at Madison Square Garden For Concerts
Floor Seating Sections at Madison Square Garden
For concerts tickets, Floor seats are the most desirable. At MSG Floor seats are usually divided into 10 sections. These include A, B, C in the front of the floor, sections D, E, F, in the second row of sections and sections 1,2, and 3 in the back section next to the sound board.
100-level sections, rows and seats at Madison Square Garden
100-level seats on the baseline are section 103, 102, 101 and 113, 112, and 111. 100-level side court seats are in section 108, 107, 106, 105 and 119, 118, 117, 116, 115. 100-level corner sections are 114, 120, 104 and 110.
200-level sections, rows and seats at Madison Square Garden
200-level center tickets include 213, 212, 211, 210, 209, 222, 223, 224, 225 and 226, while corner tickets include 227, 221, 214, 215 and 208. 200-level baseline seats include 216-220 and 201-207. Baseline rows start at row 1 and end at row 6. Baseline rows range from row 1 to row 6, while sidecourt rows start at row 1 and go to row 22.
300-level sections, rows and seats at Madison Square Garden
300-level seats include the West Bridge side of the venue, which has two rows and the East side of the 300-levels, which includes three rows, one of which is a barstool seat, labeled BS3. Behind the stage sections include 321 to 317. The best 300-level concert section is 314 and 325.
Chase Bridge at Madison Square Garden
North Bridge rows range from 1 to 3, with row 3 as a Barstool row and labeled BS3. South Bridge rows range from row 1 to 2, with seat numbers running from seat 1 to seat 25. Behind the stage sections include 412 to 421
Madison Square Garden Premium Seating & Club Options For Concerts
Delta Sky 360 Club
Fans seated in Delta Sky Club seats for a Rangers game get access to the 360 Club, Club Bar and Grill and will have a private entrance into the arena. In-seat wait service with complimentary food and non-alcoholic beverages is included in the game ticket. Additionally, fans will get exclusive views of the MSG Broadcast Studio from the 360 Club. The Delta Sky Club will be accessible for all fans with tickets in Sections 4 through 6 and 10 through 12 (which are known as the Delta Sky 360 Club seats). Another area where fans will have access to the Delta Sky Club is found in the first two rows (Row AA and Row A) of Baseline Club sections 1 through 3, and 7 through 9.
Madison Club
The Madison Club at MSG are between the 100 and 200-level and range from sections 59 to 66, and feature complimentary dining and non-alcoholic beverages. The rotating menu features signature chef tastings only found in the Madison Club. Ticketholders will also receive in-seat wait service, and will find TV monitors in each row. Guests will enter through a VIP entrance, have access to the coat check and private club restrooms.
The Loft
The Loft includes high-end food offering, complimentary non-alcoholic beverages and cash bar for all guests. Other amenities include in-seat waiter service, upscale buffet-style menu including MSG Signature Collection, a private bar, a private restroom, VIP entrance with ticket concierge, lounge seating and more.
Madison Square Garden Seating Chart - Concerts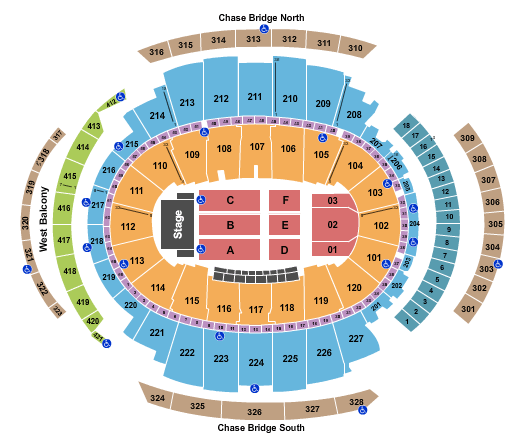 Traveling To An Event At MSG?