How To Find Cheap Metallica Tickets + "M72 World Tour" Dates
Metallica has announced dates for their 2023-24 "M72 World Tour." The 46-date trek is set to kick off on April 27th with two shows in Amsterdam at Johan Cruijff. North American stops on the tour run from August 4th, 2023 at MetLife Stadium in East Rutherford to November 10th and 12th for two shows in Detroit at Ford Field. A second leg of North American dates start up again on August 2nd, 2024 in Foxborough, MA at Gillette Stadium, and runs until September 1st in Seattle at Lumen Field. Metallica will play two shows at each venue on the tour, and both shows will feature two different sets and two different opening acts.
Architechts, Mammoth WVH, Five Finger Death Punch, Ice Nine Kills, Volbeat, Pantera, and Greta Van Fleet will serve as opening acts throughout the tour. Check the full list of tour dates at the bottom of this post to see which dates each opening act will be performing.
The tour is in support of the Metallica's upcoming album, 72 Seasons, which is set to be released next April.
Where To Buy Metallica Tickets
Primary market single-day passes go on sale via Ticketmaster on Friday, January 20th at 10 a.m. local time.

If tickets hit the secondary market, TicketIQ will have Fee-Free Metallica tickets which also include a Refund Guarantee. Our Refund Guarantee states that if an event is canceled or deemed unfit for fans to attend, TicketIQ will refund ticket buyers in as soon as 15 days. That means that you can buy from TicketIQ worry-free. Customers on TicketIQ save between 15%-25% compared to other secondary market ticketing sites.
How Much Are Metallica Tickets
2-day and Single-Day passes are available for each of Metallica's North American stops on the tour. Prices start between $120 and $250 per seat depending on the location.
Lower-level ticket prices start between $250 and $350 depending on the date and venue.
We expect prices to drop following this Friday's public on sale of Single-Day passes.
Metallica "M72 World Tour" Floor Seats
The Floor configuration for the "M72 World Tour" is a general admission pit section surrounding a center-stage.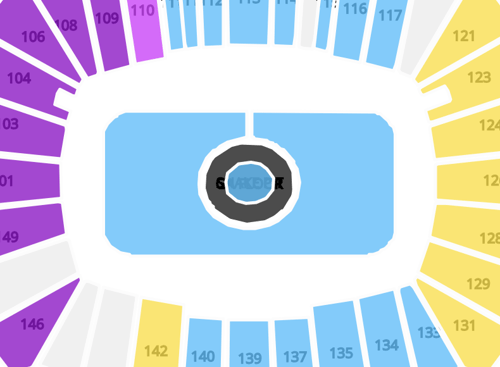 Floor seats are available for most upcoming dates, and prices start between $350 and $550 depending on the date and venue. Ticket prices for floor seats can go as high as $1,000+.
Metallica "M72 World Tour" Dates
04/27 – Amsterdam, NL @ Johan Cruijff Arena (w/ Architechts & Mammoth WVH)
04/29 – Amsterdam, NL @ Johan Cruijff Arena (w/ Five Finger Death Punch & Ice Nine Kills)
05/17 – Paris, FR @ Stade de France (w/ Five Finger Death Punch & Ice Nine Kills)
05/19 – Paris, FR @ Stade de France (w/ Architechts & Mammoth WVH)
05/26 – Hamburg, DE @ Volksparkstadion (w/ Architechts & Mammoth WVH)
05/28 – Hamburg, DE @ Volksparkstadion (w/ Five Finger Death Punch & Ice Nine Kills)
06/16 – Gothenburg SE @ Ullevi Stadium (w/ Volbeat & Mammothth WVH)
06/18 – Gothenburg SE @ Ullevi Stadium (w/ Five Finger Death Punch & Ice Nine Kills)
08/04 – E. Rutherford, NK @ MetLife Stadium (w/ Pantera & Mammoth WVH)
08/06 – E. Rutherford, NK @ MetLife Stadium (w/ Five Finger Death Punch & Ice Nine Kills)
08/11 – Montreal, QC @ Stade Olympique (w/ Pantera & Mammoth WVH)
08/13 – Montreal, QC @ Stade Olympique (w/ Five Finger Death Punch & Ice Nine Kills)
08/18 – Arlington, TX @ ATGreta Van FleetT Stadium (w/ Pantera & Mammoth WVH)
08/20 – Arlington, TX @ ATGreta Van FleetT Stadium (w/ Five Finger Death Punch & Ice Nine Kills)
08/25 – Inglewood, CA @ SoFi Stadium (w/ Pantera & Mammoth WVH)
08/27 – Inglewood, CA @ SoFi Stadium (w/ Five Finger Death Punch & Ice Nine Kills)
09/01 – Glendale, AZ @ State Farm Stadium (w/ Pantera & Mammoth WVH)
09/03 – Glendale, AZ @ State Farm Stadium Five (w/ Finger Death Punch & Ice Nine Kills)
11/03 – St. Louis, MO @ The Dome at America's Center (w/ Pantera & Mammoth WVH)
11/05 – St. Louis, MO @ The Dome at America's Center(w/ Five Finger Death Punch & Ice Nine Kills)
11/10 – Detroit, MI @ Ford Field (w/ Pantera & Mammoth WVH)
11/12 – Detroit, MI @ Ford Field (w/ Five Finger Death Punch & Ice Nine Kills)
05/24 – Munich, DE @ Olympiastadion (w/ Architechts & Mammoth WVH)
05/26 – Munich, DE @ Olympiastadion (w/ Five Finger Death Punch & Ice Nine Kills)
06/07 – Helsinki, FI @ Olympic Stadium (w/ Architechts & Mammoth WVH)
06/09 – Helsinki, FI @ Olympic Stadium (w/ Five Finger Death Punch & Ice Nine Kills)
06/14 – Copenhagen, DK @ Parken Stadium (w/ Architechts & Mammoth WVH)
06/16 – Copenhagen, DK @ Parken Stadium (w/ Five Finger Death Punch & Ice Nine Kills)
07/05 – Warsaw, PL @ PGE Narodowy (w/ Architechts & Mammoth WVH)
07/07 – Warsaw, PL @ PGE Narodowy (w/ Five Finger Death Punch & Ice Nine Kills)
07/12 – Madrid, ES @ Estadio Cívitas Metropolitano (w/ Architechts & Mammoth WVH)
07/14 – Madrid, ES @ Estadio Cívitas Metropolitano (w/ Five Finger Death Punch & Ice Nine Kills)
08/02 – Foxborough, MA @ Gillette Stadium (w/ Pantera & Mammoth WVH)
08/04 – Foxborough, MA @ Gillette Stadium (w/ Five Finger Death Punch & Ice Nine Kills)
08/09 – Chicago, IL @ Soldier Field (w/ Pantera & Mammoth WVH)
08/11 – Chicago, IL @ Soldier Field (w/ Five Finger Death Punch & Ice Nine Kills)
08/16 – Minneapolis, MN @ US Bank Stadium (w/ Pantera & Mammoth WVH)
08/18 – Minneapolis, MN @ US Bank Stadium (w/ Five Finger Death Punch & Ice Nine Kills)
08/23 – Edmonton, AB @ Commonwealth Stadium (w/ Pantera & Mammoth WVH)
08/25 – Edmonton, AB @ Commonwealth Stadium (w/ Five Finger Death Punch & Ice Nine Kills)
08/30 – Seattle, WA @ Lumen Field (w/ Pantera & Mammoth WVH)
09/01 – Seattle, WA @ Lumen Field (w/ Five Finger Death Punch & Ice Nine Kills)
09/20 – Mexico City, MX @ Foro Sol (w/ Greta Van FleetMammoth WVH)
09/22 – Mexico City, MX @ Foro Sol (w/ Five Finger Death Punch & Ice Nine Kills)
09/27 – Mexico City, MX @ Foro Sol (w/ Greta Van FleetMammoth WVH)
09/29 – Mexico City, MX @ Foro Sol (w/ Five Finger Death Punch & Ice Nine Kills)