Kevin Durant and Kyrie Irving are on the court together for the first time, and they should be part of a very successful 2020-21 season for the Brooklyn Nets. Steve Nash is the team's new head coach, as the Nets look for their first 50-win season in almost 20 years.
Brooklyn Nets Season Tickets
Fans can send in a non-refundable $500 deposit to secure a 2021-22 full or half season membership via Ticketmaster. At this time, the Brooklyn Nets are not offering tickets for the 2020-21 season because New York State guidelines do not permit fans at Barclays Center. If the Nets are able to host fans during the season, then deposit holders can apply their deposit to any 2020-21 season ticket plan.
Fans have the option to have the $500 deposit go towards any of the Nets ticket plans, with the latest date being the 2021-22 season. There is one deposit allowed per account and four season ticket memberships per account.
Where to Buy Brooklyn Nets Tickets
When Brooklyn Nets primary market single-game tickets go on sale, they will via Ticketmaster.
On the secondary market TicketIQ will have Fee-Free tickets for all Brooklyn Nets games which also include a Refund Guarantee when fans are allowed back at Barclays Center . Our Refund Guarantee states that if an event is canceled or deem unfit for fans to attend, TicketIQ will refund ticket buyers in as soon as 15 days. That means that you can buy from TicketIQ worry-free. Customers on TicketIQ save between 15%-25% compared to other secondary market ticketing sites.
How Much Are Brooklyn Nets Tickets
The Nets have yet to release ticket pricing information, but at this time, fans can place their $500 season ticket deposit.
Brooklyn Nets 2020-21 Schedule
The NBA has released the first half of its 2020-21 regular season schedule, and those games are being played from December 22 to March 4. Then, the second-half schedule (March 11 to May 16) will be released at a future date, and Nets fans will hope to be in the stands for these games. Brooklyn hopes to have a high seed for the playoffs and have some time to rest during the NBA's first official play-in tournament (May 18 to 21). Then, the Nets hope to play in their third consecutive postseason, which begins on May 22.
Here is the home schedule for the Nets during the first half of the 2020-21 season:
DECEMBER
December 22: vs. Golden State, 7:00 PM
December 28: vs. Memphis, 7:30 PM
December 30: vs. Atlanta, 7:30 PM
JANUARY
January 1: vs. Atlanta, 7:30 PM
January 3: vs. Washington, 6:00 PM
January 5: vs. Utah, 7:30 PM
January 7: vs. Philadelphia, 7:30 PM
January 10: vs. Oklahoma City, 6:00 PM
January 12: vs. Denver, 7:30 PM
January 13: vs. Knicks, 7:30 PM
January 16: vs. Orlando, 6:00 PM
January 18: vs. Milwaukee, 7:30 PM
January 23: vs. Miami, 7:30 PM
January 25: vs. Miami, 7:30 PM
FEBRUARY
February 2: vs. L.A. Clippers, 7:30 PM
February 5: vs. Toronto, 7:30 PM
February 10: vs. Indiana, 7:30 PM
February 23: vs. Sacramento, 7:30 PM
February 25: vs. Orlando, 7:30 PM
February 27: vs. Dallas, 8:30 PM
---
How Much Are 2019-20 Brooklyn Nets Tickets?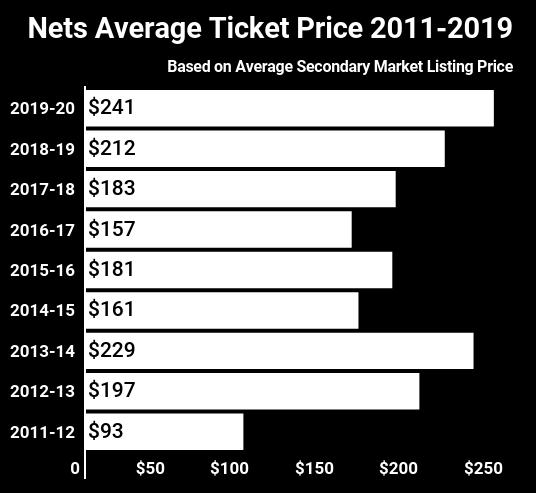 This season, 18 of the Nets 41 home games will be played on Friday, Saturday or Sunday and 5 games will be plated in the afternoon, including a 3 p.m. game versus Philadelphia on Martin Luther King Jr. Day.
On the secondary ticket market, the cheapest games start at $59 against the Magic, Pistons, Wizards and Cavaliers. Nine games have tickets starting over $100, with the most expensive game against the Lakers on January 23rd. For that game, the cheapest ticket start at $213. The second most expensive game is the Rockets November lone visit, with the cheapest tickets starting at $166. After that, the Knicks game on December 26th starts at $165, which is $70 more expensive than the first Knicks visit to Brooklyn on October 25th.
Face value tickets start as low as $38 for games against lower-demand opponents like the Hornets, Jazz and Pistons. For those games, the most expensive tickets are in going for $290 for 3rd row seats in section 23. For the Lakers, the cheapest face value ticket is listed at $248, with lower level tickets starting at $645 for tickets behind the basket and $1,010 for side court tickets in the 15th row of section 9. Face value tickets for the first game against the Knicks starts at $115 while the December 26th game starts at $150. The cheapest ticket for the NBA-Champion Raptors starts at $62, while the cheapest face value ticket against the Warriors and Celtics start at $146. The cheapest ticket for Zion Williamson's visit on November 4th start at $115
Where Are Season Tickets and Mini Plans at Barlcays Center
There are multiple season-ticket packages, and fans can choose between sitting in the first row, in a luxury box or anywhere else in the arena. Season-ticket holders get invites to exclusive parties and events, playoff ticket priority and, in some cases, access to high-end dining at Barclays Center.
Mini Plans are available for 21 or 11 games, and include some of the biggest games of the year. Fans can choose to sit in loge boxes, luxury suites or in a standard seat, and the 21-game plan starts at $1,650 in the upper sections.
Where Are Club Seats at Barclays Center
There are four clubs around Barclays Center:
Billboard Lounge:
This lounge couples the action of the game with live performances and DJs.
Qatar Airways Club:
Located adjacent to the Nets' lockerroom, this club offers high-end hospitality, and ticket holders get half-time access to the practice court.
Honda Club:
Located above Sections 15-17, the Honda Club is available for groups of 40-60, and includes domestic beer service.
TicketsNow Club/First Data Lounge:
These "twin" clubs are located behind the baskets on Suite Level A, and fans can enjoy full-service bars and a wide range of dining options, including Junior's cheesecake.
Nets Mobile Ticketing
Fans can download the Barclays Center app to manage season tickets, purchase or upgrade tickets, explore concessions, and more. The app is available at the App Store and Google Play.
---
TicketIQ is committed to the cheapest tickets possible, and we make much less on sold out tickets compared to other major marketplaces like StubHub and Vivid. That means ticket buyers save from up to 25% on TicketIQ on sports, music and theater. We're able to do this because we also work with teams, venues, and other ticket owners, to help them sell tickets at face price, directly to consumers like you, through Ticketmaster or AXS. For an overview of the 2019 NBA Ticket Buying landscape, and details on the cheapest way to get tickets for every team, visit the TicketIQ Blog.