In the nearly 20 years since Fenway Park first began hosting concerts, the home of the Boston Red Sox has welcomed a variety of big-name acts as part of the Fenway Concert Series.
Where To Buy Fenway Park Concert Tickets
Primary market face-value Fenway Park Concert tickets are available via Ticketmaster.
On the secondary market, TicketIQ has Fee-Free Fenway Park concert tickets, which also include a Refund Guarantee. Our Refund Guarantee states that if an event is canceled or deemed unfit for fans to attend, TicketIQ will refund ticket buyers in as soon as 15 days. That means that you can buy from TicketIQ worry-free. Customers on TicketIQ save between 15%-25% compared to other secondary market ticketing sites.
How Much Are Fenway Park Concert Tickets
Most concert venues have two or three-levels, with Floor seats and 100 levels being the most expensive, and 200/300 levels less expensive. Upper-level seats across from the stage are usually cheaper than side stage seats, and even more so in the last 10 rows of the section.
The closer to stage, the more expensive tickets get. The cheapest tickets for current concert tours start under $25 for lower-demand artists. Prices for higher demand tours in major markets start from $100 to $200. The most expensive concert tickets for all artists are in the first few rows on the floor sections. These seats are often hard to find, as they're in very high demand.
Where Are The Best Seats at Fenway Park For Concerts
Floor seats, also known as Turf seats (darker orange color), have three sections, starting with section A closest to the stage and moving to section C farthest from the stage. Prices for the floor seats are always the most expensive with section A often going for double the price of section C.
Field Box Level (lighter orange color) concert seating is the closest stadium-style seating for shows at Fenway. If you prefer to be close to the stage but still want a slightly elevated view of the show, this is the best option.
Fenway Park's Grandstand Level (darker purple color) has the most tickets for a concert at Fenway Park. Most Grandstand seats are covered by an overhang--which can be great for a show where there's a possibility of rain.
Pavilion and Roof Box Levels (lighter purple color) still give music fans a great live experience. Seats in the Pavilion and Roof Box Level are usually amongst the most affordable options and provide a bird's-eye view of the show and a good perspective on the crowd. You even get to see the Boston skyline from some of these seats.
Fenway Park Seating Chart - Concerts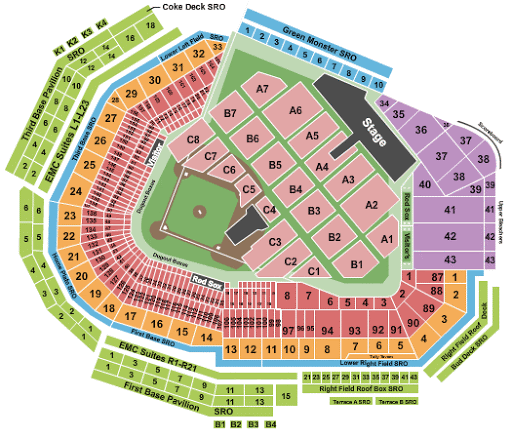 Field Level sections, rows and seats

at

Fenway Park
The floor seating at Fenway Park is surrounded by sections A1-A7, B1-B7, C1-C8 and 1-165. The A or higher sections have 1-30 rows while B and C sections have 1-20 rows in total. Bleacher Seating is located at highest tier with 1-40 rows each seating section.
The lower level of Fenway Park is made up of three semi-continuous seating zones, known as Field or Dugout Boxes, followed by Loge Boxes and the Grandstand. There are 1-18 rows in Grandstand sections and are located at highest position amongst three. Loge Boxes begin with row AA and end at row RR. The lowest section, the Field or Dugout Section has typically 1-2 rows followed by rows A-M.
There are five (5) Entrance Gates to Fenway Park, Gates A-E. There are three elevators at Gate D.
Club, VIP, Box Seats and Suites at

Fenway Park
EMC club seats are located on the second level above grandstand seating. The club seats are padded with extra legroom, with in-seat wait service. The Ford Clubhouse serves as a private venue for Red Sox home games for Dugout Seat Patrons. The Royal Rooters Club is located behind Section 3 in the east end of Fenway Park near Gate B concourse.
Dugout padded seats are located at field level. The first row in Sections 39-50 (A1) will also have a TV monitor on the ground in front of them. The Champions Club is located in the big concourse where guests frequently gather and eat before a Red Sox game.
Family Restrooms are at Gate E. Additionally, there is a family restroom located on the Pavilion Level under Pavilion Box 14 and Pavilion Box 2. Grandstand Sections 32 and 33 are designated family sections.
The Boston Red Sox have luxury suites that can be rented on a game-to-game basis. Six "K" suites adorn the third-base side, five "B" suites reside along the first-base side.
Traveling To Fenway Park?