How To Find Assembly Room And Revolutionary Row Tickets At Wells Fargo Center
Wells Fargo Center is the home of the Philadelphia 76ers and the Philadelphia Flyers. Recently they have introduced a new addition to the arena, known as The Assembly Room. These are SRO tickets that give fans without seated tickets an opportunity to have their own lounge space throughout the game. If you would like to have a seated ticket that is right next to this lounge space, Revolutionary Row is the way to go. Look below for more information on each.
Where To Buy Wells Fargo Center Assembly Room + Revolutionary Row Tickets
Assembly Room tickets are exclusively available on the primary market. Primary market face-value Assembly Room tickets are available via Ticketmaster. Revolutionary Row tickets are available in short supply on TicketIQ, but TM offers much more variety.
On the secondary market, TicketIQ has Fee-Free tickets for all events at Wells Fargo Center, which also include a Refund Guarantee. Our Refund Guarantee states that if an event is canceled or deemed unfit for fans to attend, TicketIQ will refund ticket buyers in as soon as 15 days. That means that you can buy from TicketIQ worry-free. Customers on TicketIQ save between 15%-25% compared to other secondary market ticketing sites.
How Much Are Wells Fargo Center Assembly Room + Revolutionary Row Tickets
GA Assembly Room tickets at Wells Fargo Center start as low as $25 on Ticketmaster depending on the game. If you'd like a seated ticket in the Revolutionary Row area that borders the Assembly Room, many of these tickets begin under $100 on both the primary and secondary market, including limited tickets on TicketIQ. Here's a visual representation of where Revolutionary Row is located within Wells Fargo Center. The Assembly Room is located just behind Revolutionary Row and includes exclusive amenities that are sure to impress.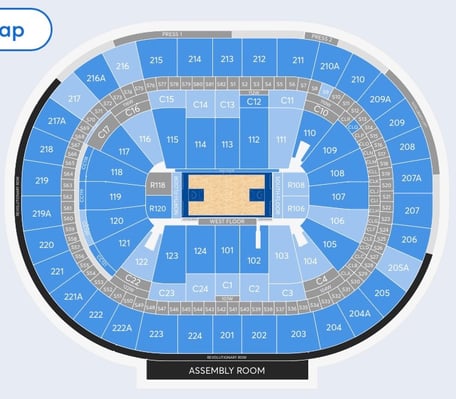 What Amenities Come With Wells Fargo Center Assembly Room + Revolutionary Row Tickets?
The Assembly Room at Wells Fargo Center provides some of the finest amenities one can find for as cheap as the ticket price is. The area includes fireside couches, padded chairs, tons of tv's to watch the game, bar seating, luxury full service cash bars, and more. The sight lines are excellent and you're never too far from the game.
Revolutionary Row seats can be found in a single section that wraps around the majority of the arena. The seats themselves are larger, padded, & plush, and they include cup holders. The views are incredible and you'll feel as if you have your own private space to watch the game at. Look at this video below for a full visual of the perks you'll receive when you purchase Assembly Room or Revolutionary Row tickets.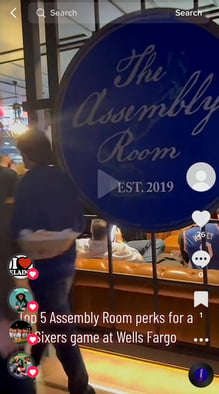 A Peak at What The Assembly Room + Revolutionary Row Look Like Up Close
Wells Fargo Center Seating Chart - Basketball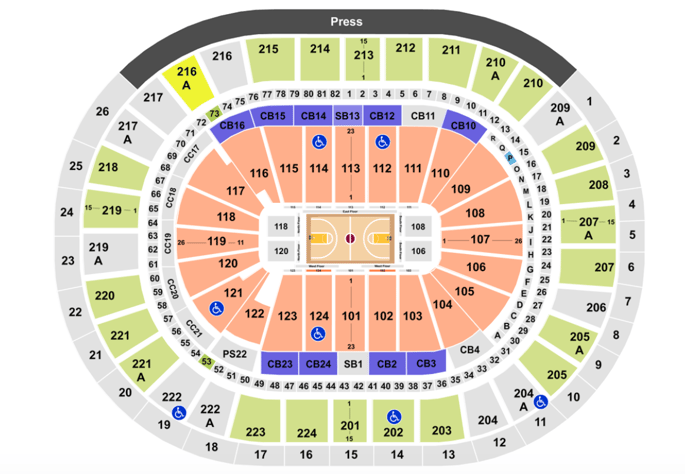 Wells Fargo Center Seating Chart - Hockey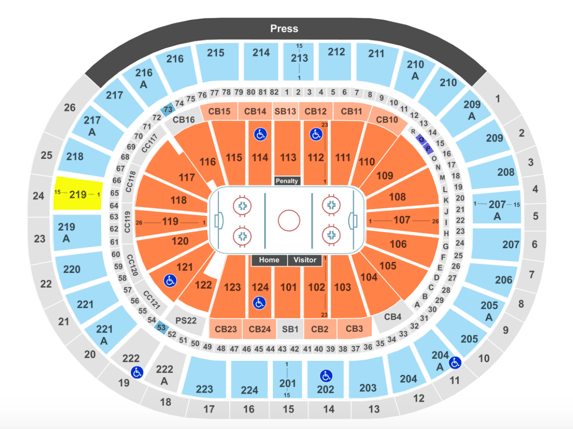 Traveling To Wells Fargo Center?