How To Find Cheapest Wrigley Field Concert Tickets
Where To Buy Wrigley Field Concert Tickets
On the secondary market, TicketIQ has Fee-Free Wrigley Field concert tickets, which also include a Refund Guarantee. Our Refund Guarantee states that if an event is canceled or deemed unfit for fans to attend, TicketIQ will refund ticket buyers in as soon as 15 days. That means that you can buy from TicketIQ worry-free. Customers on TicketIQ save between 15%-25% compared to other secondary market ticketing sites.
How Much Are Wrigley Field Concert Tickets
Most baseball stadiums that host concerts have three or four levels, with Floor seats and 100 levels being the most expensive, and 200/300 levels less expensive. Upper-deck seats across from the stage are usually cheaper than side stage seats, and even more so in the last 10 rows of the section.
The closer to stage, the more expensive tickets get. The cheapest tickets for current concert tours start under $25 for lower-demand artists. Prices for higher demand tours in major markets start from $100 to $200. The most expensive concert tickets for all artists are in the first few rows on the floor sections. These seats are often hard to find, as they're in very high demand.
Where Are The Best Seats at Wrigley Field For Concerts
Floor-level sections, rows and seats at Wrigley Field
Sections Floor A, Floor AA, Floor AB and Floor B are a part of Floor Seating, which offers some of the closest views of the performers. For many concerts, floor sections are added or removed. The floor seating typically has Floors A to Floors Z. Behind the Stage sections include 501-507, 511-515.
100-level sections, rows and seats at Wrigley Field
The Field Box seats consists of sections 101-142. Also, section 101 is considered the "Family Section" at Wrigley Field which means no alcohol is served and behavior is strictly monitored. There are two seating areas that are considered the Field Boxes; outfield field boxes (sections 101-110, 133-142) and infield field boxes (sections 110-133).
300-level sections, rows and seats at Wrigley Field
Budweiser Bleachers are located at the Far Outfield in sections 301-318.
400 & 500-level sections, rows and seats at Wrigley Field
The upper deck box seats offer some of the best views of the playing field in the entire stadium in sections 409-431. The upper deck reserved seats consists of sections 503-538. Every upper deck reserved sections sits directly behind an upper deck box section. These are relatively small sections with only 9 rows of seats.
Wrigley Field Rows
The lower sections have rows A-D, 1-11. 100s sections consist of rows 1-15 while 200 sections have rows 1-23. 300 level rows are numbered from 1-12 and 1-9 for 400 sections.
Wrigley Field Premium Seating & Club Options For Concerts
Wrigley Park Premium Seating Locations
1914 Club (Sections 13-22 Rows 1-7)
Catalina Club (Sections, 315L, 316L, 317R, 318R)
Cree Lighting Club (On Suite Level along the third base line)
Maker's Mark Barrel Room (Sections 27-29 Rows 1-7)
The W Club (Sections 3-5 Rows 1-12)
Check out our full Wrigley Field premium seating and club option breakdown here.
Wrigley Field Seating Chart - Concerts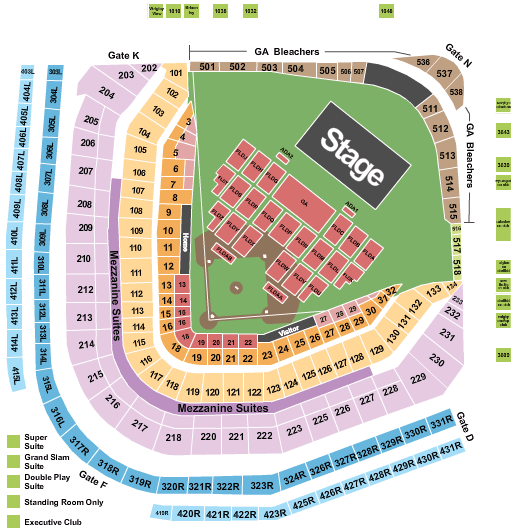 Traveling To Chicago?