How To Find Cheapest Yankee Stadium Concert Tickets
Where To Buy Yankee Stadium Concert Tickets
Primary market face-value Yankee Stadium Concert tickets are available via Ticketmaster.
On the secondary market, TicketIQ has Fee-Free Yankee Stadium concert tickets, which also include a Refund Guarantee. Our Refund Guarantee states that if an event is canceled or deemed unfit for fans to attend, TicketIQ will refund ticket buyers in as soon as 15 days. That means that you can buy from TicketIQ worry-free. Customers on TicketIQ save between 15%-25% compared to other secondary market ticketing sites.
How Much Are Yankee Stadium Concert Tickets
Most concert venues have two or three-levels, with Floor seats and 100 levels being the most expensive, and 200/300 levels less expensive. Upper-level seats across from the stage are usually cheaper than side stage seats, and even more so in the last 10 rows of the section.
The closer to stage, the more expensive tickets get. The cheapest tickets for current concert tours start under $25 for lower-demand artists. Prices for higher demand tours in major markets start from $100 to $200. The most expensive concert tickets for all artists are in the first few rows on the floor sections. These seats are often hard to find, as they're in very high demand.
Where Are The Best Seats at Yankee Stadium For Concerts
Floor Seating Sections
The floor seating at Yankee Stadium consists sections A1-A7 and B1-B8. These are the premier, and most expensive, seats for concerts in The Bronx.
100 Level Sections, Season and Rows
100-level at Yankees stadium is right on the field for all sections beyond the Legends seating, which ends at section 29 and 11, on either side of the field. 100-level seats like 130, 131, 132, 134, 135 as well 110 to 103 are likely the best value on the secondary market, with tickets available under $100 for seats 5-6 rows off of the field.
Behind home plate, rows range from row 1 to as high as row 17S, which is a standing tickets. 16W is the wheelchair accessible row behind home plate. 126 on the third-base bag has rows from 1 to 22.
200 Level Section

, Seats And Rows
Rows Range from row 1 to as high as row 41 in section 234. Smaller section go into the low 20s of row depth. The lowest number of rows is behind home plate, where there are only 7 rows, along with an 8WC row for wheelchair accessibility. The 3rd base bag is on section 126 while the first-base bag is on section 216. Sections 205, 206, 233, & 234 can have obstructed sight lines so be careful
300 Level Section

, Seats and Rows
300-Level at Yankee Stadium may be amongst the most diverse with lots of club and affordably-priced club options, including all of the below.
Delta Sky360 Suites
Combines private seating area with benefits offered by an indoor, full-service bar and upscale dining options. Located behind home plate and on the 200 level of the stadium
Behind Home plate, the Terrace Level seats are called
Jim Beam Premium Seats
Located in sections 317 – 323, these seats offer an alternate entrance, exclusive food and restrooms, padded seats, and a great birds eye view of the stadium. Unless you are opting for a cheaper, lower seat, the Jim Beam Suite Seats are definitely one of your best bets.
400 Level Sections, Seats And Rows At Yankee Stadium
400-Level has the most unsold tickets available at face price via Ticketmaster. As the below shows, for most game, tickets start around $30, with tickets near the front of the section sold out.
Bleacher Level

Sections, Seats And Rows
Seats in the bleachers are the most economic way to see the concerts, and to soak up as much atmosphere as possible at the New Yankee Stadium.
Bleacher rows run from 1 to 23 in right field and 1-24 in left field. Seats in section 238 can be partially obstructed, which means it's usually the cheapest section in the stadium. Row 21W runs across the back of the bleacher sections, and are wheelchair accessible. Seat number run from 1 to 21, but sometime flexibility os required, as once you get out there all seats are on metal benches.
Yankee Stadium Seating Chart - Concerts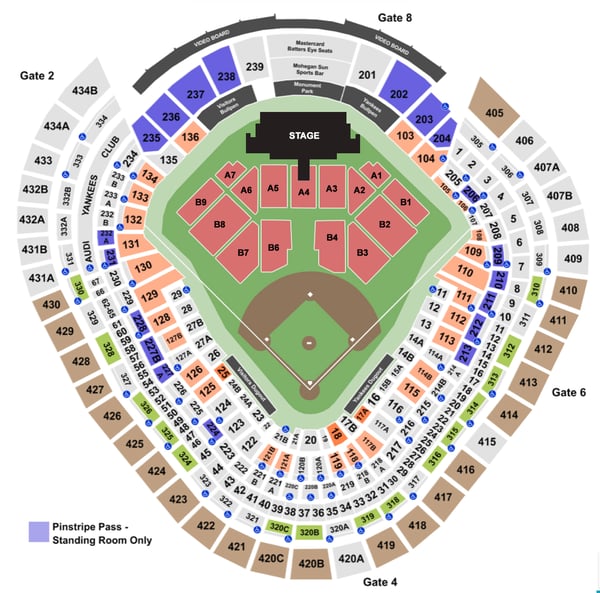 Traveling To Yankee Stadium?