How To Find Get Cheapest Game 5 Stanley Cup Finals Tickets At TD Garden
With the series tied at two games apiece the Bruins are returning home for game 5 of the Stanley Cup Finals on Thursday. Despite the glut of Boston Championships this decade, demand for tickets from Boston fans doesn't seem to be letting up. TicketIQ has Low Price Guarantees on all Bruins Stanley Cup Playoff tickets for games at TD Garden. For game 5, prices start at $622 compared to $1115 for a potential game 7. Primary market tickets are sold out for both game 5 and 7 on Ticketmaster.com, which means that the secondary market is the only options for ticket buyers looking to see the Bruins win their 7th Stanley Cup in franchise history.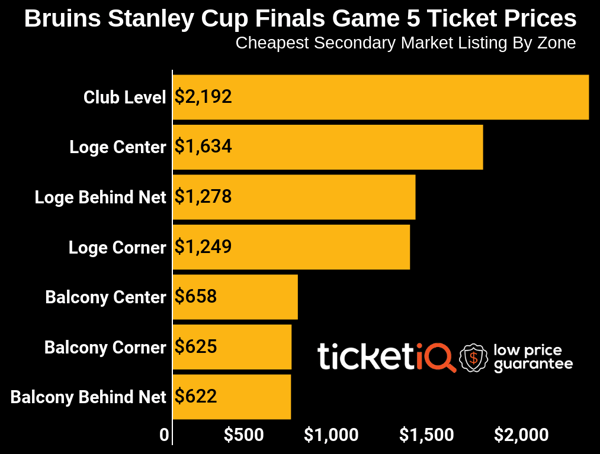 If the Bruins are able to win the Stanley Cup, they'd be 3rd team from Boston to win a major league sports championship in the current calendar season. If they're able to accomplish that feat, it would be the first time since 1969-70 when New York pulled it off with the Mets, Knicks and Jets all winning championships in their respective sports.