Where To Buy 2021-22 Arizona Coyotes Tickets & When Do Tickets Go On Sale
Primary market face-value tickets generally go on sale shortly after the NHL schedule is released. This year the schedule was released on Thursday, July 22nd. When primary market tickets do go on sale they will be available via Ticketmaster.
On the secondary market, TicketIQ has Fee-Free Arizona Coyotes tickets which also include a Refund Guarantee. Our Refund Guarantee states that if an event is canceled or deemed unfit for fans to attend, TicketIQ will refund ticket buyers in as soon as 15 days. That means that you can buy from TicketIQ worry-free. Customers on TicketIQ save between 15%-25% compared to other secondary market ticketing sites.
Arizona Coyotes 2021-22 Attendance Policy
Information regarding the Arizona Coyotes updated 2021-22 attendance policy and potential capacity limits has not been released. This information is expected to be released closer to the start of the 2021 -22 regular season.
Arizona Coyotes 2021-22 Schedule
Oct. 14 at Columbus
Oct. 16 at Buffalo
Oct. 18 St. Louis
Oct. 21 Edmonton
Oct. 23 N.Y. Islanders
Oct. 25 at Florida
Oct. 28 at Tampa Bay
Oct. 29 at Washington
Oct. 31 at Carolina
Nov. 2 at Philadelphia
Nov. 5 at Anaheim
Nov. 6 Seattle
Nov. 10 Minnesota
Nov. 12 at Chicago
Nov. 13 at Nashville
Nov. 16 at St. Louis
Nov. 18 Columbus
Nov. 20 Detroit
Nov. 21 at Los Angeles
Nov. 24 Edmonton
Nov. 27 Dallas
Nov. 29 at Winnipeg
Nov. 30 at Minnesota
Dec. 3 Vegas
Dec. 6 at Dallas
Dec. 10 Florida
Dec. 11 Philadelphia
Dec. 15 N.Y. Rangers
Dec. 17 at Anaheim
Dec. 19 at Vancouver
Dec. 21 at Seattle
Dec. 23 Tampa Bay
Dec. 27 Los Angeles
Dec. 28 at San Jose
Jan. 2 Dallas
Jan. 4 Winnipeg
Jan. 6 Chicago
Jan. 8 Nashville
Jan. 12 Toronto
Jan. 14 at Colorado
Jan. 15 Colorado
Jan. 17 Montreal
Jan. 19 at New Jersey
Jan. 21 at N.Y. Islanders
Jan. 22 at N.Y. Rangers
Jan. 25 at Pittsburgh
Jan. 28 Boston
Jan. 29 Buffalo
Feb. 1 at Colorado
Feb. 2 Calgary
Feb. 23 Los Angeles
Feb. 25 Vegas
Feb. 27 Winnipeg
March 3 Colorado
March 5 Ottawa
March 8 at Detroit
March 10 at Toronto
March 12 at Boston
March 14 at Ottawa
March 15 at Montreal
March 19 Pittsburgh
March 20 at San Jose
March 23 Seattle
March 25 at Calgary
March 27 at Winnipeg
March 28 at Edmonton
March 30 San Jose
April 1 Anaheim
April 3 at Chicago
April 4 at St. Louis
April 7 Vancouver
April 9 at Vegas
April 12 New Jersey
April 14 at Vancouver
April 16 at Calgary
April 18 Carolina
April 20 Chicago
April 22 Washington
April 23 St. Louis
April 26 at Minnesota
April 27 at Dallas
April 29 Nashville


How Much Are 2021 Arizona Coyotes Tickets
With reduced capacity, the average secondary market list price for Coyotes tickets is $269 per seat, which is by far the most expensive Coyotes tickets have been since we started tracking data. Inventory is limited, and get-in prices for most games is $100-$110 range, although some higher demand games have get-in prices in the $130-$140 range.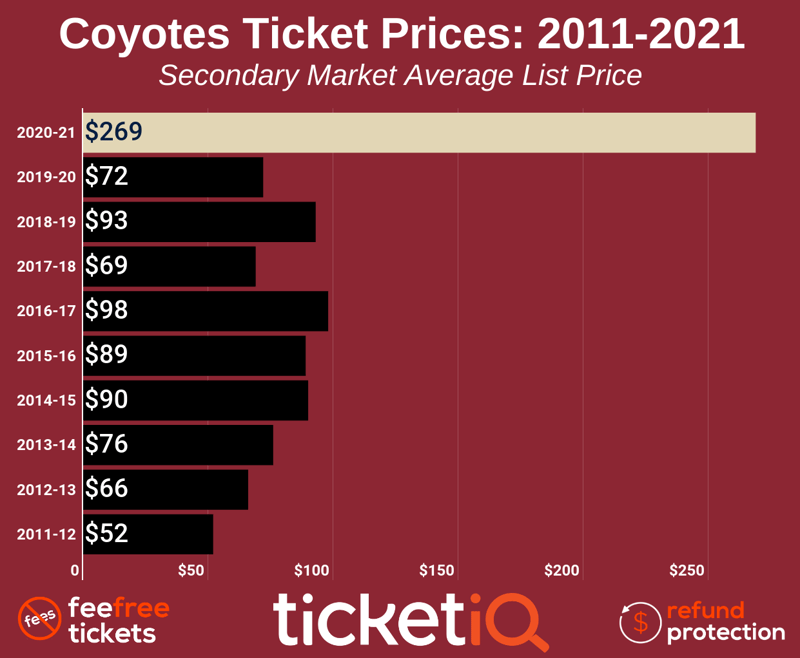 Arizona Coyotes 2021 Attendance Policy
The Arizona Coyotes are allowing up to 25% of capacity (3,450 fans) for remaining 2021 home games.
Gila Rivera Arena COVID-19 Health and Safety Protocols
MANDATORY HEALTH QUESTIONNAIRE
All venue visitors are required to fill out a health questionnaire before entering the venue. The Arizona Coyotes are partnering with Health Pass by CLEAR to help you return to Gila River Arena. Health Pass is a free mobile solution that allows you to complete COVID-related screening requirements before arriving at the game.
MASK POLICY
All fans and employees are required to wear a face mask at all times, unless they are actively eating or drinking in their seat. Current guidance from Maricopa County and the NHL advises that plastic face shields are not an adequate alternative to cloth face coverings. Neck gaiters, open-chin triangle bandanas, costume masks, face coverings containing valves, mesh materials, or holes of any kind are not acceptable masks.
All face coverings must:
Fully cover the nose and mouth and secure under the chin.
Fit snugly but comfortably against the sides of the face.
Guests under the age of 2 years are not required to wear a mask.
PHYSICAL DISTANCING
Physical distancing of at least 6 feet will be enforced at all times.
CONTACTLESS ENTRY
Fans will be designated an entrance for their ticket according to their seating section.Venue Entry will utilize physical distancing markerson the ground for line queuing. All tickets will be paperless to allow touchless scanning from mobile devices at entry points.
CONTACTLESS BOX OFFICE
Tickets will not be available for sale at the box office. Fans must purchase tickets online at Ticketmaster.com. Box office windows will be staffed with box office attendants on game day to assist fans with questions or problems related to ticketing.