Where To Buy 2019 Baltimore Ravens Tickets
Primary market single-game tickets for Ravens home games are available through the Ravens website via Ticketmaster. There are limited season ticket packages available, which start at $676.
To manage your Ravens tickets, the team has a mobile app available for iPhone and Android. The app can also be used for mobile entry into the venue. Screenshots of mobile tickets will not be allowed because secure digital tickets have a rotating bar code. There are also PSL owner cards, which have an RFID chip that allows entry into the stadium, and guests may use this card as well.
On the secondary market TicketIQ has Low Price Guarantees on Ravens tickets for all sold out games and tickets on the 2019 schedule, in addition to Low Price Guarantees on all NFL tickets. That means that if you find a secondary market ticket for less on a site like StubHub or SeatGeek, we'll give you 200% of the difference in ticket credit. TicketIQ customers save an average of 5%-20% compared to StubHub and SeatGeek.
Download the TicketIQ app for $20 off your first ticket purchase. 📲🎟️
Ravens Club Seating At M&T Bank Stadium
Premium seating for the Ravens is found on the club level, which recently completed a three-year, $120 million renovation. You can enjoy flat-screen TVs, eight full-scale bars, and an expanded menu on the club level. There is also a club level contest in which you can get on the field or win a framed authentic autographed Ravens jersey.
How Much Are 2019 Baltimore Ravens Tickets
Face value tickets are available for November 17's Texans game, December 1's 49ers game, and December 12's Jets game for as low as $66 on the 500 level. Also, in the 500 level, there are $80 tickets against the Cardinals on September 15 for the home opener, the Browns on September 29, and the Bengals on October 13. There are three levels and the prices for each level are as follows:
500 Level Seating ranging from $66 to $146
200 Level Seating ranging from $187 to $524
100 Level Seating ranging from $102 to $350
Tickets for Ravens home games at M&T Bank Stadium on the secondary market are averaging $165, which ranks 23rd highest in the NFL. The Ravens average ticket price is 26% higher than last season's price. The most expensive game on the schedule is their week 9 showdown with the Patriots. Tickets for that game start at $129 on the secondary market. With a $37 get-in price their week 6 game against Cincinnati is their cheapest game of the season.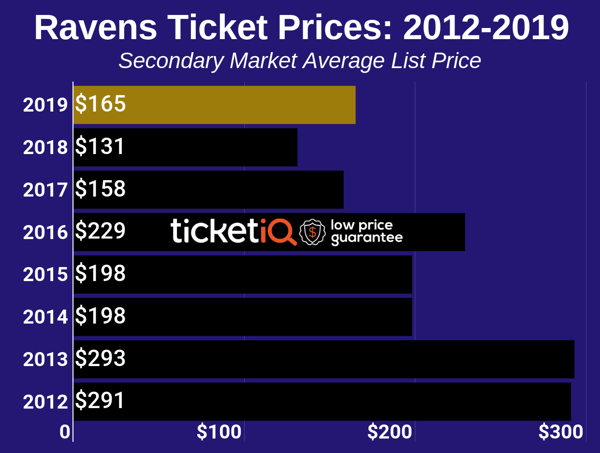 Prices For All Ravens Home Games On The 2019 Schedule
Secondary market average asking price: $133
Secondary market get-in price: $54
The Ravens have their home opener against the Cardinals, and John Harbaugh is looking to avenge the 2015 loss in Arizona. Baltimore's 26-18 defeat at the hands of the Cardinals stopped a four-game Ravens win streak in meetings with Arizona.
Secondary market average asking price: $180
Secondary market get-in price: $72
The Browns, who acquired Odell Beckham Jr. during the offseason, are heading into Baltimore feeling confident about this season. However, Cleveland has just one win in its last seven tries against the Ravens.
Secondary market average asking price: $124
Secondary market get-in price: $37
The cheapest ticket this season at M&T Bank Stadium is against the Bengals. The two squads have split the season series each of the last three years. In the last meeting, Justin Tucker's 24-yard field goal with 8:12 remaining won the contest.
Secondary market average asking price: $283
Secondary market get-in price: $129
The Super Bowl champions travel to Baltimore for the most expensive contest of the season in Baltimore. There is a rich history of Patriots and Ravens playoff games, as the teams faced off in the postseason four times from 2009 to 2014. The last two times the teams faced off in the playoffs, the winner went on to win the Super Bowl.
Secondary market average asking price: $126
Secondary market get-in price: $40
The winner has alternated each of the last five contests between the Ravens and Texans. In 2017, Baltimore defeated the visiting Texans, 23-16, as Alex Collins and Javorius Allen each rushed for touchdowns.
Secondary market average asking price: $134
Secondary market get-in price: $52
The Ravens and 49ers will face each other for the second time since the Ravens won their second Super Bowl championship, 34-31, over San Francisco. In the most recent meeting at Levi's Stadium in 2015, Baltimore made a fiery second half comeback, but it was not enough, as the Ravens fell, 25-20.
Secondary market average asking price: $123
Secondary market get-in price: $46
The Ravens had owned the series against the Jets until their last meeting. In 2016, Ryan Fitzpatrick and Geno Smith each threw for a touchdown and Matt Forte accumulated 154 total yards and two touchdowns, as New York stopped its eight-game losing streak to Baltimore. However, the Ravens are a perfect 5-0 at home all-time against the Jets.
Secondary market average asking price: $213
Secondary market get-in price: $79
The Ravens' Week 17 matchup is against their rival Steelers, as Baltimore looks for its first home victory over Pittsburgh since 2016. The Ravens have allowed a combined 49 points in their last two home games against the Steelers.
---
TicketIQ is committed to the cheapest tickets possible, and we make much less on sold out tickets compared to other major marketplaces like StubHub and Vivid. That means ticket buyers save from up to 25% on TicketIQ on sports, music and theater. We're able to do this because we also work with teams, venues, and other ticket owners, to help them sell tickets at face price, directly to consumers like you, through Ticketmaster and Paciolan. For an overview of the 2019 NFL Ticket Buying landscape, and details on the cheapest way to get tickets for every team, visit the TicketIQ Blog.