Ravens 2020 Attendance Policy Updates
It was reported on July 8th, that if fans are allowed in the M&T Bank Stadium this season, the team would be limiting attendance to fewer than 14,000 fans.
Where To Buy 2020 Baltimore Ravens Tickets
Baltimore Ravens tickets are available for sale on the secondary market as of the 2020 schedule release.
TicketIQ has
Fee-Free tickets
with a
Low Price Guarantee
and
Refund Guarantee
, which states that in the event an event is cancelled or deem unfit for fans to attend, TicketIQ will refund ticket buyers within 15 days. That means that you can buy from TicketIQ worry-free.
Potential Covid-19 Impact On 2020 NFL Schedule
While the schedule release is a much-needed dose of exciting news for all football fans, there are some major questions marks heading into the 2020 season due to the Coronavirus pandemic. While teams know what teams they'll play, that's about all they know. Whether or not the games happen and if fans are able to attend will depend on how the virus is managed over the next 2-3 months. The league has already canceled all of its International Series games, and the league is rightly considering all possible scenarios.
Based on the varying levels of infection in each NFL city and state, it's possible that some teams may be able to host fans at a reduced capacity while others may not. The Dolphins announced a preliminary plan last week, with a 25% of capacity goal. Based on the below NFL Covid-19 Safety Index, the Dolphins fall within the low-risk category, just barely.
To create the Safety Index, we compared the active cases in each city or state to the national average and then discounted that product by Rt. Rt is a measure of how fast the virus is spreading in each city and state, most easily tracked through Rt.live.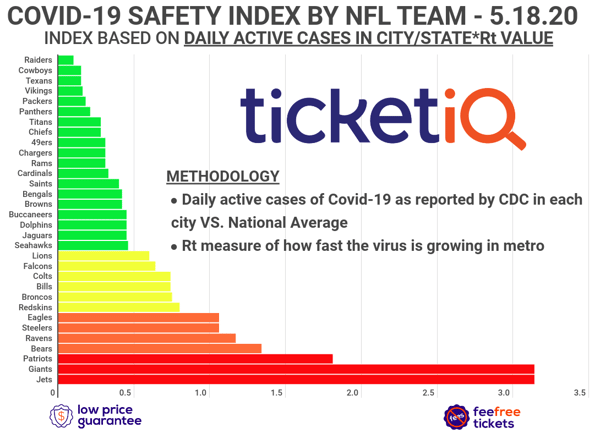 How Much Are 2020 Baltimore Ravens Tickets
On the primary market, the Ravens single-game ticket website page includes Ticketmaster links to each game, and tickets start at $57 at M&T Bank Stadium. The cheapest seats are upper-level tickets on October 11 against the Cincinnati Bengals and December 20 against the Jacksonville Jaguars. The get-in prices for these contests on the secondary market are $62 and $63, respectively.
TicketIQ has seats available for all Baltimore Ravens home games. The average ticket price on TicketIQ is $360. The Ravens have a middle-of-the-pack ticket price and have one of the best football teams in the league heading into 2020. The secondary market price for Ravens tickets has increased by 92 percent since last year.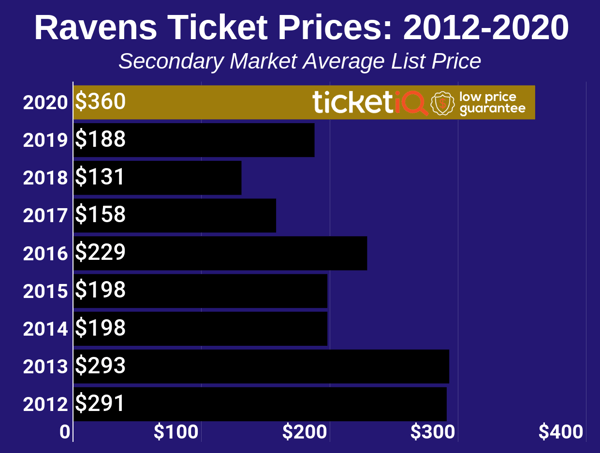 Ravens Season Tickets & Mini Plan Options
On the primary market, season tickets are not available, but Permanent Seat Licenses (PSLs) are available by calling (410) 261-7283 or filling out the ticket office form. Those who purchase PSLs will receive a special discount code for the Ravens online shop. General PSL Owners receive 10 percent off while Club Level PSL Owners receive 15 percent off. PSLs can be upgraded and transferred, but the transfer fee is $50 per seat. PSL Owner Ticket Cards can be used by guests of the PSL Owner.
The Ravens do not have mini plans, but they accommodate groups, and there is the option to have a first-class gameday experience with Hospitality Village. There are many amenities that come with the 30-ticket package, including an upscale catered menu with all-inclusive beer and soda.
M&T Bank Stadium Club Options
M&T Bank Stadium has the following premium seating ticket options: Club Level and Suites.
The new Club Level was renovated before the 2019 season. The renovation was a three-year, $120 million project. The Club Level provides access to lounges with flat-screen televisions, eight bars, and concierge service. The seating is wider than regular seats and provides more legroom. There are also Club Level Benefits like photo booths, alumni autographs, and face painting.
Each suite, which has space for 20 to 24 people, provides amenities like televisions, a private restroom, VIP parking, and concierge services. Those who own suites will have year-round suite access. They also have a 15 percent discount on Ravens merchandise at the stadium and online. The suite owners also get the opportunity to be a part of the Ravens suite owner trip.
Ravens Mobile Ticketing Policy
To manage your Ravens tickets, the team has a mobile app available on the App Store and Google Play. The app is also used for mobile entry into the venue. The Ravens require ticket holders to use mobile tickets to enter M&T Bank Stadium, and it is suggested to add the ticket to your phone's mobile wallet to avoid slow WIFI or cellular signal while entering the stadium.
---
TicketIQ is committed to the cheapest tickets possible, and we make much less on sold out tickets compared to other major marketplaces like StubHub and Vivid. That means ticket buyers save from up to 25% on TicketIQ on sports, music and theater. We're able to do this because we also work with teams, venues, and other ticket owners, to help them sell tickets at face price, directly to consumers like you, through Ticketmaster and Seatgeek. For an overview of the 2020 NFL Ticket Buying landscape, and details on the cheapest way to get tickets for every team, visit the TicketIQ Blog.
---
Where To Buy 2019 Baltimore Ravens Tickets
Primary market single-game tickets for Ravens home games are available through the Ravens website via Ticketmaster. There are limited season ticket packages available, which start at $676. To manage your Ravens tickets, the team has a mobile app available for iPhone and Android. The app can also be used for mobile entry into the venue. Screenshots of mobile tickets will not be allowed because secure digital tickets have a rotating bar code. There are also PSL owner cards, which have an RFID chip that allows entry into the stadium, and guests may use this card as well.
On the secondary market TicketIQ has Low Price Guarantees on Ravens tickets for all sold out games and tickets on the 2019 schedule, in addition to Low Price Guarantees on all NFL tickets. That means that if you find a secondary market ticket for less on a site like StubHub or SeatGeek, we'll give you 200% of the difference in ticket credit. TicketIQ customers save an average of 5%-20% compared to StubHub and SeatGeek.
How Much Are 2019 Baltimore Ravens Tickets
Face value tickets are available for November 17's Texans game, December 1's 49ers game, and December 12's Jets game for as low as $66 on the 500 level. Also, in the 500 level, there are $80 tickets against the Cardinals on September 15 for the home opener, the Browns on September 29, and the Bengals on October 13. There are three levels and the prices for each level are as follows:
500 Level Seating ranging from $66 to $146
200 Level Seating ranging from $187 to $524
100 Level Seating ranging from $102 to $350
Tickets for Ravens home games at M&T Bank Stadium on the secondary market averaged $165 to start the season, but have since risen 14% and now average $188, the highest it's been since the 2016 season.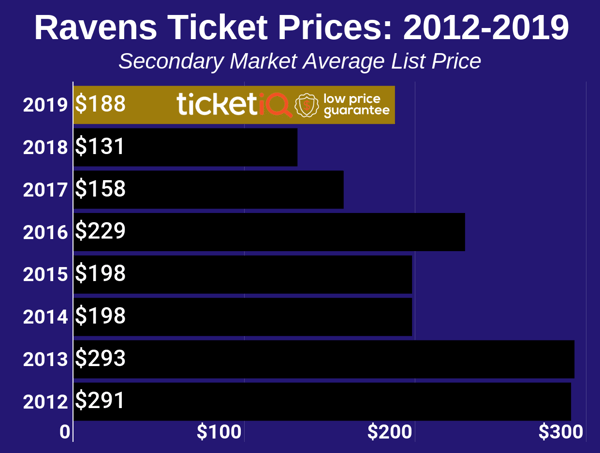 Prices For All Ravens Home Games On The 2019 Schedule
September 15 vs. Arizona Cardinals
Secondary market average asking price: $133
Secondary market get-in price: $54
The Ravens have their home opener against the Cardinals, and John Harbaugh is looking to avenge the 2015 loss in Arizona. Baltimore's 26-18 defeat at the hands of the Cardinals stopped a four-game Ravens win streak in meetings with Arizona.
September 29 vs. Cleveland Browns
Secondary market average asking price: $180
Secondary market get-in price: $72
The Browns, who acquired Odell Beckham Jr. during the offseason, are heading into Baltimore feeling confident about this season. However, Cleveland has just one win in its last seven tries against the Ravens.
October 13 vs. Cincinnati Bengals
Secondary market average asking price: $112
Secondary market get-in price: $46
The cheapest ticket this season at M&T Bank Stadium is against the Bengals. The two squads have split the season series each of the last three years. In the last meeting, Justin Tucker's 24-yard field goal with 8:12 remaining won the contest.
November 3 vs. New England Patriots
Secondary market average asking price: $363
Secondary market get-in price: $113
The Super Bowl champions travel to Baltimore for the most expensive contest of the season in Baltimore. There is a rich history of Patriots and Ravens playoff games, as the teams faced off in the postseason four times from 2009 to 2014. The last two times the teams faced off in the playoffs, the winner went on to win the Super Bowl.
November 17 vs. Houston Texans
Secondary market average asking price: $117
Secondary market get-in price: $46
The winner has alternated each of the last five contests between the Ravens and Texans. In 2017, Baltimore defeated the visiting Texans, 23-16, as Alex Collins and Javorius Allen each rushed for touchdowns.
December 1 vs. San Francisco 49ers
Secondary market average asking price: $139
Secondary market get-in price: $44
The Ravens and 49ers will face each other for the second time since the Ravens won their second Super Bowl championship, 34-31, over San Francisco. In the most recent meeting at Levi's Stadium in 2015, Baltimore made a fiery second half comeback, but it was not enough, as the Ravens fell, 25-20.
December 12 vs. New York Jets
Secondary market average asking price: $98
Secondary market get-in price: $37
The Ravens had owned the series against the Jets until their last meeting. In 2016, Ryan Fitzpatrick and Geno Smith each threw for a touchdown and Matt Forte accumulated 154 total yards and two touchdowns, as New York stopped its eight-game losing streak to Baltimore. However, the Ravens are a perfect 5-0 at home all-time against the Jets.
December 29 vs. Pittsburgh Steelers
Secondary market average asking price: $241
Secondary market get-in price: $87
The Ravens' Week 17 matchup is against their rival Steelers, as Baltimore looks for its first home victory over Pittsburgh since 2016. The Ravens have allowed a combined 49 points in their last two home games against the Steelers.