The 40/40 CLUB at Barclays Center is located on Suite Level A and overlooks the Main Atrium. The club boasts soaring views of the arena floor and features design concepts from its New York City flagship location. 40/40 CLUB at Barclays Center is operated by Levy Restaurants.
Fans who purchase Loge Box seating at Barclays can enjoy all-inclusive premium food and non-alcoholic beverages from 40/40 CLUB. Loge Boxes are located starting just 15 rows from the court and provide fantastic views of the court from an elevated position.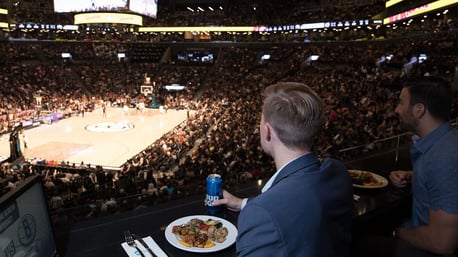 As the below images show, Loge sections run from LG1 to LG5 and have between 3 and 5 rows, depending on the section. Prices are in first two rows of the section are often the same price as tickets in the back rows, so make sure you check all the available options.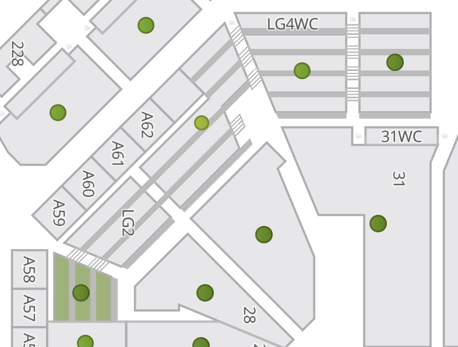 Where Can I Buy Barclays Center Tickets With 40/40 CLUB Access
Primary market single-game tickets for events at Barclays Center for the Brooklyn Nets, concerts and more, including Loge Box seating with 40/40 Club Access are available via primary market partner Seatgeek. Tickets are also available on the secondary ticket market and TicketIQ has no fee options for all sold out Nets tickets, including VIP and Loge.
How Much Are Loge Tickets With 40/40 CLUB Access?
For many Nets games, Loge Box seating at Barclays Center start between $150 and $180 per ticket. For higher-demand games, prices start in the $250 to $350 range. Prices for Loge Box tickets can go as high as $450 per seat for higher-demand games.
Where is entrance to 40/40 Club and Loge Seats?
Another benefit of Loge tickets is that you don't have to wait in line to get in the main entrance at Barclays center, and have a dedicated entrance on the northwest corner of arena on Atlantic Avenue, #2 in the image below. #4 below is the The American Express® Card Member Entrance that can be accessed on Atlantic Avenue, which any American Express card member can use, even if they don't have a VIP ticket.