Where to Find Beetlejuice Tickets
Primary market tickets for Beetlejuice are available through the show's website via TeleCharge.
Tickets start as low as $59 for the Rear Mezzanine in Rows R-ZZ. The next cheapest tickets start at $69 for some Rear Orchestra seats. The Front Mezzanine starts at $99 and Premium Seats, referred to as "the very best" seats in the Orchestra and Front Mezzanine are available for $225-$300.
TicketIQ has Low Price Guarantees on Beetlejuice - The Musical tickets for all sold out tickets and shows. The cheapest ticket starts at $146, though in late July and August, the price of the cheapest seat on the secondary market falls to as low as $122, meaning fans should shop around for dates and prices
TicketIQ also has Low Price Guarantees on all theater tickets, which means that if you find a secondary market ticket for less on a site like StubHub or Vivid Seats we'll give you 200% of the difference in ticket credit. TicketIQ customers save an average of 5%-20% compared to StubHub and Vivid Seats.
Schedule & Run Dates
After debuting at Washington's National Theater in October 2018, Beetlejuice opened at Broadway's Winter Garden Theater on April 25, 2019. The show plays at 7 p.m. on Tuesdays and Thursdays, 8 p.m. on Wednesdays, Fridays and Saturdays, and there are matinees at 2 p.m. on Wednesdays and Saturdays and 3 p.m. on Sundays. The theater is dark on Mondays.
Show Details & Reviews
Beetlejuice is based on the 1998 film of the same name and shares the story of a dead couple who return to haunt a new couple living in their former home. The film was directed by Tim Burton.
Beetlejuice was nominated for eight Tony Awards, including male lead Alex Brightman. The show was also nominated for Best New Musical, but lost to Hadestown. Alex Timber directs the stage show, and Australian musical comedian Eddie Perfect wrote the music and lyrics. Development of the show began in 2016.
Reviewers loved the show, with the New York Times saying, "The dead lead lives of noisy desperation in 'Beetlejuice,' the absolutely exhausting new musical … This frantic adaptation of Tim Burton's much-loved 1988 film is sure to dishearten those who like to think of the afterlife as one unending, undisturbed sleep."
The newspaper went on to call it "a jaw-dropping fun house."
Variety's Frank Rizzo referred to the show as "screamingly good fun," and wrote that some "retooling" between the Washington and New York runs "gives the latest film-to-musical adaptation fresh snap, surprises, and (gasp!) even heart."
Winter Garden Theater Seating Chart + Details
The Winter Garden is a Broadway theater located at 1634 Broadway, New York, New York. The building was the former second American Horse Exchange, which was built by William K. Vanderbilt in 1896. The building was converted into a theater in 1911.
The Winter Garden seats 1,526 and has seats in the Orchestra and Mezzanine sections, which is on the second level. There is no elevator or escalator in the building. There are handrails available to access all seating. There are 34 steps up to the Mezzanine.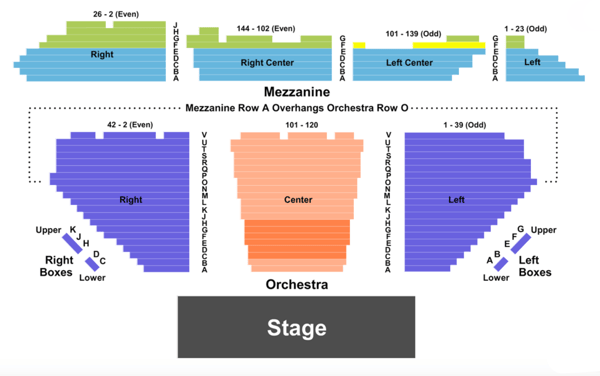 Wheelchair-Accessible Options
Wheelchair and companion seating is available throughout the Orchestra section. Seating is accessible without steps in the Orchestra section and there are no steps in the designed wheelchair seating locations.
The theater offers infrared assisted listening devices for all performances and hand-held captioning devices are available.
Standing Room Option
There are 40 standing-room only tickets available for each show.
Other Venue and Show Details
Beetlejuice runs approximately 2 hours and 30 minutes and has one 15-minute intermission. The show is recommended for children ages 10 and up, and children under four years of age are not allowed in the theater. The theater has rest rooms, and a water fountain and pay phone located in the lobby.
Rush & Lottery Options
Rush
Daily Rush tickets to Beetlejuice are available for $43 on a first come, first served basis at the Winter Garden Theater box office. The box office opens at 10 a.m. Monday-Saturday and at noon on Sunday. It's recommended that fans get to the box office a few hours before it opens, and target weekdays or summer dates for the best chance of securing Rush tickets. Rush tickets are limited to two per customer, and the box office takes cash or credit cards.
Lottery
Theater goers can secure day-of-the-show Beetlejuice tickets via Digital Lottery beginning at 12 a.m. the day of the show. Matinee lottery winners will be drawn at 9 a.m. and evening performance winners will be drawn at 2 p.m. Customers are limited to two tickets per person and must pay using a credit card online. Winners will be notified via text or e-mail. Playbill has a list of all lottery links for other shows, many of which require entrants to register using a social media account.
Discounted Tickets
TKTS
For theatergoers with flexibility, TKTS Discount Booths are a great way to see theater in New York City at affordable prices. Known for their iconic booth located around Manhattan, they offer discounts of 20% to 50% off face value tickets, and have limited availability of unsold tickets for purchase on the day of the event. TKTS Discount Booths in New York City, including the flagship location in the heart of Times Square, with booths at South Street Seaport and Lincoln Center. One extra benefit to using TKTS is that your ticket purchase does toward supporting the Theatre Development organization, which is dedicated to sustaining and sharing the arts and building audiences of the future.