How To Find The Cheapest Beyoncé Tickets For "The Renaissance World Tour"
Beyoncé has announced dates for a 2023 tour that will take her around Europe, the UK, and North America. The North American leg of "The Renaissance World Tour" kicks off on July 8th and 9th for two shows in Toronto at Rogers Centre, and will run until September 27th for the tour finale in New Orleans at Caesars Superdome. Most stops on the tour will take place at NFL Stadiums. You can check out all stops on the tour at the bottom of this post.
Where To Buy Beyoncé Tickets For "The Renaissance World Tour"
Primary market face value tickets will be sold via Ticketmaster in waves, starting on February 6th. To be eligible to purchase tickets, you must register for the Ticketmaster Verified Fan pre-sale. Additionally, there are also pre-sales for members of Beyoncé's BeyHive fan club and Citi Cardmembers.
On the secondary market, TicketIQ has Fee-Free Beyoncé tickets which also include a Refund Guarantee. Our Refund Guarantee states that if an event is canceled or deemed unfit for fans to attend, TicketIQ will refund ticket buyers in as soon as 15 days. That means that you can buy from TicketIQ worry-free. Customers on TicketIQ save between 15%-25% compared to other secondary market ticketing sites.
Leave us your email below for Beyoncé "The Renaissance World Tour" ticket updates and special offers!
How Much Are Beyoncé Tickets For "The Renaissance World Tour"
A limited number of tickets are available on the secondary market for all upcoming shows. Prices are currently starting around $175 to $400 depending on the location and venue. Prices are down by over 25% since the pre-sales began, but we expect prices to drop even more when additional inventory hits the secondary market in the next few days.
Beyoncé Floor Seats For "The Renaissance World Tour"
You can see an example of Beyoncé's floor configuration for "The Renaissance World Tour."
Ticket prices for floor sections currently start around $2,000 for most upcoming shows. Prices for the BHIVE sections start between $5,000 and $10,000.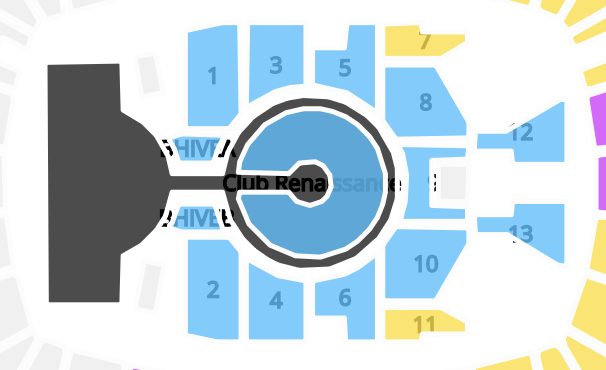 How To Sign Up For The Beyoncé Presale
Via Ticketmaster:
1) Beyoncé is using Verified Fan to help fans get tickets. Verified Fan requires registration to help filter out buyers looking to resell tickets and create a less crowded ticket shopping experience for fans.
2) Registration does not guarantee tickets - we expect there will be more demand than there are tickets available and a lottery-style process will determine which registered Verified Fans receive a unique access code and which are put on the waitlist.
3) Select the ticket sale you wish to register for from the list below — deadlines vary by city, so be sure to note when the registration window closes for the show you're interested in.
Group A
Atlanta, GA
Chicago, IL
East Rutherford, NJ
Houston, TX
Inglewood, CA
Las Vegas, NV
Toronto, ON*
Vancouver, BC*
Washington, DC
Registration for Group A is open through Thursday, February 2nd at 11:59pm ET.
Group B
Boston, MA
Dallas, TX
Miami, FL
Minneapolis, MN
San Francisco, CA
Seattle, WA
Tampa, FL
Registration for Group B is open through Thursday, February 9th at 11:59pm ET.
Group C
Charlotte, NC
Detroit, MI
Kansas City, MO
Louisville, KY
Nashville, TN
New Orleans, LA
Philadelphia, PA
Phoenix, AZ
Pittsburgh, PA
St. Louis, MO
Registration for Group C is open through Thursday, February 16th at 11:59pm ET.
Beyoncé "The Renaissance World Tour" Dates
05/10 – Stockholm, SE @ Friends Arena
05/14 – Brussels, BE @ Baudoin Stadium
05/17 – Cardiff, UK @ Principality Stadium
05/20 – Edinburgh, UK @ Murrayfield
05/23 – Sunderland, UK @ Stadium of Light
05/26 – Paris, FR @ Stade de France
05/29 – London, UK @ Tottenham Hotspur
05/30 – London, UK @ Tottenham Hotspur
06/02 – London, UK @ Tottenham Hotspur
06/06 – Lyon, FR @ Groupama Stadium
06/08 – Barcelona, ES @ Olympic Stadium
06/11 – Marseille, FR @ Orange Velodrome
06/15 – Cologne, DE @ Rheinenergiestadion
06/17 – Amsterdam, NL @ JC Arena
06/18 – Amsterdam, NL @ JC Arena
06/21 – Hamburg, DE @ Volksparkstadion
06/24 – Frankfurt, DE @ Deutsche Bank Park
06/27 – Warsaw, PL @ PGE Nardowy
07/08 – Toronto, ON @ Rogers Centre
07/09 – Toronto, ON @ Rogers Centre
07/12 – Philadelphia, PA @ Lincoln Financial Field
07/15 – Nashville, TN @ Nissan Stadium
07/17 – Louisville, KY @ Cardinal Stadium
07/20 – Minneapolis, MN Huntington Bank Stadium
07/22 – Chicago, IL @ Soldier Field
07/23 – Chicago, IL @ Soldier Field
07/26 – Detroit, MI @ Ford Field
07/29 – East Rutherford, NJ @ MetLife Stadium
07/30 – East Rutherford, NJ @ MetLife Stadium
08/01 – Foxborough, MA @ Gillette Stadium
08/03 – Pittsburgh, PA @ Heinz Stadium
08/05 – Washington, DC @ FedEx Field
08/06 – Washington, DC @ FedEx Field
08/09 – Charlotte, NC @ Bank of America Stadium
08/11 – Atlanta, GA @ Mercedes Benz Stadium
08/12 – Atlanta, GA @ Mercedes Benz Stadium
08/16 – Tampa, FL @ Raymond James Stadium
08/18 – Miami, FL @ Hard Rock Stadium
08/21 – St Louis, MO @ Dome at America's Center
08/24 – Glendale, AZ @ State Farm Stadium
08/26 – Las Vegas, NV @ Allegiant Stadium
08/30 – San Francisco, CA @ Levi's Stadium
09/02 – Los Angeles, CA @ SoFi Stadium
09/03 – Los Angeles, CA @ SoFi Stadium
09/11 – Vancouver, BC @ BC Place
09/13 – Seattle, WA @ Lumen Field
09/18 – Kansas City, MO @ Arrowhead Stadium
09/21 – Dallas, TX @ AT&T Stadium
09/23 – Houston, TX @ NRG Stadium
09/24 – Houston, TX @ NRG Stadium
09/27 – New Orleans @ Caesars Superdome