Where To Buy 2020 Chicago White Sox Tickets?
Primary market tickets for the 2020 Chicago White Sox season went on sale Thursday, January 15 at 10 a.m. CST via Ticketmaster. Fans who are premium or partial season ticket holders or sponsors can participate in presales, which are currently going on.
On the secondary market, TicketIQ will offer fans a Low Price Guarantee on all sold-out Chicago White Sox tickets in addition to Low Price Guarantees on all sold-out Major League Baseball tickets. That means that if you find a secondary market ticket for less on a site like StubHub or Vivid, we'll give you 200% of the difference in ticket credit. TicketIQ customers save up to 25%.
How Much Are 2020 Chicago White Sox Tickets?
On the secondary market, single-game tickets are available for as little as $5 for select games. The priciest series at Guaranteed Rate Field will cost fans $37 to get in for the July 7-8 Chicago Cubs series and the August 15-16 New York Yankees series.
Overall, White Sox tickets on the secondary are averaging $81, which is the second highest they've been since we've been tracking data in 2010.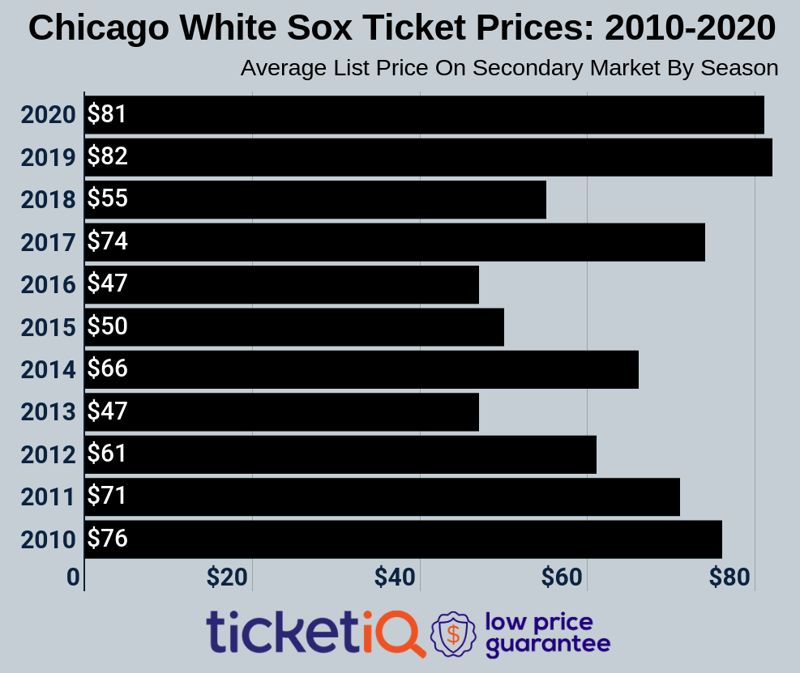 What Are White Sox Season Ticket & Mini Plan Options?
In addition to single-game tickets, the White Sox will offer four season-ticket plans – for 10, 20, 40 or all home games. Fans can sign up to receive information about season tickets, which start as low as $161.28 for a 10-game package in the Upper Reserved sections. Full season plans start at $862.40 in Upper Reserved and go up to $5,191 for a seat in Diamond Box, Rows 1-10. The Diamond Boxes are on field level, up the first- and third-baselines and behind home plate. Season ticket holders get access to special pricing and exclusive events and can pick their own seats.
What Are White Sox Premium Seating Options?
The White Sox offer three options for premium seating:
Scout Seats: Located in the first 11 rows behind home plate, these seats are extra wide and have additional padding and come with an all-inclusive gourmet buffet, open bar and in-seat food and beverage service. Ticket holders get Lounge access, which includes private restrooms, air conditioning and plenty of TVs and entertainment. These seats are available as part of a 40-game package for $11,600 or as season tickets. Fans can buy the package for up to five years, and the price varies depending on the number of years. A one-year package costs $22,400.
Guaranteed Rate Club: These seats are located behind home plate on the 200 Level and are covered, open-air seating with extra-wide and extra-padded seats. Ticket holders get Lounge access with an all-inclusive buffet and open bar, and in-seat food-and-beverage service. These seats start at $5,000 for a one-year, 20-game plan, $9,600 for a 40-game plan and $18,400 for a full season plan. Three- and five-year plans are also available.
Diamond Suites: Located on either the 200 or 400 Level, these indoor, climate-controlled suites have theater-style seats and a premium food-and-beverage-menu. Suites are accessed by private elevator, have flat-screen TVs throughout, and have a sliding glass opening, so fans can be part of the action. Suites can be purchased as 20-game, 40-game or full-season packages. Prices start at $33,600 (per person) for a single-season 20-game package, $61,600 for a 40-game package, and $117,600 for a full-season package.
White Sox Mobile Ticketing Policy
This season, the White Sox recommend mobile tickets for entry to Guaranteed Rate Field for single-game ticket holders. Fans will no longer be able to print tickets at home, but can access them via mobile device, will call or have hard-copy ticket mailed.
---
TicketIQ is committed to Transparent Ticketing and offers Low Price Guarantees on sold out tickets + unsold face value ticket through Ticketmaster, Eventbrite and other partners.