Where to Find Company Tickets
Primary market tickets for Company: A Musical Comedy, are available via Telecharge, and range in price between $59-179.
On the secondary market, the cheapest seats start at $90 during the first week of previews before jumping up. After opening night, the cheapest seat starts at more than $200 with just a handful of dates through the run that have a get-in price of $117.
TicketIQ offers a Low Price Guarantee on secondary market tickets for all sold out Company tickets. TicketIQ also offers its Low Price Guarantee on all sold out Broadway shows, which means if you find a secondary market ticket for less on a site like StubHub or Vivid Seats, we'll give you 200% of the difference in ticket credit. TicketIQ customers can save an average of 55-20% compared to StubHub or Vivid Seats.
Company is the story of a 35-year-old woman in New York's search for answers to why she hasn't yet settled down to start a family.
Schedule & Run Dates
Company: A Musical Comedy is set to open in previews on March 2 and opening night is scheduled for March 22. Tickets are on sale through September 27. During previews, performances are scheduled Monday-Saturday at 8 p.m., except Monday, March 16 (dark) and Saturday, March 21, on which there will also be a 2 p.m. matinee. Once the show opens, the Bernard B. Jacobs Theatre will be dark on Mondays, and the performances will be on stage at 7 p.m. Tuesdays, 2 p.m. and 8 p.m. Wednesdays, 7 p.m. Thursdays, 8 p.m. Fridays, 2 p.m. and 8 p.m. Saturdays and 3 p.m. Sundays.
Show Details & Reviews
Company: A Musical Comedy opens on March 2 at the Bernard B. Jacobs Theatre, at 232 West 42nd Street in New York City. The show was written by Stephen Sondheim and George Furth and features Tony and Grammy Award winner Katrina Lenk and two-time Tony and Grammy Award winner Patti LuPone in the leads. The story traces 35-year-old Bobbie's quest to understand why she isn't yet married and the craziness of living in 21st-century New
The show debuted on Broadway in 1970 and the most recent revival was in London's West End, from September 2018-March 2019, and received nine Olivier Award nominations. A key change in the latest version of Company is that the main character, Bobbie, used to be Bobby. The show got good reviews in London.
In a review last year, The Guardian embraced the change, with reviewer Michael Billington writing, "Agender change can work wonders. It is no secret that Robert, the 35-year-old bachelor hero of this 1970 show with music and lyrics by Stephen Sondheim and book by George Furth, has now become the similarly unattached Bobbie. The transition, as embodied by Rosalie Craig, makes total sense in today's world." Billington goes on to say the show gives the audience an "ambivalent" view of marriage and though it seems to have lost its "Manhattan identity," everything else about the show is "heavenly."
The London cast will transfer to Broadway.
Bernard B. Jacobs Theatre

Seating Chart + Details
Formerly the Royale Theater, the Bernard B. Jacobs Theatre was built in 1927 as part of a three-theater complex, and has been owned by the Shubert Organization since 1930, except between 1934-36, when control was passed to John Golden. The theater is in the "modern Spanish" style and the interior features a groin-vaulted ceiling supported by archways on either side.
The Bernard B. Jacobs Theatre seats 1,092 on two levels.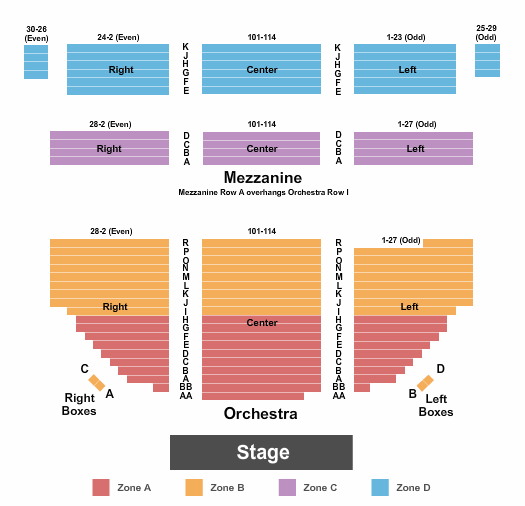 Wheelchair/Accessible Options
The theater is not completely wheelchair accessible. There are no stairs in the Orchestra, but there are three flights of steps up to the Mezzanine, which has two steps between rows. Handrails are available wherever there are steps in the Mezzanine. There are no elevators or escalators in the building and no steps from the sidewalk into the building.
Wheelchair locations and companion seats are available in the Orchestra in Row R, Seats 102, 101, 113, 114, 24 and 18-22; Row P, Seats 101, 102, 114, 115, 7, 3, 1, 9-13 and 121; Row O, Seats 1-3; Row I, Seats 21 and 115-119; and Row J, Seats 24 and 18-22. The following seats have folding armrests and companion locations: Orchestra Row K, Seats 1 and 3; and Row N, Seats 3, 2, and 4.
Assistive listening devices are available, and four weeks after opening night, hand-held audio-description devices will be available, Patrons can also download audio descriptions or captioning on a hand-held mobile device.
Standing Room Option
Standing room tickets are not currently available.
Other Venue and Show Details
Company: A Musical Comedy has a run time of 2 hours, 25 minutes with one 15-minute intermission. The show is recommended for patrons who are 8 or older, and children under the age of 4 are not permitted in the theater.
The theater has a pay phone located in the lobby, restrooms on the Orchestra level and down one flight below the Orchestra. Accessible restrooms are on the Orchestra level. Water fountains are located in the restrooms.
Rush & Lottery Options
The box office will open on January 20, and will be open from 10 a.m.-8 p.m. Monday-Saturday and closed on Sundays until March 29, when it will be open noon-6 p.m. or until curtain is there is an evening performance.
Company: A Musical Comedy, is not currently open for rush or lottery tickets.
Discounted Tickets
TKTS
For theatergoers with flexibility, TKTS Discount Booths are a great way to see theater in New York City at affordable prices. Known for their iconic booth located around Manhattan, they offer discounts of 20% to 50% off face value tickets, and have limited availability of unsold tickets for purchase on the day of the event. TKTS Discount Booths in New York City, including the flagship location in the heart of Times Square, with booths at South Street Seaport and Lincoln Center. One extra benefit to using TKTS is that your ticket purchase does toward supporting the Theatre Development organization, which is dedicated to sustaining and sharing the arts and building audiences of the future.