Detroit Red Wings 2021 Attendance Policy
Currently, the Red Wings are allowing up to 750 fans to attend games at Little Caesars Arena.
Where To Buy 2021 Detroit Red Wings Tickets
Primary market Red Wings tickets are available via Ticketmaster.
If tickets become available, TicketIQ has Detroit Red Wings tickets that are Fee-Free and come with a Refund Guarantee. Our Refund Guarantee states that if an event is canceled or deem unfit for fans to attend, TicketIQ will refund ticket buyers within 15 days. That means that you can buy from TicketIQ worry-free.
Little Caesars Arena COVID-19 Health and Safety Protocols
All seats will be physically distanced

All fans aged two years and older will be required to wear a mask while inside the venue except when eating or drinking in their seats

Fans must complete health survey no more than 24 hours before the game

All tickets will be mobile

Cashless payments in the parking lot and for food and beverage

All bags will be prohibited for all games

---
How Much Are 2019-20 Detroit Red Wings Tickets
Like most other NHL teams, the Red Wings use dynamic pricing, charging variable amounts depending on the game. For more expensive match-ups, tickets range from $69 to $175; tickets to cheaper games—which don't necessarily come against lesser opponents—start at $15. While there is plenty of lower bowl availability for most games, seats in the center of the upper deck are harder to come by. If you're looking for a more affordable option, especially when teams like the Toronto Maple Leafs come to town, you'll want to act quickly.
On the secondary market, however, there's more flexibility. The Red Wings enter the 2019-20 season right in the middle of the league in terms of pricing; seats are currently averaging $112, tied for 17th in the NHL. That's nearly 30% cheaper than resale prices were last year.
That average price is significantly cheaper than Red Wings tickets have been in the past couple of seasons. At this point, it's safe to say that three straight seasons without playoff action is starting to take its toll on Detroit fans. While the club still has a few nice players, it's hard to see their fortunes changing dramatically this year.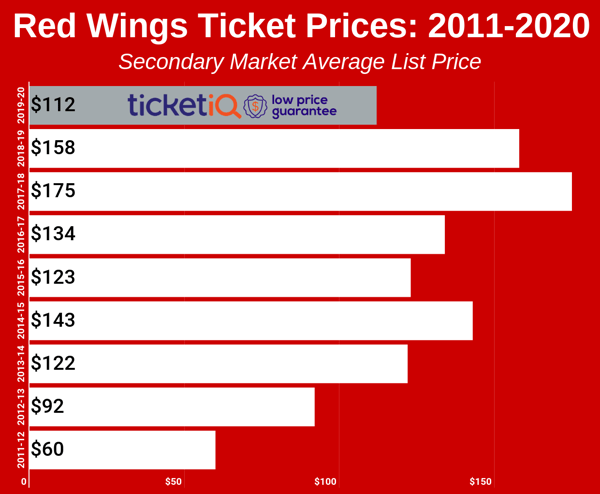 What are the Red Wings Season Ticket and Mini Plan Options
If you're going to be attending several Red Wings games this season, the team offers three different ticket plans. You can buy a full season ticket (starting at $32 per game), a half season ticket (starting at $35 a game), or a quarter season plan (starting at $39 a game).
While all the plans include the same basic perks—including priority access to purchase additional tickets and presale access to events at other affiliated venues—full season ticket holders get a few extra benefits. They get right of first refusal for playoff tickets, invitations to special events, and some other small gifts.
Where are Club Seats at Little Caesars Arena
If you're looking for a premium experience while watching the Red Wings, Little Caesars Arena offers several suite and club seating options.
The Blue Cross Suites line the top of the arena. Each suite includes a fireplace, five televisions, a bar, and a private restroom; food and drinks can be ordered without leaving your seat.
The Michigan First Gondola has several semi-private boxes overlooking the ice. It's the ideal space to entertain a group in style.
Loge boxes sit at the top of the lower bowl, allowing for a premium experience that doesn't feel isolated from the crowd. Each box has barstool seating and the option to purchase food or beverages in advance.
The Comerica Players Club is the most premium area of the arena. It includes food, beer, wine, and liquor and lets fans watch the players walk from the locker room to the ice.
The MotorCity Casino Club is the arena's largest premium area and is connected to the street concourse level. It features all-inclusive food and beverages and private parking.
The Rehmann Club sits on top of the Comerica Players Club and also offers an all-inclusive environment. Guests will have access high-end food, beer, and wine.
The Huntington Legends Club sits on the suite level at the north end of the arena. In addition to all the standard premium perks, the Legends Club lets you watch the game from both the club area and your seat; it's the only club in the building with views of the ice.
Red Wings Mobile Ticketing Info
Like many other teams, the Red Wings use mobile ticketing. If you're attending a game, you can enter the building using your Internet browser, the Ticketmaster app, or the District Detroit app. Fans can also have their tickets printed at the box office as necessary.
The Top 10 Most Expensive Red Wings Games On The Secondary Market
On average, the 10 most expensive Red Wings games cost over $100 on the secondary market. If you look at get-in prices, however, there are some bargains to be had, with tickets available for less than half $70 for every game.
Secondary Market Average Price: $168
Cheapest Available Get-In Price: $65
Secondary Market Average Price: $161
Cheapest Available Get-In Price: $67
Secondary Market Average Price: $159
Cheapest Available Get-In Price: $48
Secondary Market Average Price: $142
Cheapest Available Get-In Price: $49
Secondary Market Average Price: $140
Cheapest Available Get-In Price: $45
Secondary Market Average Price: $136
Cheapest Available Get-In Price: $40
Secondary Market Average Price: $128
Cheapest Available Get-In Price: $42
Secondary Market Average Price: $120
Cheapest Available Get-In Price: $40
Secondary Market Average Price: $117
Cheapest Available Get-In Price: $47
Secondary Market Average Price: $111
Cheapest Available Get-In Price: $41
---
TicketIQ is committed to the cheapest tickets possible, and we make much less on sold out tickets compared to other major marketplaces like StubHub and Vivid. That means ticket buyers save from up to 25% on TicketIQ on sports, music and theater. We're able to do this because we also work with teams, venues, and other ticket owners, to help them sell tickets at face price, directly to consumers like you, through Ticketmaster and AXS. For an overview of the 2019-20 NHL Ticket Buying landscape, and details on the cheapest way to get tickets for every team, visit the TicketIQ Blog.