Where To Buy 2020-21 Florida Panthers Tickets
Primary market single-game tickets are not available yet, but could go on sale as early as Friday, January 8th. You can also request season ticket pricing info here.
On the secondary market, TicketIQ has Florida Panthers tickets that are Fee-Free and come with a Refund Guarantee. Our Refund Guarantee states that if an event is canceled or deem unfit for fans to attend, TicketIQ will refund ticket buyers within 15 days. That means that you can buy from TicketIQ worry-free.
How Much Are 2020-21 Florida Panthers Tickets
With reduced capacity, the average secondary market list price for Panthers tickets is $149 per seat, which is the most expensive Panthers tickets have been since we started tracking data. Get-in prices for most games is in the $50-$60 range.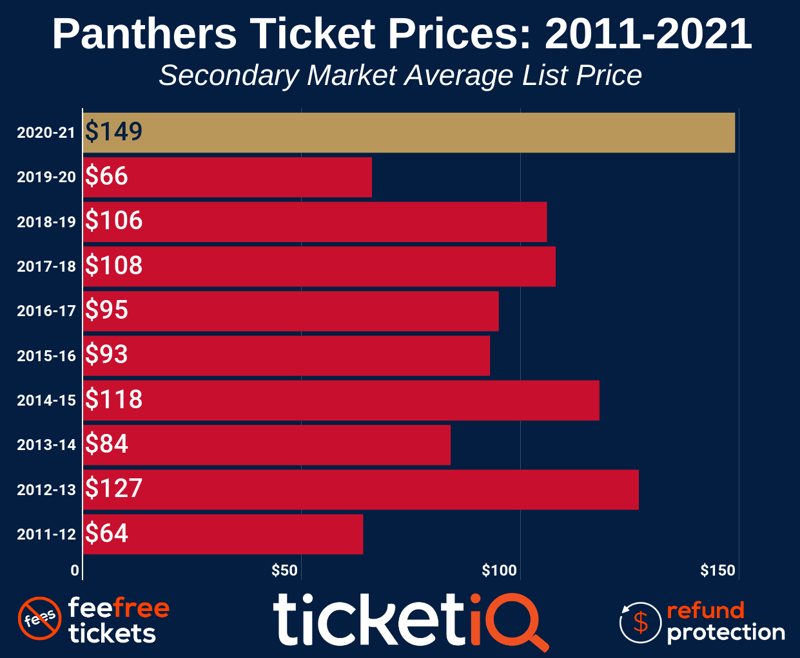 2020-21 Florida Panthers Attendance Policy Update
It was announced recently that the Panthers would be hosting fans up to 5,000 fans (25% capacity) at BB&T Center for the 2020-21 season. New safety guidelines will also be put in place, including mask Requirements, health Screening, contactless mobile ticketing, cashless and mobile ordering of concessions, and a socially distant entry & exit process.
BB&T Center COVID-19 Health and Safety Protocols
All fans over the age of 2 years old and staff are required to properly wear a face covering (cloth or surgical type mask) at all times while inside BB&T Center.
Face coverings shall completely cover the mouth and nose, fit snugly against the sides of the face, and shall be secured under the chin.
Acceptable face coverings include medical grade masks or 3-layer cloth coverings (or at least two cloth layers with a filter).
Neck gaiters are not permitted to function as face coverings.
Bandanas are not permitted to function as face coverings.
Face shields must be accompanied by a mask. Use of a face shield does not eliminate the requirement to wear a face covering underneath.
Face coverings with exhalation valves or vents are prohibited.
Fans may only temporarily remove their masks when actively eating or drinking in their seats.
Physical Distancing
Fans are required to maintain physical distancing of 6 feet apart from others at all times.
Physically distanced pod seating has been implemented in the BB&T Center arena bowl. A carefully-designed limited-capacity arena seating chart will ensure all fans are seated at least 6 feet apart.
Minimum congregation allowed in concourse areas.
Capacity restrictions in certain areas such as the team stores.
Red Reminder signage and directional signage will guide fans in lines at entrances and exits, security and screening areas, concessions, the Box Office, Pantherland, and other areas to make physical distancing guidelines easy and clear to follow.
Arena staff will ensure that guests have a safe, socially-distanced journey from arrival, to seat, to departure, always staying 6 feet apart.
Entry, Security & Screening
No bags permitted inside BB&T Center. Only small 4"x6" and under clutches will be permitted inside.
A socially distant entry & exit process has been implemented that includes social distancing Red Reminders signage and entrance lines marked with physically distanced 6 feet apart PAWS markers for fans.
Low-contact security screening for fans.
Enhanced cleaning of security equipment to ensure fan safety.
Fans will answer health and safety questions upon entering the building.
Contactless Mobile Ticketing
All tickets will be completely digital.
Using the Florida Panthers section of the National Hockey League mobile application, fans will be able to load, scan, and present mobile tickets to limit contact with box office staff.
Cashless Arena and Mobile Ordering
BB&T Center is now a completely cashless experience. No cash will be accepted.

Where to Buy 2019-20 Florida Panthers Tickets
Single-game tickets on the primary market for the 2019-20 Florida Panthers season are currently available. The team has been playing at BB&T Center since 1998, and single-game home tickets are on sale through Ticketmaster. Below is a seating chart showing unsold face value availability to a typical Panthers home game:
On the secondary market, TicketIQ has sold out Florida Panthers tickets for all games on the 2019 schedule, and all sold out NHL games. That means that if you find a secondary market ticket for less on a site like StubHub or SeatGeek, we'll give you 200% of the difference in ticket credit. TicketIQ customers save an average of 5% to 20%, compared to StubHub and Vivid Seats.
How Much Are 2019-20 Florida Panthers Tickets
On the primary market, there are many tickets available for most Panthers home games. For lower demand games prices starts at $16 for upper level seats in the corner, $37 for lower level seats, and $79 for Center Ice seats in Section 118. For higher demand games prices start at $32 for upper level seats, $80 for lower level seats, and $138 for Center Ice seats in Section 118.
Florida Panthers tickets are the second least expensive in the NHL on the secondary market, with a current average asking price of $66, a 38% decrease from last season. Florida's secondary market ticket price is the lowest since it was $64 for the 2011-12 season.
The Panthers are one the two best values for the 2019-20 NHL season as measured by the cost per point. With 98 projected points and an average price of $66, each points for every dollar their fans spent based on average price. The highest cost per point belongs to the Leafs, for whom every point costs $3.40.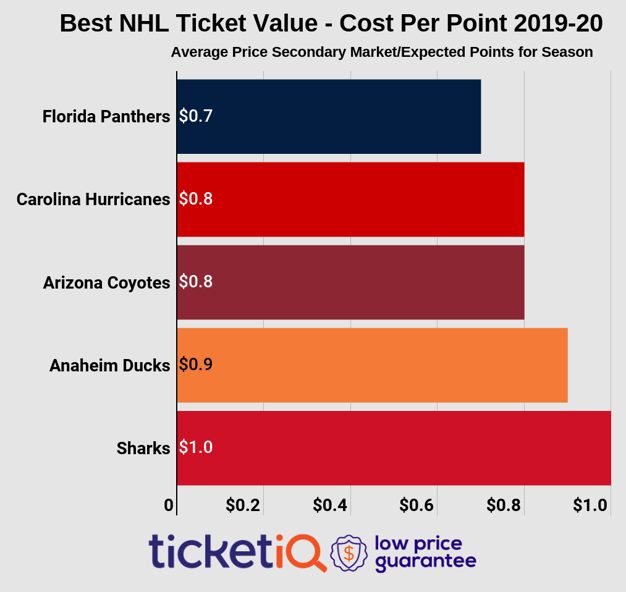 The Panthers are in search for their first postseason appearance since 2016, which was their only team in franchise history to register triple-digit points. Under new head coach Joel Quenneville, the second-most winningest coach in NHL history, the Panthers look for a bounce-back season.
What are the Panthers Season Ticket and Mini Plan Options
Fans interested in Florida Panthers season tickets can purchase full or half season packages on the Panthers website. Those who purchase full season tickets will also receive discounts for concessions, merchandise (25%), and parking. Half season ticket packages include a 10% merchandise discount in addition to discounted parking.
Where are Club Seats at BB&T Center
The Panthers offer many premium seating experiences:
Club Lexus, which is found in lower bowl sections 101, 102, and 134, includes complimentary food, beer, wine, soda, and valet parking with your ticket. In addition, there is a private entrance, dedicated wait staff, and private restrooms. In addition to Club Lexus, club seats are found surrounding the entire stadium.
Suites can accommodate 15, 20, or 50 people. Each suite has a dedicated suite attendant and includes flat screen televisions and private restrooms. They can be bought as a Holiday Suite package or as a different package on the premium seating website.
Corona Beach House provides all-inclusive food, beer, wine, and soda. In addition, there is complimentary valet parking as well as a private entrance and private restrooms.
Glass Seats, which include the first two rows, include complimentary parking.
Loge Boxes have six to eight seats per private box on the Plaza Level, and there is a dedicated attendant to each box.
Panthers Mobile Ticketing Info
BB&T Center offers mobile ticketing via the NHL app, which is available at the App Store or Google Play, and allows fans to manage tickets and parking passes. The arena offers complimentary internet as well.
---
TicketIQ is committed to the cheapest tickets possible, and we make much less on sold out tickets compared to other major marketplaces like StubHub and Vivid. That means ticket buyers save from up to 25% on TicketIQ on sports, music and theater. We're able to do this because we also work with teams, venues, and other ticket owners, to help them sell tickets at face price, directly to consumers like you, through Ticketmaster and AXS. For an overview of the 2020-21 NHL Ticket Buying landscape, and details on the cheapest way to get tickets for every team, visit the TicketIQ Blog.