Where To Buy 2020 Kansas City Royals Tickets?
Primary market tickets are available for Kansas City Royals via the team's website, and seats are available for all home games, including the season opener against Seattle on April 2. Seats for that game start at $35 in the 400 Sections toward the outfield. Tickets for some games start as low as $10. he
On the secondary market, TicketIQ will offer fans a Low Price Guarantee on all Kansas City Royals tickets in addition to Low Price Guarantees on all Major League Baseball tickets. That means that if you find a secondary market ticket for less on a site like StubHub or Vivid, we'll give you 200% of the difference in ticket credit. TicketIQ customers save up to 25%.
How Much Are 2020 Kansas City Royals Tickets?
On the secondary market, TicketIQ has seats available for all Kansas City Royals home games. Kansas City Royals tickets are generally a good deal, with many games available for less than $20, including $14 to get into the August 6 game vs. the Minnesota Twins. Among the pricier series is the August 10-12 set against the New York Yankees, for which tickets start at $64 for the August 10 game, and $58 for the other two games.
According to TicketIQ, the average asking price for a Kansas City Royals game is $72, down from an average of $80 last season. Historically, that average is the third highest behind 2019, and $75 in 2018. The Royals have missed the playoffs for the last two seasons.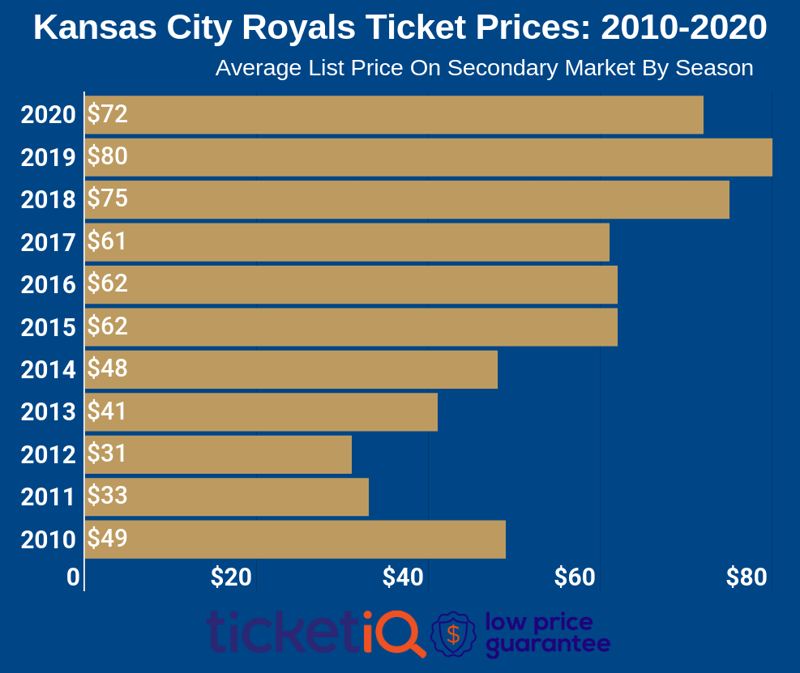 What Are Royals Season Tickets & Mini Plan Options?
On the primary market, fans can also purchase season tickets or ticket packages. The cheapest option is the Sunday Value Pack, which includes 12 games, including games against the Los Angeles Dodgers and Boston Red Sox, all for $99 per seat. At the other end of the spectrum, full season tickets in the View Boxes (400 Sections) start at $1,144, and go up to $21,700 for Crown Club Suites.
Royals Mobile Ticketing Policy
The Kansas City Royals and Kauffman Stadium use mobile ticketing via the MLB.com app, which allows fans to purchase and transfer tickets, as well as upgrade seats. The Royals have an extensive section on how to upload the app, as well as instructions for linking accounts and accessing tickets.
---
TicketIQ is committed to Transparent Ticketing and offers Low Price Guarantees on sold out tickets + unsold face value ticket through Ticketmaster, Eventbrite and other partners.