Los Angeles Chargers 2020 Attendance Policy
On August 25th, the Chargers announced that games will be played without fans in attendance until further notice. They also stated that they will follow "health care experts and the policies of local, state and federal government officials" to determine if and when it is safe to allow fans back at SoFi Stadium.
--
On July 21st, the Chargers sent out an email to ticket holders notifying them that if fans are allowed at home games this season, capacity would likely be limited.
They also informed fans that single-game tickets that had previously been purchase would be canceled and refunded.
Where To Buy 2020 Los Angeles Chargers Tickets
Los Angeles Chargers tickets are available for sale on the secondary market as of the 2020 schedule release.
TicketIQ has
Fee-Free tickets
with a
Low Price Guarantee
and
Refund Guarantee
, which states that in the event an event is cancelled or deem unfit for fans to attend, TicketIQ will refund ticket buyers within 15 days. That means that you can buy from TicketIQ worry-free.
Potential Covid-19 Impact On 2020 NFL Schedule
While the schedule release is a much-needed dose of exciting news for all football fans, there are some major questions marks heading into the 2020 season due to the Coronavirus pandemic. While teams know what teams they'll play, that's about all they know. Whether or not the games happen and if fans are able to attend will depend on how the virus is managed over the next 2-3 months. The league has already canceled all of its International Series games, and the league is rightly considering all possible scenarios.
Based on the varying levels of infection in each NFL city and state, it's possible that some teams may be able to host fans at a reduced capacity while others may not. The Dolphins announced a preliminary plan last week, with a 25% of capacity goal. Based on the below NFL Covid-19 Safety Index, the Dolphins fall within the low-risk category, just barely.
To create the Safety Index, we compared the active cases in each city or state to the national average and then discounted that product by Rt. Rt is a measure of how fast the virus is spreading in each city and state, most easily tracked through Rt.live.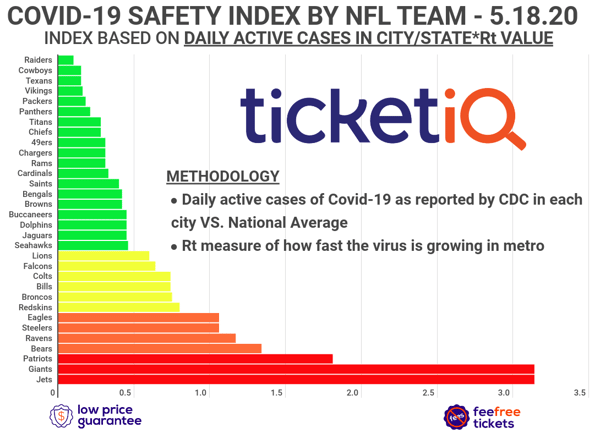 How Much Are 2020 Los Angeles Chargers Tickets
On the primary market, the Chargers single-game ticket website page includes Ticketmaster links to each game, and tickets start at $59 at SoFi Stadium. The cheapest seats are upper-level tickets on November 1 against the Jacksonville Jaguars. The get-in price for this contest on the secondary market is $50.
TicketIQ has seats available for all Los Angeles Chargers home games. The average ticket price on TicketIQ is $335, which is in the middle of the pack. The secondary market price for Chargers tickets has increased by 15 percent since last year.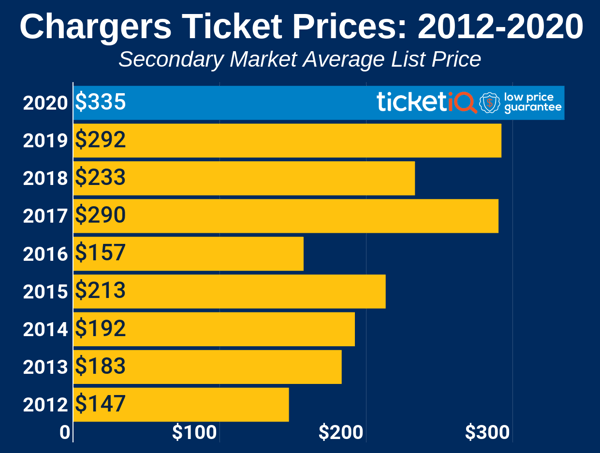 Chargers Season Tickets & Mini Plan Options
On the primary market, season tickets are available by filling out this form, and a representative will respond to those who fill out the form. There are no mini plans offered, but groups of at least 10 can fill out this form for group tickets.
SoFi Stadium Club Options
SoFi Stadium has the following premium seating ticket options: Club Memberships, LUX, and Suite Rentals.
Club Membership starts at $350 per seat per game and has the following amenities: wide, cushioned seats, pregame activities, exclusive conference calls with team executives, in-stadium concession and merchandise discounts, VIP entrance, playoff ticket purchase opportunity, and a dedicated service representative.
LUX is the most exclusive part of SoFi Stadium, as it includes an invite-only social club and it extends past the stadium. The premium membership also allows fans to travel privately at LAX airport and have their own personal assistant.
Suite Rentals are available for all the Chargers home games this season. They can accommodate groups of all sizes, and fans can fill out this form to inform a representative of their interest.
Chargers Mobile Ticketing Policy
To manage your Chargers tickets, the team has a mobile app available on the App Store and Google Play. The app is also used for mobile entry into the venue. The Chargers require ticket holders to use mobile tickets to enter SoFi Stadium, and it is suggested to add the ticket to your phone's mobile wallet to avoid slow WIFI or cellular signal while entering the stadium.
---
TicketIQ is committed to the cheapest tickets possible, and we make much less on sold out tickets compared to other major marketplaces like StubHub and Vivid. That means ticket buyers save from up to 25% on TicketIQ on sports, music and theater. We're able to do this because we also work with teams, venues, and other ticket owners, to help them sell tickets at face price, directly to consumers like you, through Ticketmaster and Seatgeek. For an overview of the 2020 NFL Ticket Buying landscape, and details on the cheapest way to get tickets for every team, visit the TicketIQ Blog.
---
Where To Buy 2019 LA Chargers Tickets
Single game tickets for Chargers home games are available through primary partner Ticketmaster. The season ticket packages for 2019 at ROKiT Field at Dignity Health Sports Park are sold out, but 2020 season ticket memberships for LA Stadium at Hollywood Park are now on sale. For 2019 tickets, individual ticket sales can be found here
On the secondary market TicketIQ has Low Price Guarantees on Chargers tickets for all games on the 2019 schedule, in addition to Low Price Guarantees on all NFL tickets, which means that if you find a secondary market ticket for less on a site like StubHub or SeatGeek, we'll give you 200% of the difference in ticket credit. TicketIQ customers save an average of 5%-20% compared to StubHub and SeatGeek.
How Much Are 2019 LA Chargers Tickets
Face value tickets at ROKiT Field are available for September 22's Texans game for as low as $105 on the 200 level. There are also limited face value tickets available on the 300 level for $110 against the Colts in Week 1.
Tickets for Chargers home games on the secondary market are averaging $292, which is the eighth highest in the NFL. The team's ticket price is 25% higher than last year and 37% higher than five years ago. With a get-in price of $286, the most expensive game of the 2019 season on the secondary market is their week 6 match up against the Pittsburgh Steelers. The least expensive game on their schedule is week 3 against the Texans. The get-in price for that game is $76.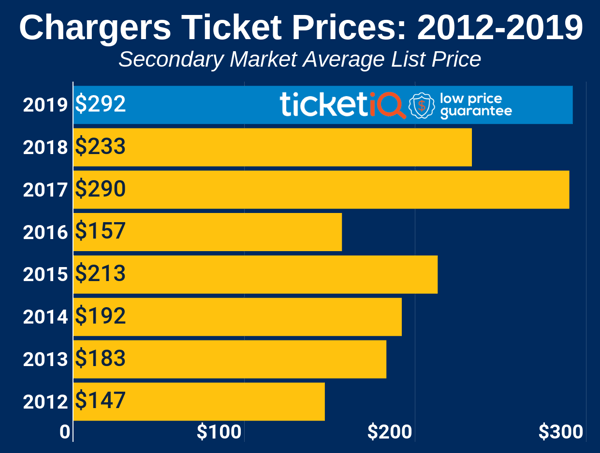 Prices For All Chargers Home Games On The 2019 Schedule
September 8 vs. Indianapolis Colts
Secondary market average asking price: $193
Secondary market cheapest ticket: $95
The Chargers open the season against the Colts for the lowest average ticket priced game at ROKiT Field this season. Philip Rivers and Andrew Luck last met in 2016. The Colts scored in every quarter of the contest, as Indianapolis defeated the Chargers, 26-22, at Lucas Oil Stadium.
September 22 vs. Houston Texans
Secondary market average asking price: $298
Secondary market cheapest ticket: $76
The lowest get-in price of the season for Chargers home games is against the Texans. The Texans and Colts also last met in 2016, and Rivers threw three touchdown passes en route to the Chargers' 21-13 victory at NRG Stadium in Houston.
October 6 vs. Denver Broncos
Secondary market average asking price: $357
Secondary market cheapest ticket: $105
The Chargers and Broncos have split the season series each of the last three seasons. In their last meeting, Los Angeles held Denver to nine points in the 14-point victory in the season finale at Sports Authority Field at Mile High.
October 13 vs. Pittsburgh Steelers
Secondary market average asking price: $479
Secondary market cheapest ticket: $284
The Chargers' most expensive home game this season is against the Steelers. The 2019 meeting will hope to be as exciting as the game last year, a 33-30 Chargers victory. Los Angeles scored 18 fourth quarter points, including Michael Badgley's 29-yard field goal as time expired.
November 3 vs. Green Bay Packers
Secondary market average asking price: $471
Secondary market cheapest ticket: $263
The only home game for the Chargers in November is against the Packers. Rivers has faced off twice with Aaron Rodgers, and Rodgers has been victorious each time. In the last meeting, the Chargers had 15 more first downs and 178 more total yards, but lost, 27-20. The Chargers have not defeated the Packers since 1984.
December 15 vs. Minnesota Vikings
Secondary market average asking price: $399
Secondary market cheapest ticket: $99
The Chargers and Vikings have alternated victories over the course of their 12-game history. The most recent meeting was a 31-14 Vikings victory in 2015. Minnesota scored in every quarter, and Adrian Peterson rushed for 126 yards and two touchdowns.
December 21 vs. Oakland Raiders
Secondary market average asking price: $312
Secondary market cheapest ticket: $159
The Raiders struggled on the road last season and have had difficulty against the Chargers recently. Since changing their city to Los Angeles, the Chargers have a 4-0 record against the Raiders.